Fixed income is quickly catching up in the field of sustainable investing. Andre & Ashley share the latest insights.
The stock market has been an early player in sustainable investing – while the fixed income market has lagged in data, tools and insights. But that's changing fast, as we detail in a new publication: Sustainability: the bond that endures. New ESG indexes have created building blocks that can be used to bring sustainability into portfolios, even in asset classes such as emerging market (EM) debt that until recently lacked sustainable solutions.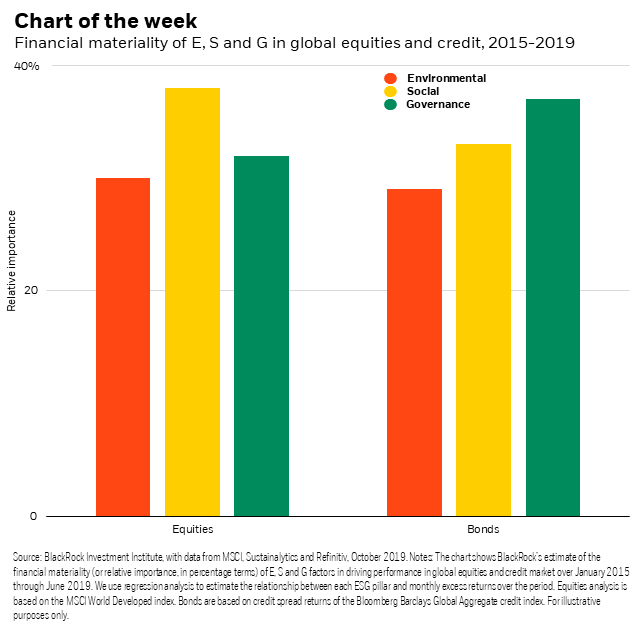 Sustainable investing is the combination of traditional investment approaches with environmental, social and governance (ESG) insights. The "E" includes climate risks, "S" covers labor issues and product liability risks, and "G" refers to topics such as corporate board quality and effectiveness. What ESG factors really move the dial in financial performance? Organizations such as the Sustainability Accounting Standards Board (SASB) have taken the lead in investigating which sustainability topics are most relevant across industries. Our quantitative work builds on such studies, extending the analysis to global equities and credit. A key conclusion: Market pricing suggests each of the three ESG pillars are of roughly similar levels of importance in both credit and equity markets, as the chart shows.
Read more in our Weekly commentary.
The need for sustainable fixed income solutions is growing: Bonds are in high demand – against a backdrop of aging populations in search of income and geopolitical volatility that has sparked greater demand for "safe" assets. We believe fixed income investors can draw on many of the insights that equity-focused research has produced on ESG. Companies or issuers with strong ESG performance are likely to be better at managing operational and reputational risks. Yet there are nuances to sustainable investing in bonds. Sovereign debt requires a different approach, as we detail in Sustainability: the bond that endures. And in contrast to equities, fixed income investors' main focus is often on mitigating downside risk, rather than capturing upside potential. We believe ESG metrics can help identify new risk factors.
The materiality of each of the ESG pillars varies across industries. Take financials. The "E" pillar appears to have more sway on market pricing than commonly thought. We found a meaningful link between returns on banks' corporate debt and "E" factors such as low carbon transition. Why is this the case even though bank operations have little direct exposure to environmental factors? Bank loans to fossil fuel producers may be at risk of future losses in a scenario in which carbon taxes are introduced, for example. We believe such analysis on an industry level can help inform investment decisions. Investors may want to consider tilting toward (or away from) ESG exposures that are most financially relevant in each industry, for example. Drilling deeper on ESG metrics – and utilizing new data sources – can also inform risk management. Previous work we have done shows that "E" factors, such as extreme weather, pose tangible risks to long dated assets – from electric utilities and commercial real estate to municipal bonds. See Getting physical: assessing climate risks for more.
The "why not?" moment in sustainable investing has arrived in fixed income as well. Investors can now use sustainable building blocks to integrate sustainability across equities and fixed income allocations. Our analysis suggests that ESG indexes offer similar risk/return properties to traditional benchmarks, while adding a dose of portfolio resilience. See Sustainability: the future of investing for more. ESG-related risks such as the rising frequency and intensity of hurricanes are likely to compound over time. The flip side is potential opportunities in areas such as renewable energy. Bottom line: Investors now have the tools to integrate critical ESG factors in fixed income.
Get the latest updates from our RSS feed
Subscribe to our weekly insights email
Please try again