A resumption of monetary easing and ultra-low bond yields this year challenge the role of government bonds as portfolio ballast. Scott explains.
Monetary policy may have reached its limit in stoking growth – and interest rates in some developed markets are nearing the lowest levels that central banks can feasibly set. This forces a rethink of the strategic role of government bonds in portfolios. The duration of bond indexes has been rising as yields decline, making them more sensitive to future moves in rates. We advocate looking beyond market cap-based weights in sizing allocations: higher yielding U.S. Treasuries offer greater ballast against risk-asset selloffs than euro area or Japanese bonds.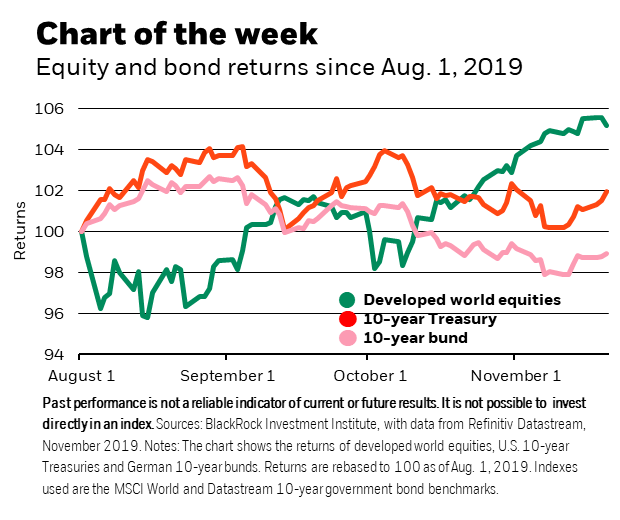 One consequence of rock-bottom rates across the developed world: some government bonds may have diminishing ability to cushion multi-asset portfolios against large drawdowns in equities. The chart above gives a glimpse of this challenge – which we see remaining relevant on a strategic horizon. Equity and U.S. Treasury returns were generally mirror images of each other during the August equity selloff and corresponding recovery, but German government bonds (bunds) offered less of a cushion against the equity selloff. U.S. Treasury yields fell sharply, but the decline in bund yields stalled at record lows, suggesting investors saw limits to how much lower bund yields could fall. When risk appetite returned, bunds sold off more sharply than U.S. Treasuries.
Rethinking the starting point
Reduced ballast and meagre expected returns in certain core government bond markets requires a rethink of the starting point for strategic asset allocations to government bonds, in our view. Government bonds have traditionally played four roles in portfolios: returns, via income and capital gains; perceived safe store of value; ballast and liquidity in risk-asset selloffs; and for some the need to meet regulatory and capital requirements. The post-crisis monetary easing has propelled a rally in government bonds, aiding the performance of diversified portfolios such as a traditional "60/40" split of equities and bonds. Today's low yields mean that we should not expect such returns from bonds in the future.
Read more market insights in our Weekly commentary.
The dramatic drop in government bond yields this year, taking nearly a third of global bonds into negative-yielding territory at one point, has raised serious questions about their role in strategic asset allocations. Policy rates in the euro area –already in negative territory – may be nearing an "effective lower bound (ELB)", or the minimum level of interest rates that central banks can feasibly set. As short-term rates fall toward their ELBs, and bond yields follow, the risk/return profile for bonds becomes increasingly asymmetric. Bond prices have more room to fall materially than rise materially in response to broader market events or shocks. Falling yields mean that the compensation for holding duration in the euro area and Japan has collapsed. Increasing low or zero coupon issuance is increasing the average duration of benchmark bond indexes. This makes them more sensitive than in the past to swings in interest rates, with potential for greater volatility.
Another risk
Another risk to the ballast property of government bonds: a weakening or breakdown in the negative correlation between stocks and bonds that has prevailed for most of the past two decades. The inverse correlation could face pressure due to potential policy shifts, such as a pick up in fiscal stimulus or a supply shock from deglobalization.
Bottom line
The current ultra-low yield environment challenges the role of government bonds as portfolio ballast. We prefer to overweight higher-yielding U.S. government bonds in strategic asset allocations, and see a diminished role for euro area and Japanese government bonds.
Get the latest updates from our RSS feed
Subscribe to our weekly insights email
Please try again