What lies ahead in 2020? Our answer will depend on discussions at our outlook forum this week. Jean explains.
Two key themes have driven financial markets in 2019: the drag on economic activity and risk assets from trade tensions (our "protectionist push" theme); and a dovish pivot by central banks that has supported the expansion ("stretching the cycle"). What lies ahead? We believe these two market drivers may be testing limits over the next year. That's the theme of our two-day forum in New York this week, where more than 100 BlackRock attendees will debate our 2020 outlook.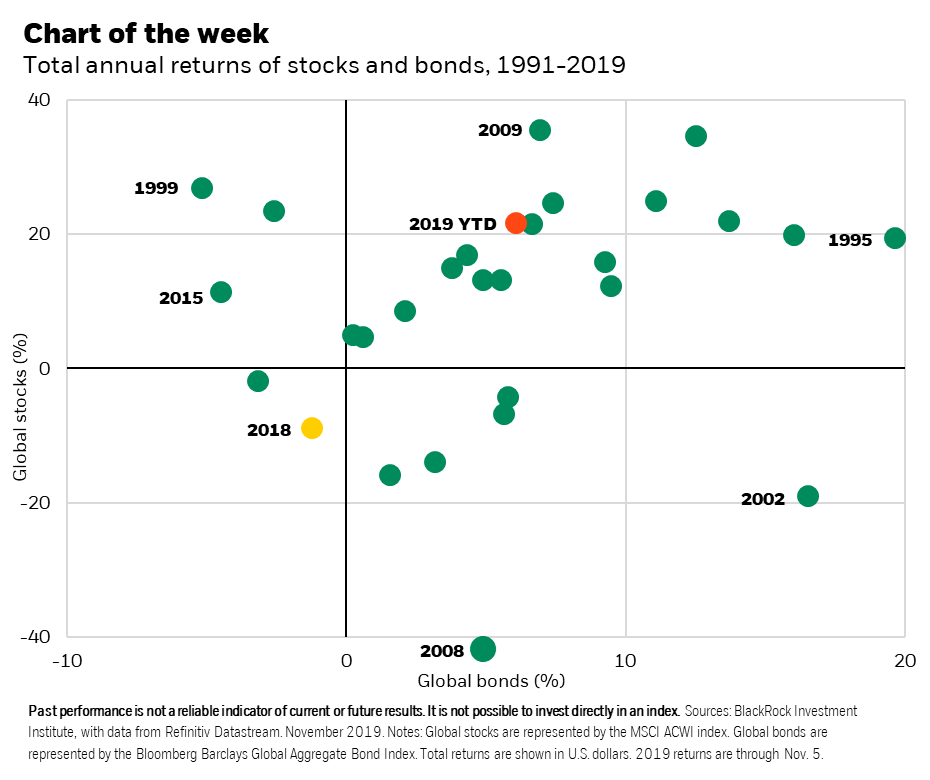 BlackRock's senior decision makers and portfolio managers gather twice a year to debate the market outlook. One topic likely to come up in our discussions this week: a reversal of fortunes from one year ago, when both stocks and bonds were on track for negative annual returns – a rare event. See the yellow 2018 dot in the chart above. The culprits: uncertainty over trade disputes, late-cycle concerns and tighter financial conditions. At our forum last November, we saw equities and bonds both eking out positive returns this year, the former fueled by the ongoing global expansion and reasonable valuations even in the face of slowing earnings growth; the latter by central banks' dovish pivot, growth downgrades and subdued inflation. The rebound in both asset classes that we anticipated in our 2019 outlook has occurred, though its magnitude has been more than we expected. See the orange 2019 dot above. We didn't fully anticipate how much valuation multiples would rise on central bank easing.
Looking ahead to 2020
Where do we go from here? That's the question we'll be debating this week. Our answer will depend on our discussions around the outlook for the economy, policy, and geopolitics. Thanks to a robust global consumer and dovish central banks, we believe the expansion is unlikely to morph into a deeper downturn any time soon. At our 2019 midyear outlook forum, we downgraded our growth outlook due to the protectionist push. We now see global growth stabilizing thanks to a lull in trade tensions and easier financial conditions.
Read more market insights in our Weekly commentary.
Trade disputes and geopolitical frictions became key drivers of the economy and markets this year (see the November update to our Q4 2019 Global investment outlook). This marked a sharp reversal from decades of increasing openness and injected uncertainty into business planning, weakening economic activity. Yet there have been signs recently that global manufacturing activity may be bottoming and that U.S.-China trade tensions may be abating, at least temporarily. This pause in the protectionist push has helped fuel recent risk asset rallies – and helps keep us moderately pro-risk. A potential wildcard for 2020 that we'll be debating: The market implications of the U.S. presidential election campaign and its result.
We'll also be taking a closer look in our forum discussions at the potential next steps in monetary (and fiscal) policy and their investment implications. Global central banks have delivered an unusual late-cycle dovish pivot to extend an already-long economic expansion (see our Nov. 4 Weekly commentary) and combat a drag from rising trade tensions. We will be debating the extent to which this easing story is behind us. Reasons it could be nearing an end: Inflation is creeping higher in the U.S. – and monetary policy has limited capacity to deal with the side effects of trade protectionism. We also believe central banks have little ammunition left to address any future meaningful economic downturn. A key question: how much of a bigger role can fiscal policy play? We see scope for modest stimulus in Europe and China.
Lastly, we will debate the market implications of our base case of stabilizing growth. These include a potential rotation within equity markets away from defensive stocks toward cyclical ones. The investing conclusions from our debates – including our tactical asset allocation views – will be released in our 2020 Global investment outlook on Dec. 9.
Get the latest updates from our RSS feed
Subscribe to our weekly insights email
Please try again