The substantial escalation in the U.S.-China conflict – and unpredictability of U.S. policy actions – have injected additional uncertainty into business planning, threatening to weaken
economic activity.
Persistent geopolitical uncertainty
BlackRock Geopolitical Risk Indicators (BGRIs) for global trade and Gulf tensions, 2006-2019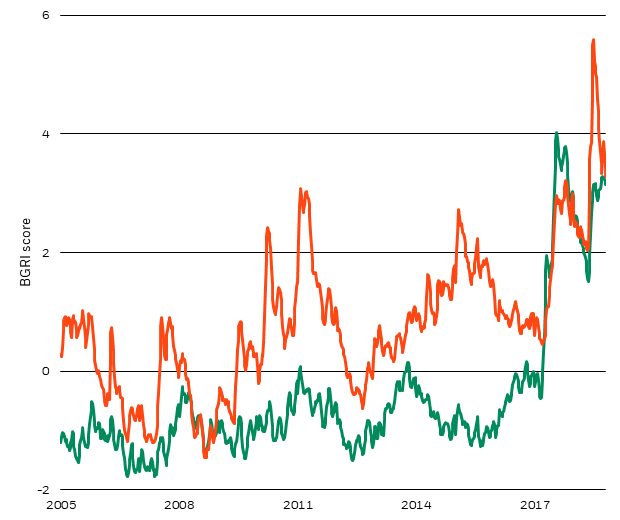 Source: BlackRock Investment Institute, with data from Refinitiv Datastream, October 2019.
Notes: See BlackRock's Geopolitical risk dashboard for full details. We identify specific words related to geopolitical risk in general and to our top-10 risks. We use text analysis to calculate the frequency of their appearance in the Refinitiv Broker Report and Dow Jones Global Newswire databases as well as on Twitter. We then adjust for whether the language reflects positive or negative sentiment, and assign a score. A zero score represents the average BGRI level over its history from 2003 up to that point in time. A score of one means the BGRI level is one standard deviation above the average. We weigh recent readings more heavily in calculating the average. The BGRI's risk scenario is for illustrative purposes only and does not reflect all possible outcomes as geopolitical risks are ever-evolving.
Ongoing trade frictions and simmering Gulf tensions underscore the risk of supply shocks. We view the latest détente in U.S.-China trade tensions as temporary as it does not address strategic issues.
Multi-decade long spread of globalization reversing
Global trade as % of GDP, 1960 - 2017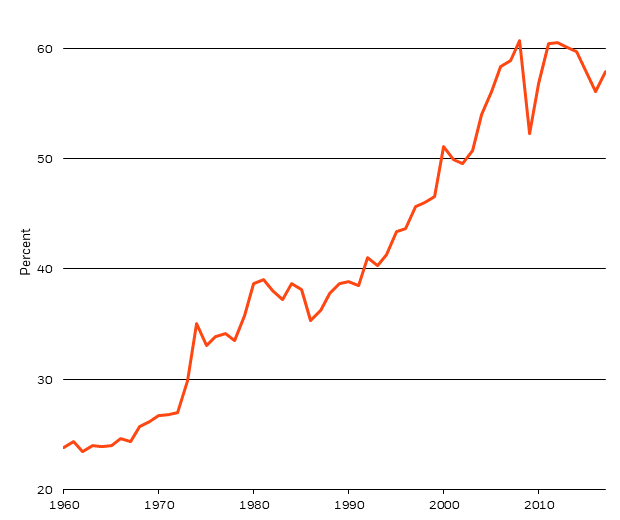 BlackRock trade nowcast vs. activity, 2006 2019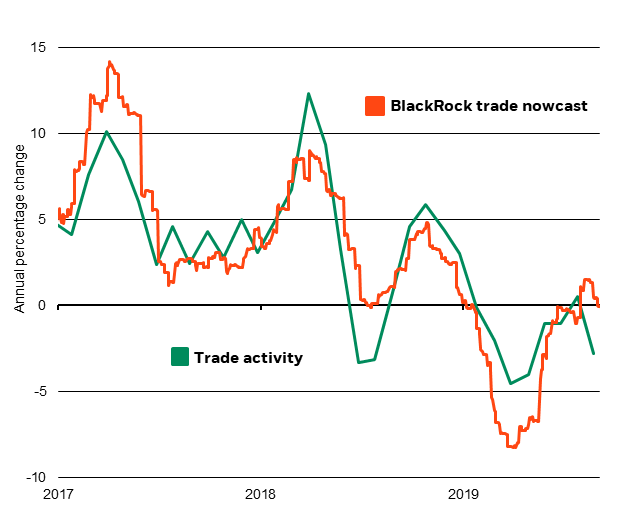 Sources: CPB World Trade Monitor, BlackRock Investment Institute, with data from Refinitiv Datastream, October 2019.
Notes: The chart on the top shows world trade as a percentage of global GDP. The chart on the bottom shows the three-month annualised percentage change in real global goods trade volume (in green) and a real-time "nowcast" (in orange) of where that trade volume may stand in three months' time. The nowcast uses principal component analysis based on 50 indicators, such as exports from South Korea and Taiwan, German manufacturing surveys and the export order components of global PMIs, to track global trade activity. Forward-looking estimates may not come to pass.
The surge in trade protectionism marks a sharp reversal from decades of increasing openness. Our nowcast points to further deterioration.
Market implication: We favor reducing risk, including raising some cash.
Are we headed for a recession?
We don't think so - at least in the short run.