Make the Connection with Advisor Center
Because Advisor Center is integrated within the systems you already use, you can turn insights into action with just a few clicks.
Access through WealthscapeSM
Advisor Center's suite of sophisticated, yet quick-to-use tools makes it easy for advisors to analyze and compare portfolios, identify potential areas of risk, and anticipate potential tax impacts – connecting advisors with what they need as they build and manage resilient portfolios.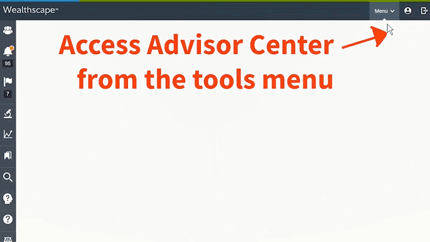 Create more 'a-ha' moments with 360° Evaluator
Information overload. 24/7 news cycles. Endless social media feeds. These days, it can be difficult for clients to separate noise from news. The "what if's" pile up, and so does client uncertainty around their financial future.
But, what if you could address those concerns head on? What if you could alleviate your clients' worries and help them focus on what matters?
With BlackRock's Scenario Tester, you can see the potential impact of different market events on a portfolio's individual holdings and asset classes. Just upload a portfolio and select from more than 30 market shocks to see how it might react.
And with an easy-to-understand report, you can set expectations and help clients understand what you're doing to manage their risk.
Use Scenario Tester today to connect BlackRock's sophisticated risk management technology with your clients and prospects, to make the uncertain more certain.
Identify potential areas of risk with Scenario Tester
You don't have to spend hours collecting and analyzing the tax impact of capital gains on all your clients' portfolios. Tax Evaluator aggregates and automates this process for you.
With access to over 7,000 mutual funds and ETFs all in one place, you can create a detailed picture – in minutes. See which funds have reported estimated capital gains distributions before your clients incur the tax liability.
You can also help your clients consider the benefits of tax loss harvesting by identifying funds with negative price returns. Additionally, compare fund characteristics and rankings to help clients make informed decisions about specific holdings.
Use Tax Evaluator to track portfolios, identify potential tax savings, and help your clients keep more of what they earn.
Identify potential tax savings with Tax Evaluator
BlackRock and Fidelity
BlackRock's Advisor Center is conveniently integrated into your WealthscapeSM platform, allowing you to streamline your workflow, gain insights to customize portfolios and create client proposals. Advisor Center is designed to help you analyze portfolios, prospect new clients and hold fast and repeatable planning conversations.
Fidelity Model Portfolios are available through BlackRock's Advisor Center. These portfolios provide institutional quality investment management at a low cost; empowering you to efficiently deliver high-quality portfolios while freeing up time to add value to other aspects of your client and prospect relationships.
---
FOR FINANCIAL PROFESSIONAL USE ONLY. Not to be show or distributed to clients.
IMPORTANT: The projections or other information generated by the tools regarding the likelihood of various investment outcomes are hypothetical in nature, do not reflect actual investment results and are not guarantees of future results. Results may vary with each use and over time.
The tools, and any data used by the tools, is provided on an "as-is" basis. BlackRock expressly disclaims all warranties, express or implied, statutory or otherwise with respect to the tools (and any data used by the tools and the results obtained from use of the tools) including, without limitation, all warranties or merchantability, fitness for a particular purpose or use, accuracy, completeness, originality and/or non-infringement. In no event shall BlackRock have any liability for any claims, damages, obligations, liabilities or losses relating to the tools including, without limitation, any liability for any direct, indirect, special, incidental, punitive and/or consequential damages (including loss of profits or principal).
The use of the tools is subject to the BlackRock Terms of Use.
The data collected through the tools is treated pursuant to BlackRock's Data Promise.
This information should not be relied upon as research, investment advice, or a recommendation regarding any products, strategies, or any security in particular. This material is strictly for illustrative, educational, or informational purposes and is subject to change.
BlackRock does not endorse Fidelity Model Portfolios. Information regarding Fidelity Model Portfolios does not constitute investment advice or a recommendation from BlackRock.
Not FDIC Insured * No Bank Guarantee * May Lose Value.
©2022 BlackRock, Inc. All rights reserved. BLACKROCK is a trademark of BlackRock, Inc. or its subsidiaries in the United States and elsewhere. All other marks are the property of their respective owners.
Prepared by BlackRock Investments, LLC, FINRA.
BlackRock Fund Advisors, an affiliate of BlackRock Investments, LLC, is a registered investment adviser.
Fidelity Model Portfolios are made available to intermediaries on a non-discretionary basis by FIAM LLC, a registered investment adviser, or by Fidelity Distributors Company LLC, a registered broker-dealer. Investment performance of the Fidelity Model Portfolios depends on the performance of the underlying investment options and on the proportion of the assets invested in each underlying investment option over time. The performance of the underlying investment options depends, in turn, on their investments. which will vary day to day in response to many factors. Asset allocation strategies are subject to the volatility of the financial markets, including that of the underlying investment options' asset class.
Fidelity InstitutionalSM National Financial Services LLC, Fidelity Brokerage Services LLC, and their affiliates (collectively, "Fidelity") are unaffiliated with BlackRock, Inc ("BlackRock"). There is no form of legal partnership, agency affiliation, or similar relationship between BlackRock and Fidelity, nor is such a relationship created or implied by the information herein. Fidelity has not been involved with the preparation of the content supplied by BlackRock and does not guarantee, or assume any responsibility for, such content. Fidelity and WealthscapeSM are registered service marks of FMR LLC.
Fidelity InstitutionalSM provides clearing, custody, or other brokerage services through National Financial Services LLC or Fidelity Brokerage Services LLC, Members NYSE, SIPC. 245 Summer Street, Boston, MA 02210. 941537.3.0
USRRMH0822U/S-2390585-2/2