Sustainability is a key focus at BlackRock Fundamental Equities. Investment teams have integrated ESG (environmental, social and governance) considerations into investing frameworks – and are actively identifying opportunities arising out of the increased attention and demand in these areas. We look for sustainability trends that remain at an early stage and the companies that are set to play a major part in the process for years to come. One emerging trend – sustainable buildings. What do we see?
Sustainable building renovation becoming a major investment theme
Tenants and regulators pushing landlords to upgrade office space
Public money as vital to kickstarting the transition to sustainability
Sustainable Buildings
The COVID crisis has shaken up the property market. Office space is in focus as employers seek to adjust to flexible working – and half-empty buildings – and identify ways to entice staff back to the workplace. Demand for new skyscrapers is subdued – but demand for renovations is soaring, as tenants look to repurpose buildings and add restaurants, gyms and apartments to existing space. Tenants, in seeking to boost their own ESG profiles, are willing to pay more for energy-efficient buildings, as the chart below shows.
The price of energy performance
Office rental costs in London for select energy efficiency ratings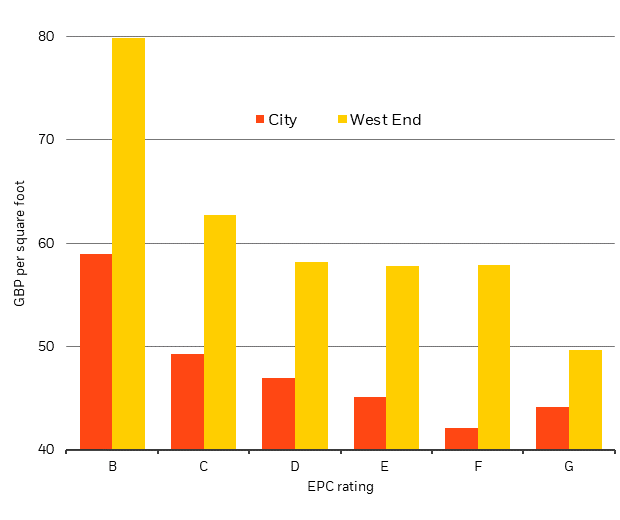 Source: Radius Data Exchange, July 2021. The chart shows the average office rental price in GBP per square foot for London's City and West End areas, for different ratings on the UK's Energy Performance Certificate (EPC) system.
A public push
The European Union (EU) plans to reduce greenhouse gas emissions 55% from 1990 levels by 2030, and to reach net-zero emissions by 2050. Buildings account for 40% of Europe's energy consumption. To reach the 55% target, 90 billion euros of public and private investment into European property may be required every year for the next nine years, according to our analysis.
It is most likely that building emissions will be reduced through renovations rather than rebuilding. More than 30% of the EU's 672.5 billion euro Recovery and Resilience facility is set aside for green projects, and much of this should flow into sustainable buildings, according to national government plans for the money.
Developing opportunities
There are two main ways to improve the sustainability of a building. First, reduce emissions. This can be done by tackling the many areas through which heat escapes – benefitting insulation and window companies – and through providing renewable heating technology, such as electricity and hydrogen, and waste management systems. Heat pumps may also play a vital role.
The second method is to improve the productivity of a building compared to the amount of energy it uses. This means converting obsolete buildings to a condition with greater commercial use. One example: transforming retail properties into logistics premises
Some of the companies that can aid the transformation of Europe's buildings – such as those that provide digital energy solutions – have already attracted high valuations. Yet there are companies not known for their ESG credentials that have energy efficiency parts of the business not yet reflected in their share prices. These companies could be the biggest winners as they refocus on these hidden gems within – and the market starts to notice.
Challenges for landlords
Large landlords are being pushed by both tenants and regulators to bolster the efficiency of their buildings. In the UK, the government is considering making it law that all rented non-domestic buildings will be Energy Performance Certificate (EPC) Band B by 2030, according to a government white paper. Many of the major UK landlords have between 70% and 80% of buildings below the B rating, and the companies say it could cost hundreds of millions of pounds to renovate their buildings to the standard required. Office buildings are the most expensive to renovate to a higher efficiency standard due in part to the proliferation of mechanical and electrical components. Warehouses are more straightforward and the required efficiency improvements could be achieved in some cases through a switch to LED lighting alone.
We are actively researching this trend and see many opportunities within equity markets to capitalise on the sustainable buildings drive.