Capital at risk. The value of investments and the income from them can fall as well as rise and are not guaranteed. Investors may not get back the amount originally invested.
With the new ISA season upon us, we wanted to tell you about a simple, risk-managed and cost-effective – with fees of just 0.17% - investment solution that allows your clients to do more with their savings.
You may have fielded a number of questions in recent months about risk – the risk in clients' portfolios or out there in today's uncertain markets. Here, we seek to demonstrate how our MyMap range of funds may help your clients weather today's investment challenges and meet their long-term investment goals.
A risk profile that reflects your client's finances and long-term goals
Your client's concerns
A lot of clients will be concerned about the risks their portfolios are taking and whether those risks are right for them, especially in today's changeable market.
MyMap's simple solution
Each of our MyMap funds has a predefined volatility band, which is vital to pursuing the right balance of risk and return potential – one that reflects your client's financial position and investment goals.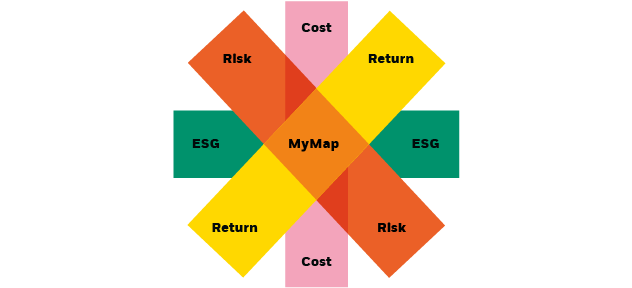 BlackRock, 1 March 2021
For illustrative purposes only
Risk: Diversification and asset allocation may not fully protect you from market risk.
Our asset allocation and risk management processes are designed so that we stay within each fund's volatility target. While your clients' traditional 50/50 bond/equity portfolios will likely see volatility spike at key points in the market cycle, our dynamic asset allocation looks to manage volatility at a suitable level whatever is happening in the wider market.


Source: BlackRock, 1 March 2021
For illustrative purposes only – not calculated using market data.
Diversification and lower costs
Your client's concerns
Markets remain susceptible to Covid-19-related shocks and dramatic falls in investor sentiment. Many investors will also be keeping an eye on the headline inflation figures as economies reopen – markets tend to be more volatile when inflation is rising. It's understandable that many retail investors will question whether now is a good time to invest in equities and bonds.
Despite any short-term volatility, we know the dangers of investors delaying investing or pulling money out of the market too soon. Low-cost investing and long-term diversification can be better solutions for investors than trying to time markets.
MyMap's simple solution
Our multi-asset approach – leveraging BlackRock's global expertise and resources – seeks to help your clients benefit from a level of diversification that can protect returns over time, even when markets are volatile. We invest in equities and bonds, in addition to a small number of other asset classes that add further diversification, such as physical gold.
And lower costs of just 0.17% OCF ensures more of your clients' money stays in the market, which may potentially mean greater compound returns over time. We can offer lower costs because we access the underlying universe of bonds and stocks through lower-cost exchange-traded funds (ETF) and index-tracking funds, as well as making some smaller investments in exchange-traded commodity funds.
Responsible investing may protect against volatility and enhance long-term return potential
Your client's concerns
The world is changing and your clients are becoming increasingly concerned about the impact their investments are having. But they may also be concerned that investing in an environmental, social and governance (ESG) fund is both expensive and can cost on performance.
The investment risks presented by climate change, however, could begin to accelerate. Investors are flocking to companies with positive ESG records, regulators and governments are putting a lot more emphasis on ESG factors, and companies focused on environmental and social issues are investing for long-term growth.1 Even in a volatile year like 2020, on the whole, ESG funds experienced positive inflows versus their traditional peers.2
1 Bloomberg, Record Flows Pour Into ESG Funds as Their 'Wokeness' Is Debated, 25 October 2020
2 Wealth Adviser, ESG funds outperform across global, UK and Equity Income sectors in 2020, 12 December 2020
MyMap's simple solution
You can discover more about how the MyMap funds are becoming progressively more ESG aware here. These issues are a major part of our investment process as we aim to provide more sustainable investments and long-term performance for your clients.
In addition, we believe our MyMap 5 Select ESG fund is available for those clients who most want to see specific values reflected in their investments. We aim to provide a low-cost opportunity to make a long-term difference and long-term returns.
Let MyMap lead the way
When it comes to setting up a balanced portfolio that reflects your client's finances, risk tolerances and goals, MyMap ticks the boxes. Both your clients and your business can benefit from investing in BlackRock's MyMap range of funds this new ISA season.
MyMap lets you do more with your time. And your clients do more with their money.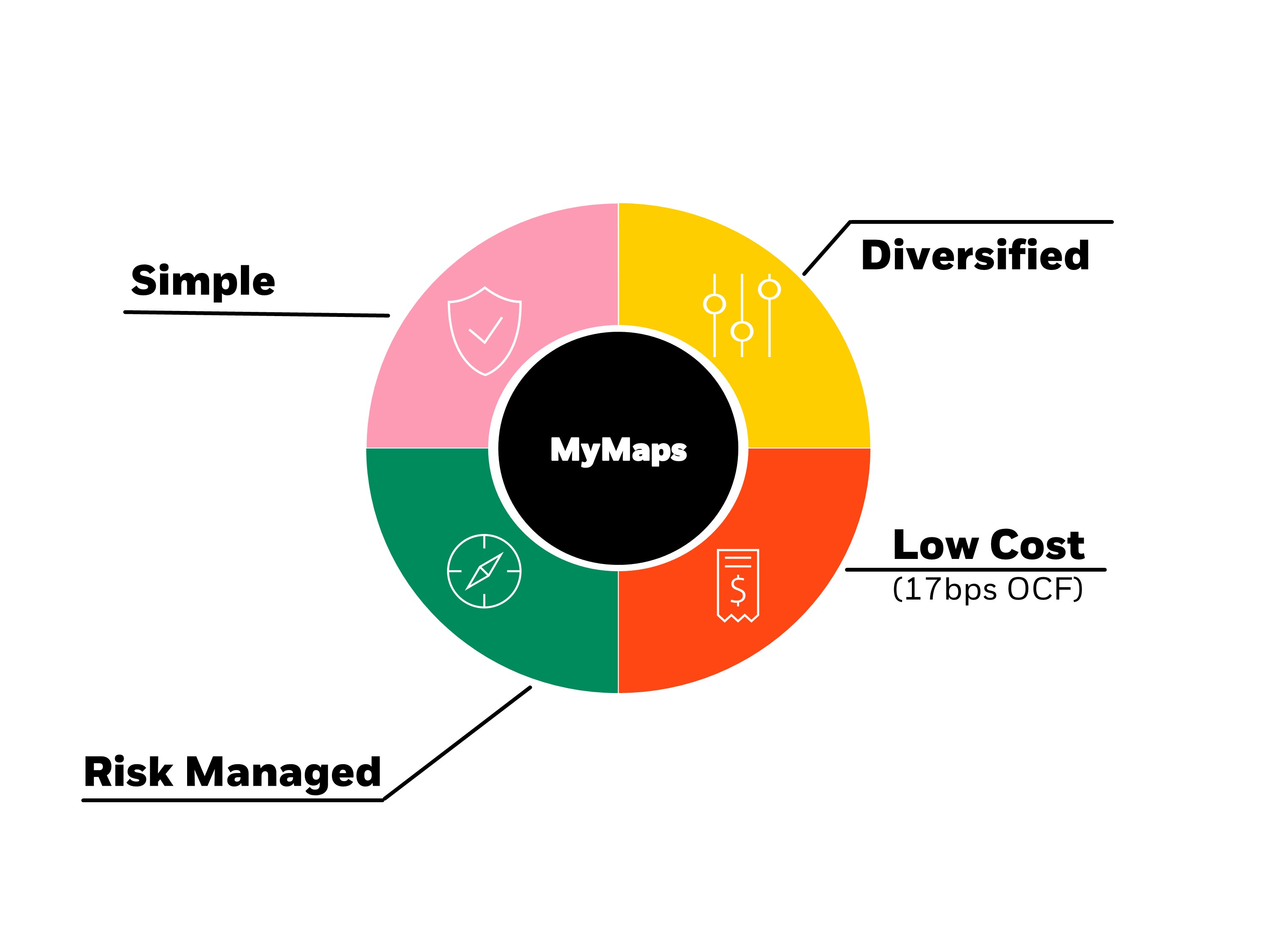 Source: BlackRock, 1 March 2021
For illustrative purposes only.
Risk Warnings
Capital at risk. The value of investments and the income from them can fall as well as rise and are not guaranteed. Investors may not get back the amount originally invested.
Past performance is not a reliable indicator of current or future results and should not be the sole factor of consideration when selecting a product or strategy.
Changes in the rates of exchange between currencies may cause the value of investments to diminish or increase. Fluctuation may be particularly marked in the case of a higher volatility fund and the value of an investment may fall suddenly and substantially. Levels and basis of taxation may change from time to time.
Fund-specific risks
MyMap 3 Fund
Counterparty Risk, Credit Risk, Currency Risk, Equity Risk, Liquidity Risk
MyMap 5 ESG Fund
Counterparty Risk, Credit Risk, Currency Risk, Equity Risk, Liquidity Risk
MyMap 5 Fund
Counterparty Risk, Credit Risk, Currency Risk, Equity Risk, Liquidity Risk
MyMap 6 Fund
Counterparty Risk, Credit Risk, Currency Risk, Equity Risk, Liquidity Risk
Description of Fund Risks
Counterparty Risk
The insolvency of any institutions providing services such as safekeeping of assets or acting as counterparty to derivatives or other instruments, may expose the Fund to financial loss.
Credit Risk
A main risk related to fixed income investing is credit risk. Credit risk refers to the possibility that the issuer of the bond will not be able to repay the principal and make interest payments.
Currency Risk
The Fund invests in other currencies. Changes in exchange rates will therefore affect the value of the investment.
Equity Risk
The value of equities and equity-related securities can be affected by daily stock market movements. Other influential factors include political, economic news, company earnings and significant corporate events.
Liquidity Risk
The Fund's investments may have low liquidity which often causes the value of these investments to be less predictable. In extreme cases, the Fund may not be able to realise the investment at the latest market price or at a price considered fair.
Important Information
This material is for distribution to Professional Clients (as defined by the Financial Conduct Authority or MiFID Rules) only and should not be relied upon by any other persons.
Issued by BlackRock Investment Management (UK) Limited, authorised and regulated by the Financial Conduct Authority. Registered office: 12 Throgmorton Avenue, London, EC2N 2DL. Tel: + 44 (0)20 7743 3000. Registered in England and Wales No. 2020394. For your protection telephone calls are usually recorded. BlackRock is a trading name of BlackRock Investment Management (UK) Limited. Please refer to the Financial Conduct Authority website for a list of authorised activities conducted by BlackRock.
BlackRock Investment Funds (the "Trust") is an authorised unit trust scheme which is organised as an umbrella comprising separate funds with segregated liability (the "Funds"). The Funds are subject to the rules of the FCA as set out in the COLL Sourcebook. Key investor information documents ("KIIDs") for each unit class in each of the Funds are available from the Manager. This document does not constitute an offer or solicitation by anyone in any jurisdiction in which an offer or solicitation is not lawful or in which the person making such an offer or solicitation is not qualified to do so or to anyone to whom it is unlawful to make such a solicitation. It is the responsibility of any persons in possession of this document and any persons wishing to apply for units in the Funds to inform themselves of and to observe all applicable laws and regulations of any relevant jurisdiction, the legal requirements of applying for units in the Funds and any applicable exchange control regulations and taxes in the countries of their respective citizenship, residence, domicile or incorporation. Prospective investors should carefully review the prospectus for the Fund and should consider the risk discussion under "Risk Factors prior to making an investment decision. Any investment decision with respect to the Fund must be made solely on the definitive and final version of the Fund's prospectus as at the date of the investment. US Persons are not permitted to subscribe for units in the Funds.
Any research in this document has been procured and may have been acted on by BlackRock for its own purpose. The results of such research are being made available only incidentally. The views expressed do not constitute investment or any other advice and are subject to change. They do not necessarily reflect the views of any company in the BlackRock Group or any part thereof and no assurances are made as to their accuracy.
This document is for information purposes only and does not constitute an offer or invitation to anyone to invest in any BlackRock funds and has not been prepared in connection with any such offer.
© 2021 BlackRock, Inc. All Rights reserved. BLACKROCK, BLACKROCK SOLUTIONS, iSHARES, BUILD ON BLACKROCK and SO WHAT DO I DO WITH MY MONEY are trademarks of BlackRock, Inc. or its subsidiaries in the United States and elsewhere. All other trademarks are those of their respective owners.