More sector-specific, and a bigger role for fresh capital
Credit markets have travelled an unprecedented path this year, driven dramatically down by the Covid-19 shock and then revived by a massive policy response. Thus began a cycle that we believe is now headed for an equally unprecedented phase of distress and restructuring — similar in scale to the post-2008 default wave, but differing in important ways. For many debt issuers and their stakeholders, the period will doubtless be a difficult one. At the same time, investors prepared to navigate a different sort of cycle may find opportunities in the rebuilding ahead.
Download distressed credit paper
More leverage, more debt, and differing amounts of distress across sectors
Growth in company leverage in U.S. leveraged finance markets (left) and sub-investment grade and private debt (right); distressed debt by sector (bottom)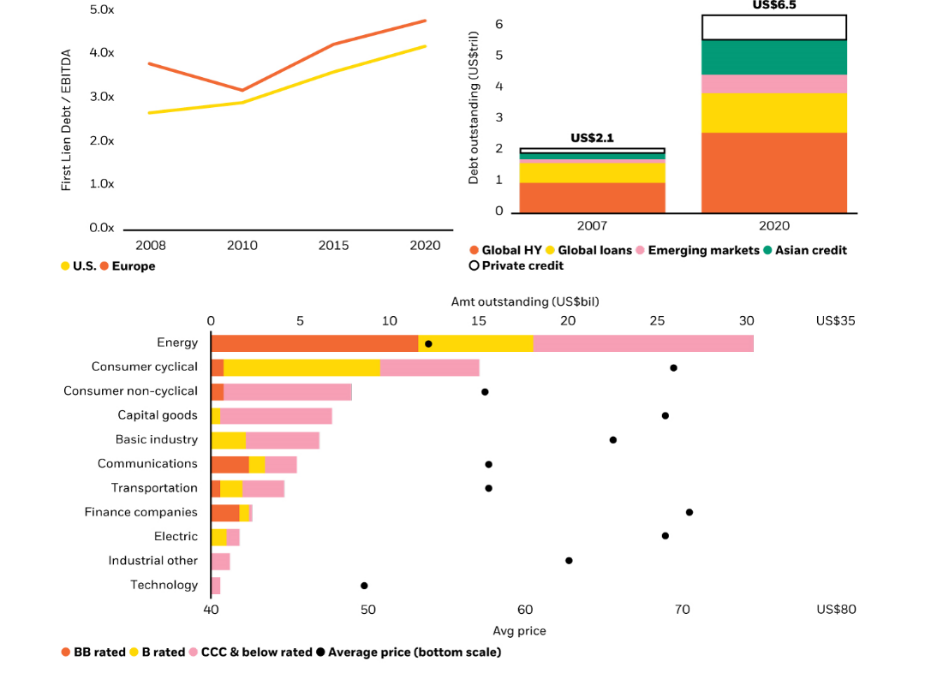 Sources: Panel 1: BlackRock, 9/30/20. Global HY = BBG Barclays Global High Yield Index, Global Loans = S&P/LSTA Leveraged Loan Index + S&P European All Loans Index, Emerging Markets = JP Morgan CEMBI Index, Asian Credit = JP Morgan Asian Credit Index, Private Credit AUM from Prequin. Index data as of 6/30/20, and private credit AUM as of 12/31/2019. Panel 2: S&P LCD Global Review as of 3/31/2020. Panel 3: Bloomberg Barclays Global High Yield Index as of 9/30/20, market value of level 2 sectors by Barclays rating (excluding financials and sectors with less than US$300b in bonds trading at distressed levels), based on all securities priced <$80.
We anticipate three key differences between the coming cycle and the period after the Global Financial Crisis (GFC). First, distressed investing after the GFC most often entailed post-default purchases of corporate debt in the secondary market. Now, after a decade of structural change in the credit markets — eroding protection for lenders as well as shifts in who holds the debt — the dynamics of restructuring are likely to change too. While the purchase of discounted claims, loans and bonds will have an ongoing role, we also see a potential need for new capital being injected directly into stressed and distressed companies. This will often mean earlier engagement with issuers and working across the capital structure with a wider array of creditors and shareholders.
Second, instead of being able to rely on a broad-based economic recovery to improve value, we think investors will need to be keenly attuned to the sector-specific impacts of the Covid-19 pandemic. Although fiscal and monetary support is cushioning some of the near-term impact, the pandemic is already driving deep economic change that benefits some industries, technologies and business models, while severely challenging others.
Finally, these impacts are being felt across a credit market far larger than it was at the time of the GFC. Sub-investment grade debt has increased nearly threefold to about US$5.6 trillion today vs. about US$2 trillion in 2007. Private credit, meanwhile, has expanded to US$850 billion as of December 31, 2019 and is on pace to exceed US$1 trillion by the end of this year. Companies themselves are more highly levered. Debt levels for companies funded in the U.S. leveraged finance markets averaged above four times EBITDA at March 31, 2020, compared to under three times in 2008, and they are at the beginning of what we expect to be a challenging economic cycle: Year-over-year revenue growth for U.S. high yield companies was -15% in the second quarter of 2020. The charts above show the growth in debt outstanding and leverage levels, and how the pandemic has already created different levels of distress in different sectors across the high yield market.
We expect sector dispersion to increase as the effects of economic stimulus wane and the pandemic grinds on. The amount of debt trading at distressed prices has fallen sharply amid the market rally that began in March, from over US$400 billion to around US$73 billion as of August 31, 2020, and the implied five-year cumulative default rate on CCC bonds has declined from 61% at the March highs to around 45% as of September 27, 2020. However, much of this improvement is likely to prove temporary. While a significant amount of capital has been raised in recent years to invest in distressed credit (we estimate dry powder of approximately US$130 to US$150 billion), we think it still may not be enough to meet the funding needs of this cycle.
Evolution of market structure
In short, we see a significant wave of restructuring ahead. Read on for a deeper dive into the factors we expect to shape it.
A greater strategic allocation to credit from global institutional investors has contributed to an evolving ownership profile aided by the significant expansion of investment tools like exchange traded funds. The makeup of market segments has evolved as well. Within high yield, the size of[ the average issuer has grown larger as smaller issuers have increasingly sought capital through private markets.
The pandemic is driving further shifts. As in prior credit cycles, we have seen significant fallen angel downgrades (more than US$150 billion this year through August 31, 2020 according to Credit Suisse, although the pace slowed as stimulus took hold) from an investment grade market more dominated by BBBs than it has been historically.
Changes in the bank loan market are likely to play an especially significant role in this credit cycle. CLOs now own nearly 60% of the loan market as investors have flocked to structured credit as a tool for investing in loans across a range of rating tranches. As the charts below highlight, while CLO ownership has grown, the loosening of covenants leaves the loan market approximately 75% covenant-lite today, while the quality of the loan market has slipped with greater single-B issuance. Although CLO structures have improved since the GFC, the combination of covenant-lite assets and structured liabilities remains a critical risk consideration for investors, and puts additional focus on the quality of the CLO managers themselves in addition to the underlying loan collateral.
Bank loans: Increasingly cov-lite, increasingly held in CLOs
Loan covenant quality as tracked by Moody's (left) and growth in loans, CLOs, and CLO % of loans (right)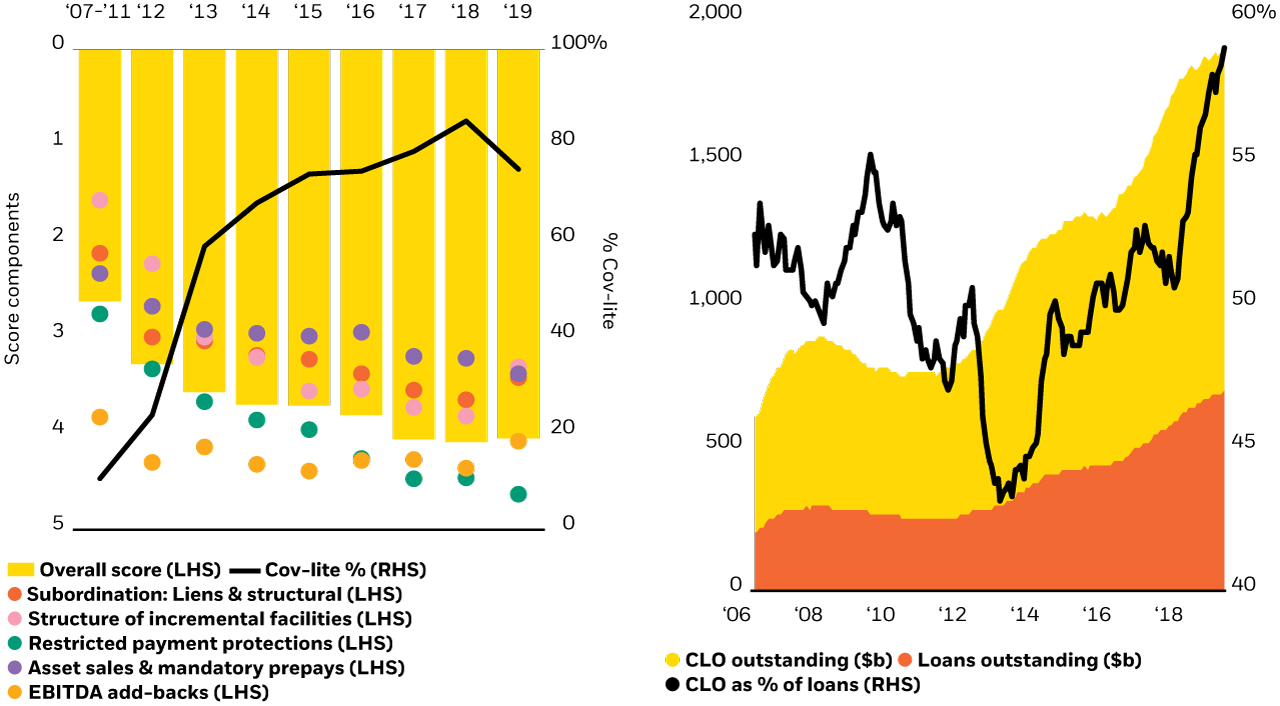 Sources: Panel 1: Moody's Investor Services as of 12/31/19. Data is from the Moody's loan covenant quality (LCQ) scoring system which is measured at time of issuance. Scores range from 1 (strong) to 5 (weakest) based on a weighted average of seven component scores each indicating the level of protection for a specific risk category. Panel 2: Bank of America, Intex, S&P/LSTA Leveraged Loan Index par outstanding, as of 6/30/20.
Much has been written about the growth of covenant-lite debt, but we think the implications on corporate restructurings remain underappreciated. Greater financial flexibility for issuers may be to the detriment of debt holders, as additional senior or pari-passu debt is injected into distressed capital structures. This is likely to exacerbate the dynamic between buyers of secondary debt looking for control versus those seeking to maintain or refinance debt with better lender protections. Looser covenants may initially help issuers avoid technical default while putting more pressure on the various classes of creditors and shareholders to align on a restructuring plan that serves a wider range of constituent needs.
The different composition of debt holders entering this distressed cycle is an important consideration as well. At the start of the GFC, bank proprietary trading desks and hedge funds with redemption structures were major holders and buyers of risk. Today there is more ownership diversity across a wider universe of locked-up capital from private funds, as well as closed-end funds, CLOs, and longer-term institutional investors. For issuers this is a mixed blessing. With the exception of those using the direct lending markets, risk is generally more distributed, and the funding basis of investors is more robust. At the same time, these holders have varying motivations and constraints, sometimes including the need to sell in the event of a downgrade. While in past conflicts outcomes were typically directed between different classes of debt, there may be more strife now between different types of holders — for example, par versus secondary or distress-for-control versus CLOs looking for reinstatement.
Structurally diminished liquidity and potential forced de-leveraging among private investors are also important considerations today. Dealers have limited capacity to warehouse risk because of post-GFC regulatory changes, and investors may find it more difficult to construct a diversified portfolio with fewer blocks consistently on offer. Meanwhile, levered private fund investors such as Business Development Companies (BDCs) may find themselves in need of secondary  liquidity in circumstances where investments experience increased leverage with a drop off in earnings that pushes funds beyond leverage limits and creates a need to sell investments to de-lever.
These structural differences are likely to impact the trajectory and duration of distressed investing this cycle. The availability and growth of private credit to step in as a financing source for more complex and lower quality issuers can better align issuer needs with longer lockup capital that is capable of constructing more bespoke solutions. The composition of opportunities in public markets as a result shifts to larger and/or more established businesses in many cases. Regardless, the key will be finding alignment between the needs of the company and the breadth of priorities of its creditors.
Restructuring and post-default scenarios
Given the structural changes in the market, what might restructurings look like in the quarters to come?
We anticipate two basic types: A continuation of the slow-motion, well known restructurings we have seen historically, and an increase in liquidity-driven defaults where companies are forced into bankruptcy due to quickly changing business conditions or the inability to come to terms with creditors.
Buying distressed debt on the secondary market will continue to be an effective way to capitalize on dislocation and market inefficiency, we believe — but may often need to be done in tandem with the ability to provide fresh capital to keep companies out of insolvency or help recapitalize them to exit a bankruptcy process.
We expect this cycle will require a broader investment perspective and a more comprehensive toolkit to enable engagement with companies in different stages of restructuring, from stressed-but-still-solvent all the way through bankruptcy and recovery. The list is long, and ranges from rescue financing, rights offerings, debtor-in-possession loans and exit financing to more specialized tools such as vendor financing.
Market dynamics since the pandemic began have created a variety of investment opportunities. For example, convertible bond issuance has accelerated this year (more than $84b in U.S. dollar convertibles as of August 25th per Bloomberg) amid the heightened economic uncertainty and elevated volatility. By bundling an equity option with their bonds, companies have been able to issue debt with lower coupons. Should equity prices decline, however, these convertibles will trade at a steep discount to par, because "busted" converts must make up for in price what they lack in coupon, to deliver a similar all-in yield to the market. These discounts create an opening where investors and companies can work together to create "win/win" transactions via debt-for-debt-exchanges, debt-for-equity-exchanges, early buybacks and other capital structure optimization transactions.
Implications of the pandemic for business models
As investors consider which industries and companies to get involved with, we think it is imperative to examine each company's business operating model in light of the changes driven by the pandemic. The stark difference in performance between airlines and technology companies or leisure and healthcare companies is just a starting point. Even in the hardest-hit sectors there will be winners — oftentimes, companies well positioned to consolidate — while sectors enjoying an overall tailwind will still have losers. Notably in the leveraged finance and private credit markets, the companies in question are often not tier 1 businesses but value chain companies (suppliers, consumers), sub-scale competitors, or startups in the early stages of growth.
Companies are focusing closely now on refinancing to term out debt and lock in capital where they can, rationalizing business structures to create greater efficiency and reduce cost, and restructuring debt to align debt profile to the issuer in a post-pandemic world. The market recovery since March has disproportionally benefited higher-quality companies in sectors less directly affected by Covid-19. Low rates, and the recovery in spreads to near pre-pandemic tights leads to greater M&A activity and financial engineering. As is highlighted in the chart below, lower-quality credit has lagged in the recovery, particularly in sectors impacted significantly by Covid-19.
Regardless, investors will need a well-informed view on where both the sector and the specific company are headed. In recent years, some distressed investors in the energy space have learned the hard lesson that buying cheap doesn't matter if you can't find an exit. We expect that lesson to be highly relevant in a post-Covid world.
Headwinds for some sectors, tailwinds for others
Dispersion of returns for high yield issues across industry sectors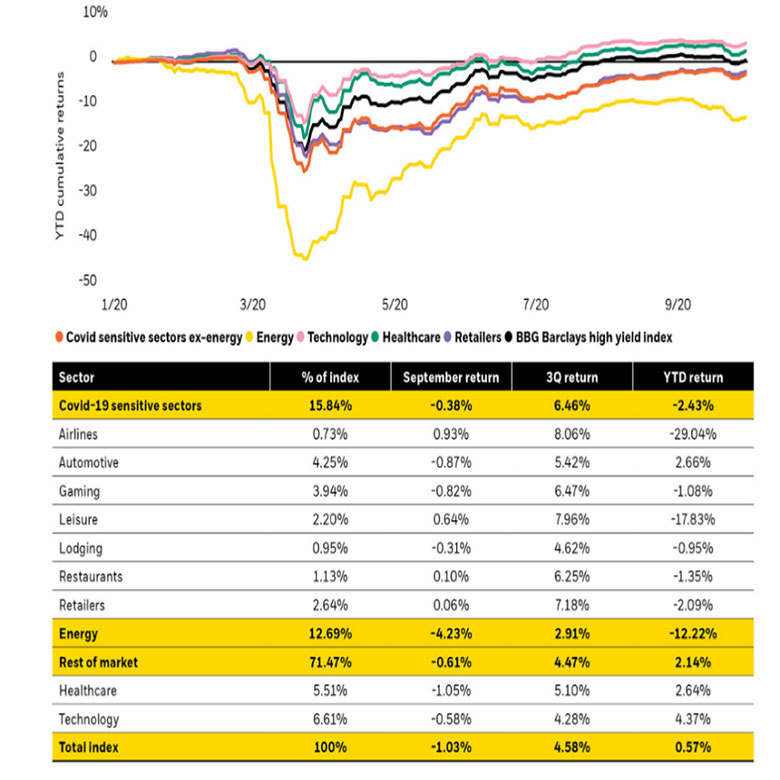 Source: Barclays and BlackRock Aladdin as of 9/30/20. U.S. high yield returns represent the BBG Barclays U.S. High Yield 2% Issuer Capped Index. Index performance shown for illustrative purposes only. It is not possible to invest directly in an index.
Looking ahead
As mentioned above, we believe the amount of capital needed over the next couple of years exceeds the amount that has been raised to date. However, investors are moving quickly to pursue investment opportunities and we expect the market to be competitive. For example, we are seeing a number of private equity firms raise equity and credit funds to deploy into distressed opportunities either by buying the company or injecting structured equity/junior credit to help finance restructurings and turnarounds. This will be a significant pool of capital to be deployed that did not exist in past cycles.
The increasing need for capital and a growing supply of investors seeking to deploy into these opportunities will require greater selectivity. Unlike traditional public market syndicated transactions where price discovery and deal comparisons are more readily available, highly bespoke and privately structured deals are less easily assessed. It is therefore critical to maximize visibility across deals while remaining highly selective about participation. In other words, see a lot to do a little.
The investment opportunity for distressed investing this cycle is significant. As we highlighted, the scale of opportunities and the range of potential solutions are likely to make this cycle historically unique. The economic uncertainty, outlook for monetary and fiscal policy, and ongoing potential impact of the Covid-19 pandemic will have enormous consequences on corporate results, outlook and opportunities in the years ahead. As we emerge from the pandemic lockdown, we believe the distressed investment opportunity is attractive for those able to build flexible portfolios that can take advantage of a wide range of potential investment solutions. Companies are being forced to think outside the box, and investors should too.
Global Credit Forum
BlackRock's Global Credit Forum Hub hosts a series of content showcasing insights from leading industry authorities, former high-level policymakers, company executives and credit investors shared during the conference.