As we bid a fond farewell to what we in the UK notionally refer to as summer, we recap some key events from the past month including the August Bank of England (BoE) Monetary Policy Committee (MPC) meeting, where the market received more colour on the sequencing of any future rate rises and quantitative tightening (QT).
While drought has not been a concern for most during our staycations, the Gilt market has experienced its usual summer issuance slowdown over the past two months, contributing to longer-dated Gilts plumbing yield lows, with 30-year Gilt yields dipping below 1% to levels not seen since the depths of the winter lockdown.  More recently, the Debt Management Office (DMO) provided further clarity on when this period of reduced issuance will end, giving a steer on Gilt supply into the end of the year. We consider the implications of the two green Gilts to come in September and October and a potential blockbuster extension of the index-linked Gilt curve in November.
With the plans on sequencing for any future QT indicating we may be waiting some time for the BoE to be actively selling Gilts back into the market, and funding levels for many schemes remaining buoyed by a positive environment for risk assets, the latest issuance calendar provides some useful target points for schemes seeking to undertake further hedging.
Bank of England Update
August's MPC meeting and accompanying Monetary Policy Report (MPR) provided a lot to digest, despite the unanimous vote to maintain the bank rate at 0.1% and a largely expected 7-1 vote to maintain the current quantitative easing (QE) program.
Inflation and Unemployment Forecasts
May and June CPI year-on-year rates both exceeded consensus forecasts by 0.3%, even if some of this outperformance vs. expectations was subsequently 'given back' in the August print. With this backdrop, we saw a meaningful increase in the BoE inflation forecasts, with CPI projected to reach 4%, double the BoE target, by the end of this year.
BoE expectations for the size of the inflation peak have increased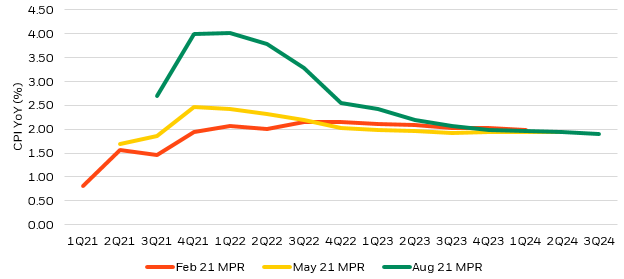 Source: Bank of England, BlackRock, Aug-21
However, despite the significant increase in the forecast CPI peak, the BoE view remains that current projected market interest rates can still bring inflation back to target over their forecast horizon. This is aided by the continued belief that many of the inflation boosts are transitory and a perceived lack of second round effects. Whilst the 2y inflation forecast was increased by 15bps compared to the May MPR, the closeness to the target at this point (at 2.07%) followed by the subsequent projected dip below 2%, suggests that the market path for the bank rate (showing a 'mini-hike' to 25bps in H2 2022 and a second hike almost a year later) is broadly suitable to control inflation, in the BoE's view.
Just as striking as the inflation forecast change, is the view that the unemployment rate will remain subdued and can shrug off the pressures of the end of the furlough scheme. This is particularly noteworthy given the focus of the Federal Reserve (Fed) on US unemployment as a key determinant of monetary tightening. If unemployment figures remain low, as the global economy adjusts post-Covid, there is the potential of a slightly stronger global tightening cycle.
BoE now projecting a smooth exit from the furlough scheme with limited impact on unemployment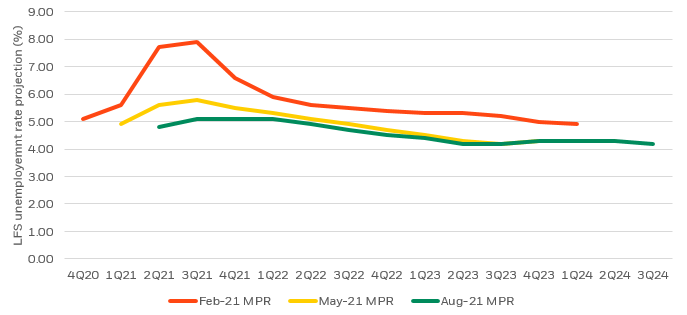 Source: Bank of England, BlackRock, Aug-21
However, expectations of a stronger labour market have increased the risk of wage pressures emerging. The ONS has estimated that the underlying rate of pay growth is running between 3.5% and 4.9%. If this continues, then the confidence that second round effects won't prolong inflation may be challenged.
Sequencing
The MPR also saw the release of the Sequencing Review. This gave us some clarity on the potential usage of QE (and QT) vs. bank rate changes, giving guidance on the approach to balance sheet management. Despite the introduction of a QE exit plan, the Bank Rate will remain the marginal policy tool for the BoE. The report flagged that the MPC has "greater certainty around how changes in Bank Rate affect the economy compared with its other policy", which is logical given the lack of precedent of the impacts of QT (and varying predictions of what those impacts might be).
Quantitative Easing and Tightening
After the single dissenting vote, it now appears almost certain that the current QE program extension to £875bn of Gilts will be completed. This clarity helps in projecting net Gilt supply in the months ahead.
Looking ahead, the larger headlines came from the guidance given on the future unwind of QE through two stages:
Firstly, the MPC "intends to begin to reduce the stock of purchased assets when Bank Rate has reached 0.5%.....initially through ceasing reinvestments"
Subsequently, the MPC "envisages considering beginning the process of actively selling assets only once Bank Rate has risen to at least 1%" Both of these plans are contingent on economic circumstances. Given this, and the wiggle room in the language ("envisages considering beginning" isn't the firmest guidance), we have a mix of clarity of intention with flexibility should circumstances change.
Current market levels implied by SONIA interest rate swaps show rates remaining below 1% across the curve when we consider 1yr forward rates. Gilt pricing indicates forward rates above 1%, but all this really reflects is the additional yield longer-dated Gilts offer over swaps for a variety of reasons.
Swap market rates currently imply the government will never sell Gilts back to the market directly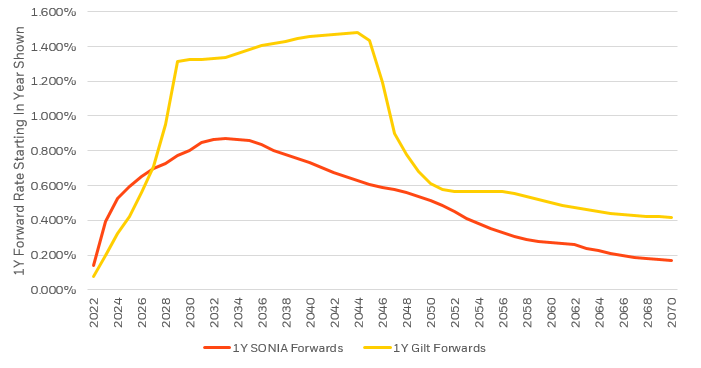 Source: BlackRock. Data as at 1 September 2021.
Therefore, the timing of any second stage of QT is very uncertain. Even for the ceasing of reinvestments, we may not reach the 0.5% bank rate for around two years. However, once this is reached, the quantity of maturing Gilts in the Asset Purchase Facility (APF) the BoE used to buy Gilts is substantial, averaging over £50bn per year in the five fiscal years from 2023-24.
Maturing Gilts held by the APF have scope to create substantial additional supply once rates reach 0.5%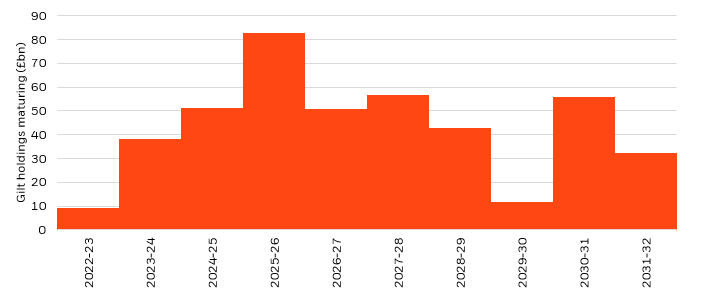 Source: BlackRock, RBC, Aug-21. Based on fiscal years.
Negative Rates
The long awaited review into negative rates was also published as part of this MPR, confirming that a bank rate of below 0% is now a fully operational part of MPC toolkit. To some extent the addition of negative rates to the toolkit doesn't seem immediately relevant, as it is not currently priced into the market. However, lowering the effective lower bound gives more headroom should another economic shock occur. This may have contributed to the comfort in QT commencing at lower rates than previously stated (with 1.5% having previously been the trigger level), as with negative rates on the table there is still room to move rates in both directions from here.
What does this mean for the long-dated rates that impact LDI most?
The immediate reaction to the BoE's updated policy on the potential future unwind of the Gilts on its balance sheet was extremely muted. This is hardly surprising when we consider again current market pricing of interest rates over the longer term.
In reality, Gilts are closely aligned with the direction of global interest rates and have tracked lower with Treasuries as delta variant concerns grew in the US. While at the recent annual Jackson Hole meeting of central bankers the Federal Reserve failed to indicate a timeline for QE to be tapered, many expect this announcement to come by the end of this year. This is, however, simply a reduction in the pace of buying. Following a recent above expectation European inflation print, talk of tapering bond purchases is also front and centre at the ECB and Bund yields have recently started to tick slightly higher.
Local macro and bond supply and demand conditions play a role but global conditions matter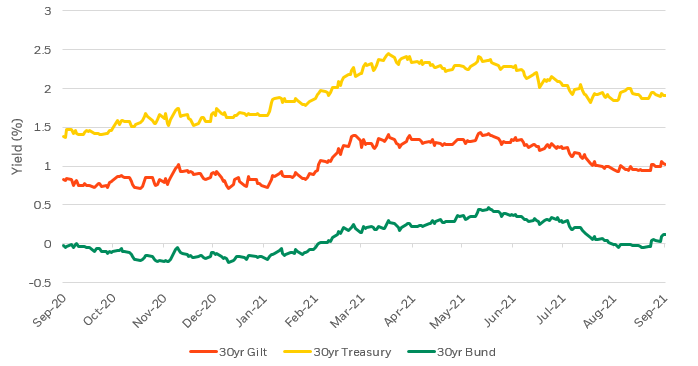 Source: BlackRock, Bloomberg. 02-September-2021. The figures shown relate to past performance.  Past performance is not a reliable indicator of current or future results.
Global changes in policy are likely to be relatively cautious and slow moving, with central banks seemingly having learned the lessons of tightening too quickly post the global financial crisis. Global rates have a strong chance of remaining relatively low for an extended period and the barriers to large yield increases through unwind of central bank balance sheets are high. The new nominal as our BlackRock Investment Institute colleagues have coined it is likely here to stay.
Upcoming Gilt supply
Aside from the longer-term impacts of QT, there is the more imminent effect of Gilt supply in the coming months. After the summer lull, where ongoing QE buying largely offset the reduced supply and net Gilt supply was minimal, there is a strong increase in Gilt issuance due before year end.
The issuance schedule is headlined by three notable syndications in consecutive months. We will see a new 2033 green Gilt in w/c 20 September, a new 20-30y green Gilt in mid to late October and finally a new or existing 40y+ index-linked Gilt in the w/c 22 November. The importance of these syndications is shown on the 'Bubble Chart' below, where the size of the bubble corresponds to the estimated PV01 of each supply event.
Gilt supply to pick-up materially as we enter September following the summer lull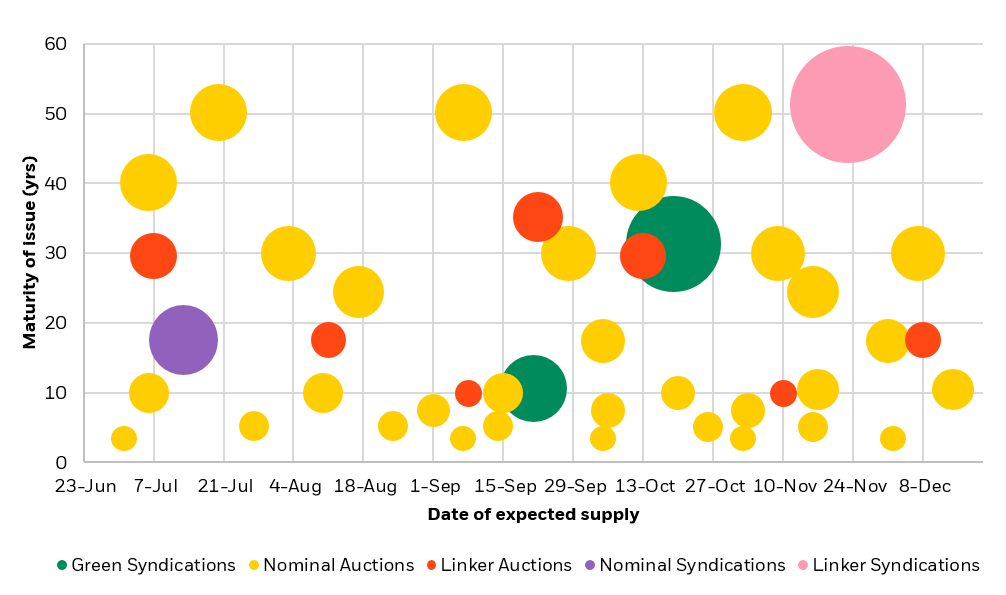 Source: DMO, Bloomberg, BlackRock 02-Sep-21. Size of bubble represents estimate of PV01.
While the green Gilt issuance represents sizeable amounts of additional interest rate PV01 coming to the market, these events are likely to attract 'tourist investors', those who wouldn't typically buy Gilts but are keen to build their allocations to green bonds. This may offset some of the PV01 supply that might otherwise have filtered through to pension scheme investors.
After a relative lack of inflation supply across the year, the November index-linked Gilt supply is a clear focal point for the market to coalesce around. Whilst the exact maturity of the issue is unclear, there have been calls for a curve extension to a maturity beyond 2071, providing both more inflation risk to the market, and a new hedging instrument for the longest liabilities.
Whilst the coming months should see opportunities to de-risk from significant supply, the outlook from December onwards is less clear. The OBR has confirmed that it will publish updated government borrowing forecasts on 27 October.  Given the stronger than expected economic performance earlier in the year, this is likely to trigger a remit reduction which may weigh on Gilt supply into the end of the financial year.
The upcoming supply is likely to be well received, with scheme funding levels remaining at elevated levels. Whilst the s179 liability discounting approach used in the PPF 7800 index is more generous than many other metrics, the improvement in funding terms in the past years is notable.
Despite recent yield falls, Scheme funding levels remain close to 5yr highs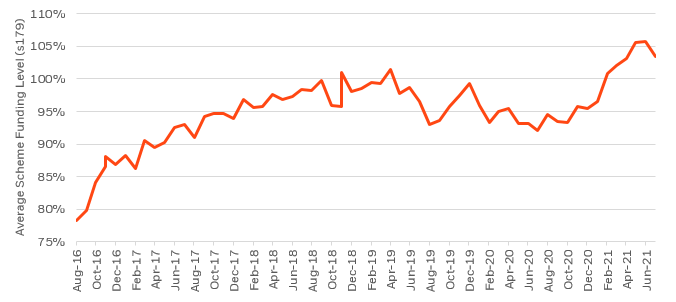 Source: Pension Protection Fund, BlackRock, Sep-21 PPF 7800 index.
With many schemes hedging to funding levels, this could be the catalyst for increased de-risking demand. Whilst the current low rate environment could make schemes elect to wait for better entry levels, the rate contingent QT approach of the Bank of England may keep yields at a suppressed level for a while longer. Therefore, the volume of supply in Q4 could be an opportune window for those needing to hedge before Gilt issuance likely falls into the new year.
In addition, any hedging that takes place still is likely to be in Gilt form in the majority of cases, despite the additional yield pickup from Gilts over swaps being close to lows from the past several years. Repo financing costs continue to be modest relative to historical levels with strong balance sheet availability.
Additional yield from longer-dated Gilts relative to swaps is close to recent lows

Source: BlackRock. Data as at 11 August 2021. Dots show current level, bar shows 3 month range, line shows 12 month range.
But continued low repo financing costs mean unfunded Gilts still offer additional yield over swaps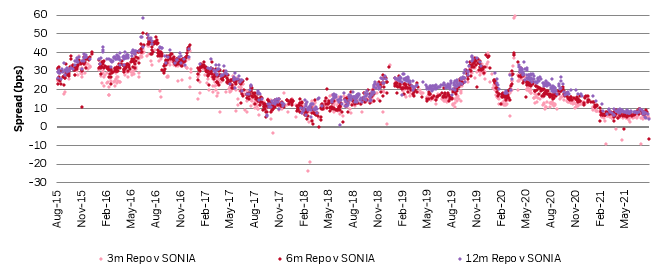 Source: BlackRock. Data as at 11 August 2021.
Meanwhile bulk annuity activity, another natural source of supply of Gilts to the market, is having a relatively slow year. Several reasons have been flagged for this, including a low pipeline due to deals not being considered during the height of the COVID crisis, low credit spreads and a lack of sponsor willingness to inject cash into schemes. When pension scheme's transfer Gilts to insurers these are often recycled into other higher yielding assets and with less of this activity, we expect to see less Gilt sales in year end.
In summary
A deluge of Gilts hitting the market and pushing yields materially higher from an unwind of QE (so called QT) is unlikely anytime soon
Other central banks may start to reduce stimulus in terms of tapering QE but are likely to proceed cautiously beyond this
Gilt supply picks up as we head into the end of the year, however there are reasons to suggest demand from pension schemes for Gilts may remain robust while green Gilts are likely to also spur competition from other investors
These supply events present important pockets of liquidity but may also be surrounded by local highs in nominal and real yields, in particular around the potential index-linked Gilt curve extension
The opinions expressed are as of September 2021 and are subject to change at any time due to changes in market or economic conditions. The above descriptions are meant to be illustrative. There is no guarantee that any forecasts made will come to pass.
Risks
Capital at risk. The value of investments and the income from them can fall as well as rise and are not guaranteed. Investors may not get back the amount originally invested.
Past performance is not a reliable indicator of current or future results.
Changes in the rates of exchange between currencies may cause the value of investments to diminish or increase. Fluctuation may be particularly marked in the case of a higher volatility fund and the value of an investment may fall suddenly and substantially. Levels and basis of taxation may change from time to time.
Important information
This material is for distribution to Professional Clients (as defined by the Financial Conduct Authority or MiFID Rules) only and should not be relied upon by any other persons.
Issued by BlackRock Investment Management (UK) Limited, authorised and regulated by the Financial Conduct Authority. Registered office: 12 Throgmorton Avenue, London, EC2N 2DL. Tel: + 44 (0)20 7743 3000. Registered in England and Wales No. 02020394. For your protection telephone calls are usually recorded. Please refer to the Financial Conduct Authority website for a list of authorised activities conducted by BlackRock.
Any research in this document has been procured and may have been acted on by BlackRock for its own purpose.  The results of such research are being made available only incidentally.  The views expressed do not constitute investment or any other advice and are subject to change.  They do not necessarily reflect the views of any company in the BlackRock Group or any part thereof and no assurances are made as to their accuracy.
This document is for information purposes only and does not constitute an offer or invitation to anyone to invest in any BlackRock funds and has not been prepared in connection with any such offer.
© 2021 BlackRock, Inc. All Rights reserved. BLACKROCK, BLACKROCK SOLUTIONS, iSHARES, BUILD ON BLACKROCK, SO WHAT DO I DO WITH MY MONEY are trademarks of BlackRock, Inc. or its subsidiaries in the United States and elsewhere. All other trademarks are those of their respective owners.