In this month's update we review recent UK macro conditions and the impacts on expectations for monetary policy. We also consider the latest Debt Management Office (DMO) plans for issuance in the coming quarter and the implications on longer-dated yields and the prospects of green gilt issuance.
Finally, we wrap up by considering in more detail the options for hedging inflation beyond RPI, the basis risks that come from other inflation indices, and current market conditions.
'Running hot'
A slew of better-than-expected data releases continued to support hopes for a rapid rebound in the UK economy to pre-pandemic levels as it re-emerges from lockdown.
While the four-week delay to the final stage of lockdown easing gives time to fully vaccinate a larger section of the population in the race against rapid spread of the Delta (Indian) variant, the recovery is likely to remain on track for now.
Some of the key data releases indicate the UK economy 'running hot', including the latest set of Purchasing Managers' Indices (PMIs) and GDP figures. In particular, the composite PMI (which represents a monthly survey on trends in the manufacturing and service sectors) pointed to exceptionally strong growth in the second quarter as it rose to its highest level since the series began in 1998.  It also highlighted some of the labour pressures this rapid growth was causing such as 'difficulties with staff availability'.
April's GDP also rose 2.3% (yoy) with the size of the UK economy now only 3.7% below the pre-pandemic level in February 2020, the smallest gap since the start of the crisis. The Bank of England (BoE) also raised its growth forecasts on the back of the rapid progress in the vaccine roll-out and easing restrictions paved the way for a boom in pent-up demand.
The Bank of England has improved its GDP outlook as re-opening continues
Source: Bank of England, Office for National Statistics June 2021
BlackRock 14-June-21
Short-term inflation continued to move higher, driven by a surge in fuel prices and more expensive clothing. The CPI annual rate hit 2.1% in May, which was 0.3% above the consensus and ahead of the Bank of England's (BoE) 2% target. Core CPI also rose 2%, significantly above the 1.5% forecast, which could be an early sign that rising inflation is beginning to become more structurally embedded, although the data remains somewhat noisy making it difficult to draw firm conclusions.
UK inflation markets continued to see a strong rally with the most pronounced moves in the front end (2Y RPI swaps ended May at 3.92% having started the month at 3.45%) while longer maturities also pushed higher.
Market implied Bank of England rate hikes remain steady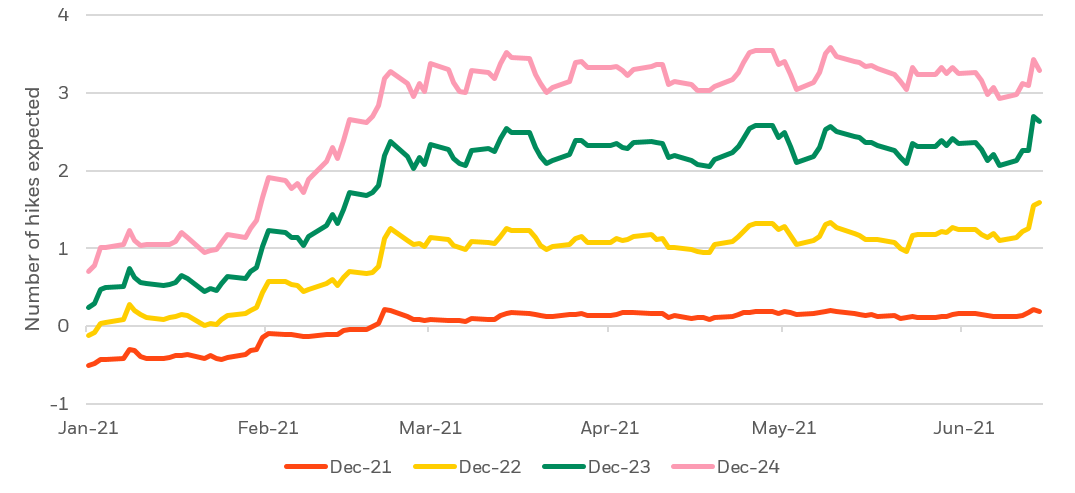 Source: Bloomberg, June 2021
BlackRock 14-June-21
Following eve stronger inflation data in the US (US CPI printed at 5% yoy in May), the Federal Open Market Committee (FOMC) signalled a more hawkish tone with expectations of the first hike in 2023 (rather than 2024 as before). All eyes are now on the upcoming BoE MPC meeting on 24 June and whether there is a similar change in tone as inflationary pressures drive a reassessment around how soon to tighten policy.
After the rise earlier in the year, gilt yields had tended to stay range bound as markets were somewhat apprehensive about how fast rates may increase given the continued cautious stance of the BoE. For example, the 2Y has stayed within 0.02-0.12% for the last couple of months as it struggled to break higher. However, following the FOMC move, 2Y yields briefly broke above this level as some participants grew increasingly confident that at least one hike will come as soon as next year (central bank guidance points towards 2023 at the earliest).
Q3 Gilt issuance – DMO vs. BoE tug of war continues
The release of the Q3 DMO Calendar didn't bring many surprises. Inflation linked bond supply remained limited with 4 auctions signalled (31s, 39s, 51s and 56s) and no syndication this quarter. This means that the total amount of inflation sensitivity (often referred to as IE01) issued will be only approximately half that of the last quarter, further challenging the supply / demand imbalance in the market.
Expected gilt supply over Q3 2021 lacks longer dated gilt syndications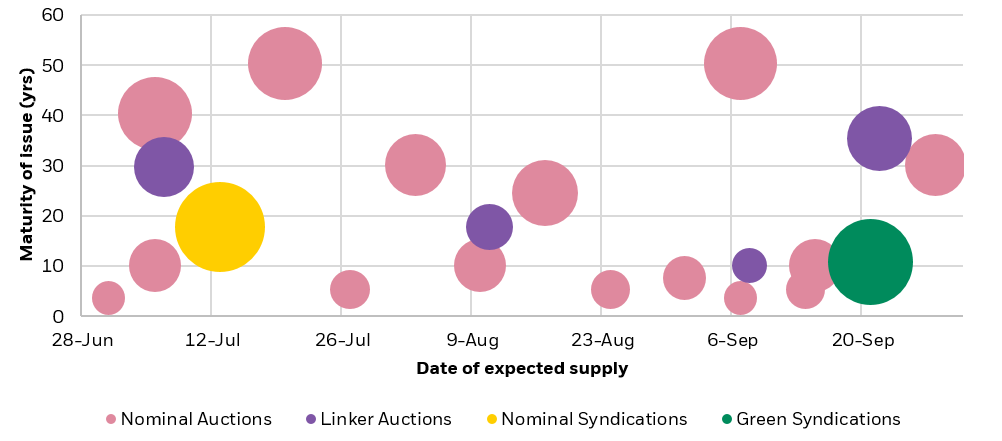 Source: Debt Management Office, June 2021
BlackRock 14-June-21
In nominal space, the DMO held firm with their guidance that the nominal syndication will be in the 15-22Y maturity range, despite some market pushback that there was demand for longer dated bonds to satisfy pension scheme needs. However, there was the announcement several long-dated auctions to provide duration including the 61s and 71s (twice).   Nevertheless, with the syndication being relatively small and not much PV01 coming from linkers, this was a decrease in the duration we have become used to in the last 12+ months.
With this backdrop of lower PV01 issuance, high pension scheme funding levels and continued BoE Gilt buying, albeit at a slightly lower pace, longer-dated yields more recently moved to the bottom of their range as the market weighed up negative net PV01 issuance over the coming months meeting continued LDI demand.
30-year gilt yield moves to bottom of recent range with constrained supply and continue BoE buying
Source: Bloomberg, June 2021
BlackRock 14-June-21
Sowing the seeds of green gilts
As part of the DMO calendar release, we also got some more insight on the upcoming green gilt issuance key dates.
The first syndication is planned for September and HM Treasury are expected to publish the green financing framework on 30 June. The DMO will then be taking market soundings, including the next quarterly meeting with market makers and investors on 23 August, to help inform the decision of the chosen maturity.
A quick informal poll across banks suggests consensus is still around 10-15y, although there are a couple of outliers calling for longer maturity issues, with the rationale that the delay to September may help LDI readiness. A lot will likely depend on the details of the framework. We will share further insight on this in next month's "Views from the LDI Desk".
Repo rates form a floor
With the huge amount of cash in the system from central banks, repo markets continue to be very well supported seeing significant competition between dealers which is keeping spreads at extremely low levels.
1yr continues to trade between SONIA +8-12bps, while 1m is trading around SONIA+8bps seeing very little term premium priced in, even over the 2021 year-end.
Repo spreads to SONIA remain historically low with very little term structure for rolling longer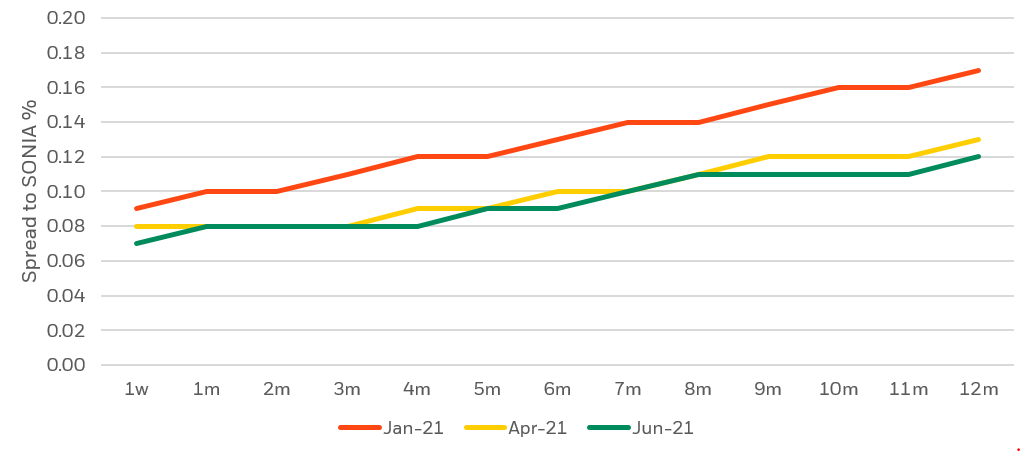 Source: BlackRock, June 2021
While Q1 2021 saw a continued compression of spreads, these have stabilised since April.  During Q2, spreads have remained very much unchanged and while it is likely these stay low, we believe it is unlikely they will compress significantly further given the typical balance sheet and capital costs of banks who are offering repo capacity.
Inflation – Where in the world?
In our last update we talked about the varied drivers of supply and demand in the UK inflation market, and reflected on how the structural drivers around shortage of supply of inflation linked assets and excess demand from Schemes' de-risking, is potentially resulting in distortions in UK inflation.
This becomes particularly pronounced when we look at the changes driven by RPI-reform, and raises the question, if the UK is particularly expensive, should we look elsewhere to hedge inflation and how attractive are current levels?
Where else can we look to get inflation exposure?
Many countries outside of the UK issue inflation-linked debt and have developed derivative markets that can be utilised to purchase overseas inflation exposure. The key markets are the US (in the form of US Treasury Inflation Protected Securities "TIPS" or CPI Swaps) or in Europe (in the form of local government issuance, mostly from France or Italy, or EUR HICPxT inflation swaps)
One starting point when considering overseas inflation is to look at the differences in measures of inflation; the underlying basket of consumer goods that makes up the measure of inflation may differ, as well as the relative spending on particular goods. For example, in the US, the general consumer spends more on Energy and Healthcare (c.14%), and in Europe the general consumer spends more on food (c.16%), resulting in some impacts that may be more pronounced in certain indices, for example the recent rise in energy costs affecting US CPI to a greater extent.
Inflation Index Composition – Top Factors

Source: ONS, Eurostat, US Bureau of Labor Statistics, May 2021
At a high level, commonalities do exist across indices, and in many cases global supply chains mean that effects spill over into other economies, especially where economic ties between countries are close. These commonalities lead to some interrelationship between indices over time. The below chart shows the year on year change in realised inflation across the various inflation indices, if we look at the data further through the lens of tracking error, we can try to assess the degree of the interrelationship.
Year on year changes in realised inflation

Source: Bloomberg, May 2021. Past performance is not a reliable indicator of current or future results.
Tracking error* of different inflation indices (realised inflation)

Source: Bloomberg, May 2021
*Tracking error measures the performance of a particular benchmark vs another, lower tracking error means that the benchmark behaves in a similar way. Tracking error data is based on May 2005 to May 2021.
The figures shown relate to past performance.  Past performance is not a reliable indicator of current or future results.
That phrase is used for a reason. If we look forward, many factors can drive inflation, one of the largest drivers is likely to be the relative strength of the currency and net trade. The below chart shows the performance of UK RPI to changes in trade weighted Sterling this is one of many factors that will drive UK inflation; given the UK's sensitivity to import costs. We saw this effect of increasing inflation following the 2016 Brexit referendum.
RPI can at times be driven by trade weighted GBP (Inverted)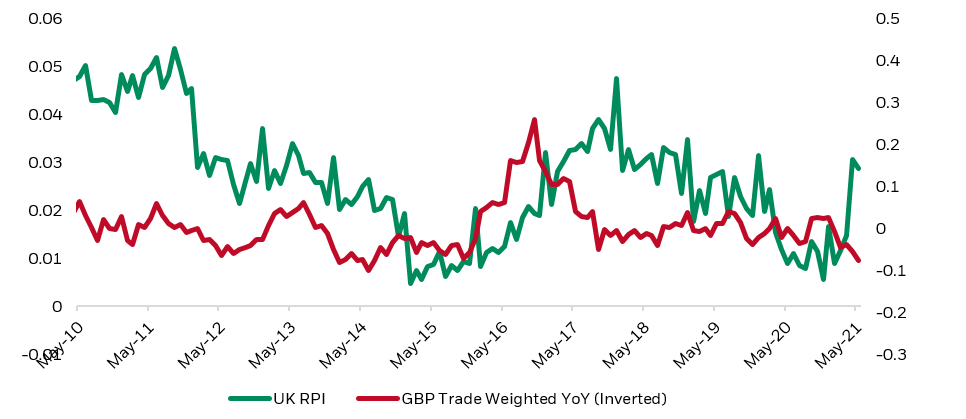 Source: Bloomberg, May 2021. Impact also covered in https://assets.publishing.service.gov.uk/government/uploads/system/uploads/attachment_data/file/524921/Weekly_shop_technical_note.pdf
Secondly, implied inflation (what the market is projecting) is not the same as realised inflation. Historically markets have priced future inflation levels at a premium to central bank targets. We can look at this very simply at by looking at projected forward inflation (specifically the 10-year inflation rate starting in 10 years' time), and comparing this to the central bank target including the average historical undershoot or overshoot by the respective central bank. This ignores some of the nuances around the shifts in approach seen by the central banks over the years, but allows us to make comparisons cross-market (I.e. historical shifts in the target by the Bank of England, and recent shifts by the Federal Reserve to move towards average targeting)
The outcome of this, as shown in the chart below is that the UK looks particularly expensive on this metric relative to the US and Europe with the premium to central bank targets around 1% higher. This reflects some of the factors identified in our previous update around structural supply and demand imbalances for UK inflation due to the structure of our pension and insurance markets.
Inflation Premium over Central Bank Targets*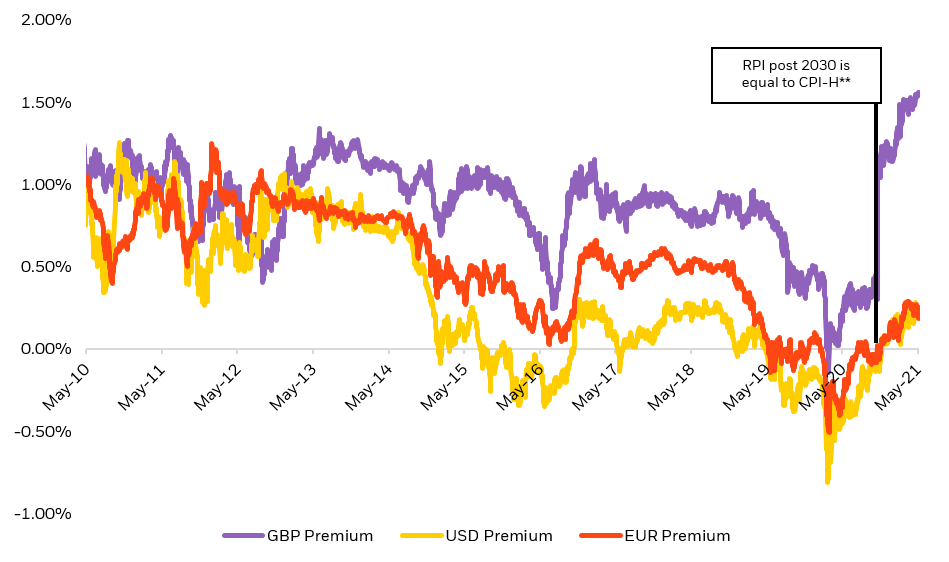 Source: BlackRock, Barclays Live, May 2021
* Risk Premium is calculated by; Risk Premium = 10y10y Inflation –Bank Target – Historical average overshoot / undershoot of target
** Adjustment made in November 2020 to reflect the decision to align RPI to CPI-H going post 2030. Adjustment of 82bps reflects the historical realised difference in RPI and CPI-H during the period
What does this mean for LDI investors?
Both European and US inflation look relatively attractive relative to the UK and are running at levels closer to their central targets, albeit elevated given the current reflationary fears. Euro inflation has historically realised a lower tracking error with CPI-H relative to US CPI which could indicate a greater alignment of the inflation basket. Does this mean that LDI investors should be switching a proportion of their inflation hedge from UK inflation to Europe or even the US? Maybe, but there are several other factors to also consider:
Introducing other risks: holding overseas inflation may introduce various other basis, credit or FX risks which need to be carefully managed. Using overseas inflation swaps may minimize these, although liquidity in US inflation swaps can be transient at best.
Investment timeframe:  if a scheme is considering completing a risk transfer transaction in the short term (<3/5 years) then managing inflation risk into such a transaction is imperative. If you have a longer time horizon or are looking towards self-sufficiency and can afford to have some "noise" in implied inflation prior to it becoming realised inflation, then looking to improve this risk and return payoff could be valuable
Is RPI expensive for good reason? There is a still a non-zero chance that RPI reform does not occur, although we see this as a low probability at present. Given the structural imbalance in inflation supply and demand in the UK, it is possible that the premium over BoE target could persist for an extended period of time.
Given these various considerations, scaling and managing the risks over time is key. Adding additional discretion to LDI mandates may be one means of allowing such opportunities to be captured in a controlled size while dynamically reacting to market conditions and key risks.
The opinions expressed are as of June 2021 and are subject to change at any time due to changes in market or economic conditions. The above descriptions are meant to be illustrative. There is no guarantee that any forecasts made will come to pass.
Risks
Capital at risk. The value of investments and the income from them can fall as well as rise and are not guaranteed. Investors may not get back the amount originally invested.
Past performance is not a reliable indicator of current or future results.
Changes in the rates of exchange between currencies may cause the value of investments to diminish or increase. Fluctuation may be particularly marked in the case of a higher volatility fund and the value of an investment may fall suddenly and substantially. Levels and basis of taxation may change from time to time.
Important information
This material is for distribution to Professional Clients (as defined by the Financial Conduct Authority or MiFID Rules) only and should not be relied upon by any other persons

Issued by BlackRock Investment Management (UK) Limited, authorised and regulated by the Financial Conduct Authority. Registered office: 12 Throgmorton Avenue, London, EC2N 2DL. Tel: + 44 (0)20 7743 3000. Registered in England and Wales No. 02020394. For your protection telephone calls are usually recorded. Please refer to the Financial Conduct Authority website for a list of authorised activities conducted by BlackRock.
Any research in this document has been procured and may have been acted on by BlackRock for its own purpose. The results of such research are being made available only incidentally. The views expressed do not constitute investment or any other advice and are subject to change. They do not necessarily reflect the views of any company in the BlackRock Group or any part thereof and no assurances are made as to their accuracy.
This document is for information purposes only and does not constitute an offer or invitation to anyone to invest in any BlackRock funds and has not been prepared in connection with any such offer.
© 2021 BlackRock, Inc. All Rights reserved. BLACKROCK, BLACKROCK SOLUTIONS, iSHARES, BUILD ON BLACKROCK, SO WHAT DO I DO WITH MY MONEY are trademarks of BlackRock, Inc. or its subsidiaries in the United States and elsewhere. All other trademarks are those of their respective owners.