In this month's update we review the recently published UK Government Green Financing Framework (UK GFF). Ahead of the proposed first issuance of a green gilt in September 2021, this framework is a vital step in helping potential investors understand how the proceeds may be deployed and the ongoing reporting they will receive to assess the impact of their investment.
BlackRock participated in a one-to-one follow up session with Her Majesty's Treasury (HMT), Debt Management Office (DMO) and their advisers to further explore the framework and how it stacks up against the green bond principles and BlackRock's proprietary green taxonomy. We provide our insights on this along with some international comparisons to other sovereign green issues and their pricing.
We also touch on the Office for Budget Responsibility (OBR) latest Fiscal Risks Report. While this did not provide any ground-breaking information on likely changes in the near-term gilt issuance remit, it offers some interesting perspectives when considering the potential implications of climate risks on the UK fiscal position and is timely when taken alongside the UK GFF. The research provided within this report may also prove a useful source as an increasing number of UK pension schemes confront the requirement to produce a Task Force on Climate-Related Financial Disclosures (TCFD) report in the coming years.
It's not easy being green
The issuance of a good green bond requires a plethora of additional actions on the part of the issuer. On 30 June, the DMO and HMT released the UK Government Green Financing Framework.  This sets out the basis for identification, selection, verification, and reporting of the green projects that are eligible for financing from the proceeds of the UK Government's green gilt programme and the retail green savings bonds.
The framework states its alignment with the 2021 International Capital Market Association (ICMA) Green Bond Principles. In addition, HMT intends to report on the social co-benefits of the eligible green expenditures, as described in this framework, in addition to the environmental impact of such expenditure.
The four Green Bond Principles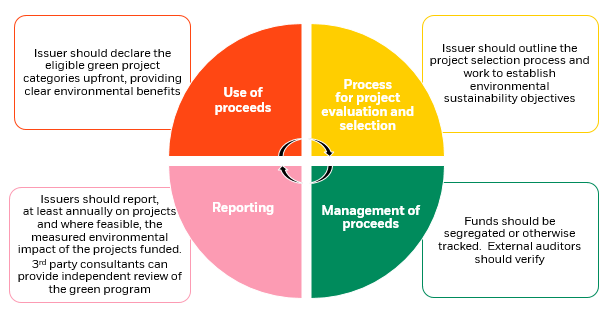 Source: BlackRock, ICMA. July 2021.
Taking each of these in turn and considering some of the details provided by the UK GFF.
1. Use of proceeds:
The framework sets out six categories for use of proceeds. While a potential breakdown of the use of proceeds was provided on page 21 of the presentation provided alongside the framework that appears to show clean transportation making up more than 50% of the use of proceeds, HMT were keen to stress that given the forward-looking nature of the proceeds use (more on this below) this is subject to change depending on policy decisions and technological development.
Clean transportation
Renewable energy
Energy efficiency
Pollution prevention and control
Living and natural resources
Climate change adaption
Clean transportation is a broad area that includes both zero emission transport such as electric vehicles but also low emission transport such as public transport in the form of trains. While the example given was of zero emissions buses, the investment involved in this (£120m) is a small fraction of the c.£8bn that could be allocated to clean transportation if over 50% of the planned £15bn of green gilt issuance in this fiscal year takes place. This does raise questions around what other transport projects may be included. The UK Government's ten point plan for a green industrial revolution points to other areas such as cycling, walking, 'jet zero' and green ships. Whether other public transport projects such as High Speed 2 could find there way into this category will be something to watch.
The framework also set out several important exclusions, most importantly nuclear energy. Nuclear energy is a contentious issue within green bond frameworks, with competing arguments over the positive impact on emissions and ability to provide baseline power alongside renewables up against the potential social impacts and issues of dealing with waste. At this time, bonds that use proceeds for nuclear energy will struggle to be categorized as green bonds, so this is likely a move the advisors have strongly advocated. The UK GFF is however clear that nuclear is likely to remain an important part of the energy mix in the UK, as construction of Hinckley Point C continues.
2. Project evaluation and selection
The evaluation and selection of Eligible Green Expenditures will be performed on an annual basis by HMT, in consultation with other relevant government departments as part of a new Inter-departmental Green Bond Board (IDGBB). HMT will chair the IDGBB and prepare an initial list of potential eligible green expenditures by consulting departments. The IDGBB will then evaluate and approve or reject the selected expenditures as eligible green expenditures.
3. Management of proceeds
HMT and NS&I will issue Green Financing instruments against eligible green expenditures. HMT intends to allocate the proceeds of all green financing to eligible green expenditures within two budget years from the date the relevant green financing is raised.  HMT will also set up a dedicated tracking process within their internal information systems knows as the Green Register.
The forward-looking nature of the allocation of proceeds is worth remark, as in many other green bond issues much of the spending has already been either agreed or completed, potentially diminishing the perceived impact of the green funding. This is however a double-edged sword, as it also requires investors to have trust in the framework and allocation of future proceeds to specific projects. This is one point of feedback we have provided to HMT, particularly around broad categories such as clean transportation that may receive a large proportion of proceeds raised and where further clarity would be helpful.
4. Reporting
HMT intends to publish an allocation report on its eligible green expenditures on an annual basis and an impact report setting out the environmental impacts and social co-benefits at least biennially.
Reporting will contain, where relevant and feasible, information addressing the positive environmental impacts and social co-benefits of the eligible green expenditures and case studies.  An external audit will review the allocations and the impact report.
Overall, the reporting proposed to be available appears to be robust and in line with our standards for what we consider best practices for a green bond issuer. 
Green gilts within BlackRock's green taxonomy 
BlackRock has developed a green taxonomy to assess the use of proceeds for green bonds. Bonds are assigned a shading based on the categories and types of projects proceeds will be used for.

Source: BlackRock. July 2021.
Our view on a green bond's shading is built up by considering the type of projects within seven categories, assessing how impactful projects are at decarbonising economies. In terms of climate change adaptation projects, while these are eligible projects, green bond use of proceeds have historically been and continue to be more focused on mitigation projects, and with good reason. Mitigation projects help with funding the actual decarbonization technologies and processes needed to help us achieve a 2 degree world whereas adaptation projects build up the resilience of our infrastructures against the effects of climate change. While playing defence with adaptation serves an important role, playing offense funding mitigation has a greater potential for decarbonisation impact long term.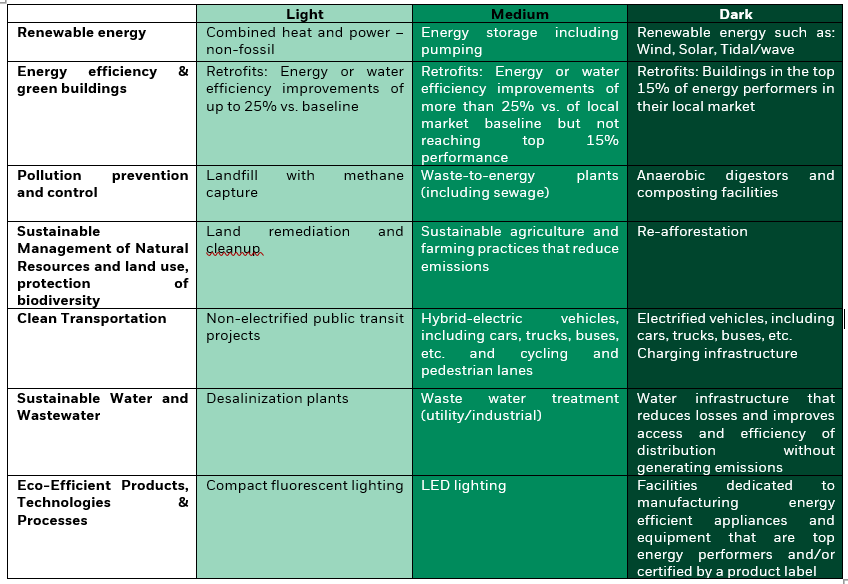 Source: BlackRock. July 2021.
Evaluating the details now released in the UK GFF we observed a mix of light, medium, and dark green use of proceeds across the categories. For clean transport for example, there are zero emission projects flagged such as green buses, but we have asked that further clarification be provided as soon as feasible on the remaining types of transport. In particular, if trains are included then further details on emission thresholds for new projects would be key. This is similar within the category of energy efficiency, where the lack of quantification for thresholds on energy savings makes it difficult to reach a firm conclusion on the shade. We have also asked for further detail to be published on the source of hydrogen within the renewable energy category, as this can materially alter the emissions profile associated with hydrogen use.
During our discussions with HMT it was clear that some of this detail is still be resolved and will likely not be fully known until a full spending review is undertaken in the autumn. We appreciate that some of these projects will require further scoping and technology may be developing quickly - some flexibility is therefore sensible. The nature of the framework with at least 50% of spending allocated to forward looking projects within the next two years lends itself well to this flexibility, but as previously mentioned this does increase uncertainty over the green shading of future projects.
With the information available today, our ESG analysts allocate a preliminary MEDIUM green shading to the UK GFF and the initial green gilt issuance. 
International comparisons 
How does this compare to other sovereign green bond issuance and is it likely to influence pricing? Of the sovereign green bonds issued to date, only three have been classified as dark green, with the majority falling into the medium green camp.
France was one of the first sovereign green bond issuers, starting out in 2017 with a 2039 bond that they have regularly tapped since. This DARK green bond had a large focus on renewable energy and electrified transport projects.
Later to start but now also a major issuer was Germany. Germany's programme received a MEDIUM green rating as while it also focussed on transport it included a higher proportion of non-electrified rail. While this does support a modal shift from car use to public transport, it merited a lower shade on the taxonomy compared to France.
It is instructive to look at the pricing of green bonds from these two issuers to understand if the use of proceeds and bond shading is a key determinant of pricing. 
French and German green bond issues relative to other bonds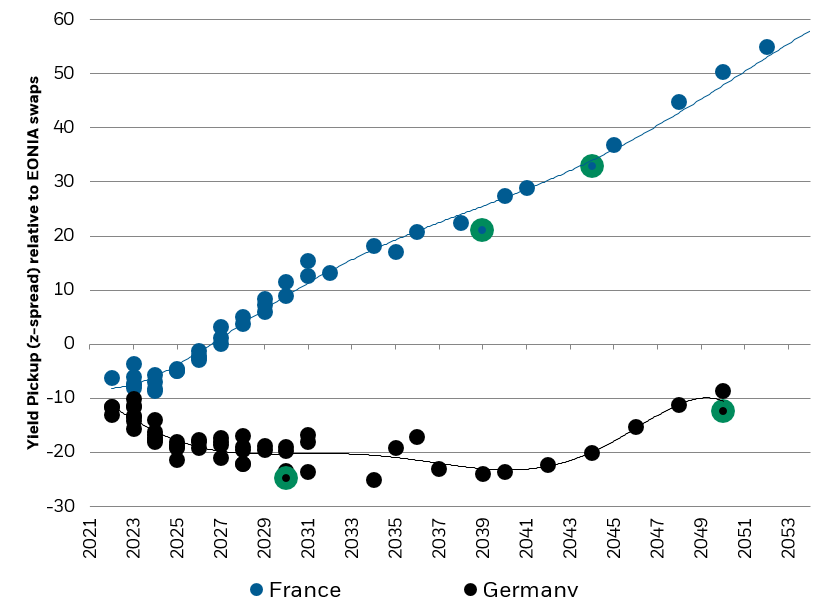 Source: BlackRock. Data as at 7 July 2021.
As the chart above shows, each of the four green bonds issued by France and Germany are sitting below their respective curves, exhibiting a price premium or so called "greenium". The German green bonds, in particular the 10yr bond, are showing the greatest greenium relative to other non-green bonds, despite the French green bond programme earning a darker shade under our taxonomy.
Does this reflect a market mispricing of the ESG characteristics of these bonds? It more likely reflects supply and demand dynamics and credit considerations. Bunds are considered a safe haven asset far more so than French OATs and this has likely led to those looking to get some green bond exposure who already hold bunds being more comfortable switching out of these. The size of the French green bond programme is also currently around twice the size, so supply is more plentiful. In conclusion, the fact that we consider the green gilts launched to have a particular shading is unlikely to be the main price driver, at least in the early days where supply and demand imbalances are likely to exist. 
What next? 
The first issuance of a green gilt under the new framework is expected toward the end of September via a syndication, most likely on the 21 September. With at least £15 billion due to be issued this year, this first event may see the issuance of £7-8bn, with a further issuance likely to follow later in 2021.
The maturity of the initial issue is to be confirmed, and discussions will take place with the DMO in its quarterly consultations on the 23 August. A final decision on maturity will probably not be announced until sometime into September.  A poll of banks undertaken by BlackRock indicated that consensus is for the first issue to be a 10-12yr bond. This sector of the curve is likely to attract the widest range of investors, including overseas investors and bank treasuries, while allowing pension schemes more time to get to grips with the new framework, investing in green bonds and understanding how pricing is likely to develop.
As we recently wrote in communications to our clients, we do see a potential for alpha opportunities in green bonds given the supply and demand imbalances but this will depend on issuance valuations. Examining the strong performance of the 10yr green bund since issuance shows the potential for those picking up allocations in the initial syndication to experience a mark to market gain, even if the yield is expected to be lower versus similar non-green bonds over the full life. For passive LDI investors unless the bonds are issued with a higher yield than existing bonds action will need to be taken to ensure an allocation to green gilts for those schemes keen to enhance the ESG characteristics of their LDI portfolio, even if this comes at a price. A look at European issuance indicates that this is a distinct possibility.
10-year green bund has continued to outperform non-green twin since issuance in September 2020

Source: BlackRock, Bloomberg. Data as at July 2021. Past performance is not a reliable indicator of current or future results.
Fiscal Risks: A slow motion crisis?
Published not long after the UK GFF was the OBR Fiscal Risks Report. This report, published every two years, presents a detailed look at the state of government finances and the risks to them. As might be expected the report focussed heavily on the impact of the Coronavirus pandemic and the sudden shock this has had on government borrowing. However, it did not provide any particularly new information on the outlook for the recovery or the chance that government borrowing may come in lower than expected as the recovery continues due to the rapid vaccine rollout.
Overall, one could conclude based on the OBR analysis that in the absence of a significant global rise in real yields with no rise in productivity or a loss of investor confidence in the UK, the debt to GDP ratio is expected to be on a relatively stable footing.
Cost of public debt scenarios: public sector net debt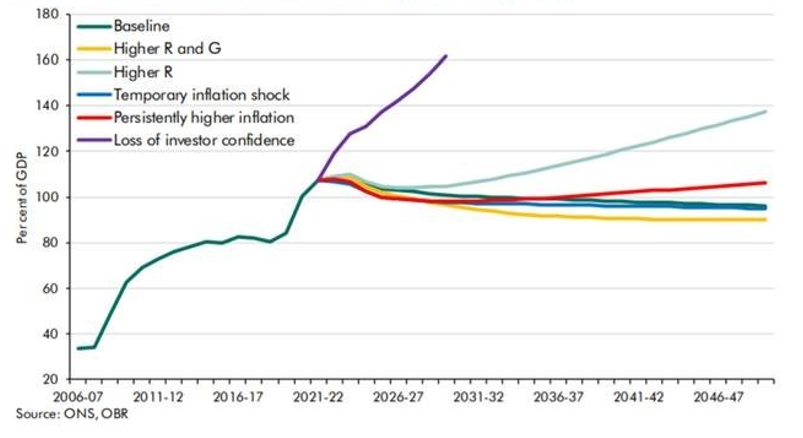 "Higher R" = 2.5% increase in real interest rates. "Higher R & G" = 2.5% increase in real interest rates and similar pickup in productivity
Source: OBR Fiscal Risks Report https://obr.uk/frr/fiscal-risks-report-july-2021/, page 16
The report also spends a considerable amount of time evaluating the potential longer term impacts of climate change on the UK fiscal position. While the Coronavirus pandemic has presented a large shock in a short space of time, climate risks have the potential to present an equally large shock but over a very extended period of time and potentially far into the future, creating greater challenges around prompting action. Governments may have to take politically difficult decisions in the next 10 to 20 years to avoid extreme events far further into the future, a challenge for many political systems that tend to be driven by shorter term election cycles.
The most striking data showed the significant deterioration in finances caused by late action being taken to address climate change as economic disruption is caused in the 2030s by the need to see a disorderly imposition of stringent policies to reach net zero targets.
Early action versus late action scenarios: fiscal aggregates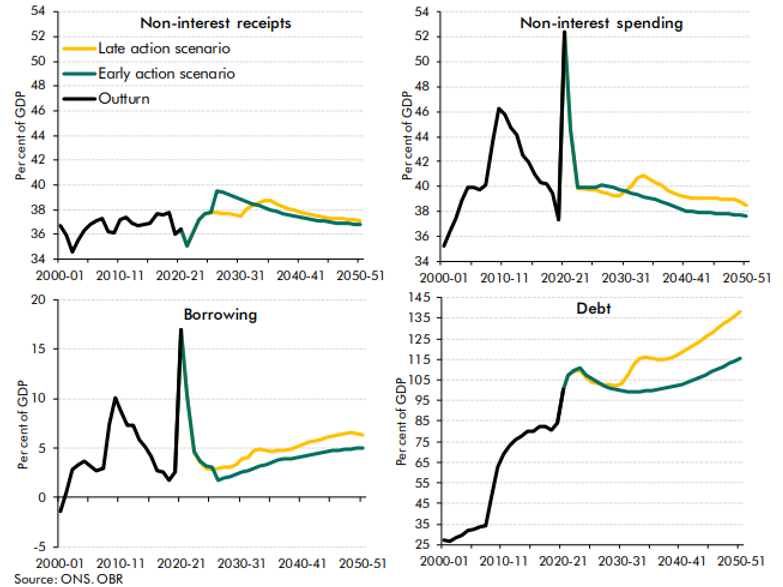 Source: OBR Fiscal Risks Report  https://obr.uk/docs/dlm_uploads/Fiscal_risks_report_July_2021.pdf, page 144.
The publication of the UK GFF is an important step on the journey to addressing climate change and putting the UK on a path to reaching its net zero goals. While the UK alone, with an estimated 1% of global emissions (see page 95 of the report), is unlikely to materially move the dial the research funded, and industry scale created by UK actions help drive the global efforts to decarbonise. Given the OBR forecasts around this programme not being successful and action being slower than planned on the UK's fiscal position, long-term investors in gilts have a vested interest in its success.
The opinions expressed are as of July 2021 and are subject to change at any time due to changes in market or economic conditions. The above descriptions are meant to be illustrative. There is no guarantee that any forecasts made will come to pass.
Risks
Capital at risk. The value of investments and the income from them can fall as well as rise and are not guaranteed. Investors may not get back the amount originally invested.
Past performance is not a reliable indicator of current or future results.
Changes in the rates of exchange between currencies may cause the value of investments to diminish or increase. Fluctuation may be particularly marked in the case of a higher volatility fund and the value of an investment may fall suddenly and substantially. Levels and basis of taxation may change from time to time.
Important information
Issued by BlackRock Investment Management (UK) Limited, authorised and regulated by the Financial Conduct Authority. Registered office: 12 Throgmorton Avenue, London, EC2N 2DL. Tel: + 44 (0)20 7743 3000. Registered in England and Wales No. 02020394. For your protection telephone calls are usually recorded. Please refer to the Financial Conduct Authority website for a list of authorised activities conducted by BlackRock.
Any research in this document has been procured and may have been acted on by BlackRock for its own purpose.  The results of such research are being made available only incidentally.  The views expressed do not constitute investment or any other advice and are subject to change.  They do not necessarily reflect the views of any company in the BlackRock Group or any part thereof and no assurances are made as to their accuracy.
This document is for information purposes only and does not constitute an offer or invitation to anyone to invest in any BlackRock funds and has not been prepared in connection with any such offer.
© 2021 BlackRock, Inc. All Rights reserved. BLACKROCK, BLACKROCK SOLUTIONS, iSHARES, BUILD ON BLACKROCK, SO WHAT DO I DO WITH MY MONEY are trademarks of BlackRock, Inc. or its subsidiaries in the United States and elsewhere. All other trademarks are those of their respective owners.