In this update we consider recent updates on the potential for negative rates and the future of the quantitative easing programme. We also examine whether LDI demand is about to pick-up and how the global reflationary trend is impacted on UK inflation despite RPI reform.
Negative rates – definitely maybe?
At the Bank of England's (BOE) February Monetary Policy Committee (MPC) meeting on 04 February 2021 base rates were held at 0.1% and the quantitative easing (QE) gilt target was maintained at a total of £875bn with the same pace of weekly buying. This was in line with the general market expectation for the meeting, however the most interesting updates were around the potential future use of negative rates and the means of any future tightening of monetary policy.
The MPC had asked the Prudential Regulation Authority (PRA) to engage with regulated firms to consider the operational implications of a zero or negative rate. The PRAs review concluded that any implementation period shorter than six months could adversely impact the safety and soundness of some firm's operations.  While the MPC expressed in its minutes that is had reservations about the signal sent to the market on requesting preparation work to begin, the PRA has been instructed to engage with firms on readiness for negative rates, with heavy caveating that while this may allow the use of negative rates if required in the future, it is not the case they will definitely be deployed once preparations are complete.
This sets an earliest timeline, allowing no scope for slippage, of the August 2021 meeting and the market has quickly re-priced the chances of negative rates even being necessary once they are available. Along with this implementation timeline, the MPC also referenced the rapid pace of the vaccine roll out and the chances of inflation bouncing back towards 2% as elements like last year's VAT cut drop out of the calculation. The market has interpreted this as a rather "hawkish" outcome, with more a bias to future tightening than some had expected given the precarious position the economy remains in due to both lockdowns and the impacts of Brexit.
Expectations for negative rates later this year have been tempered by a relatively long implementation window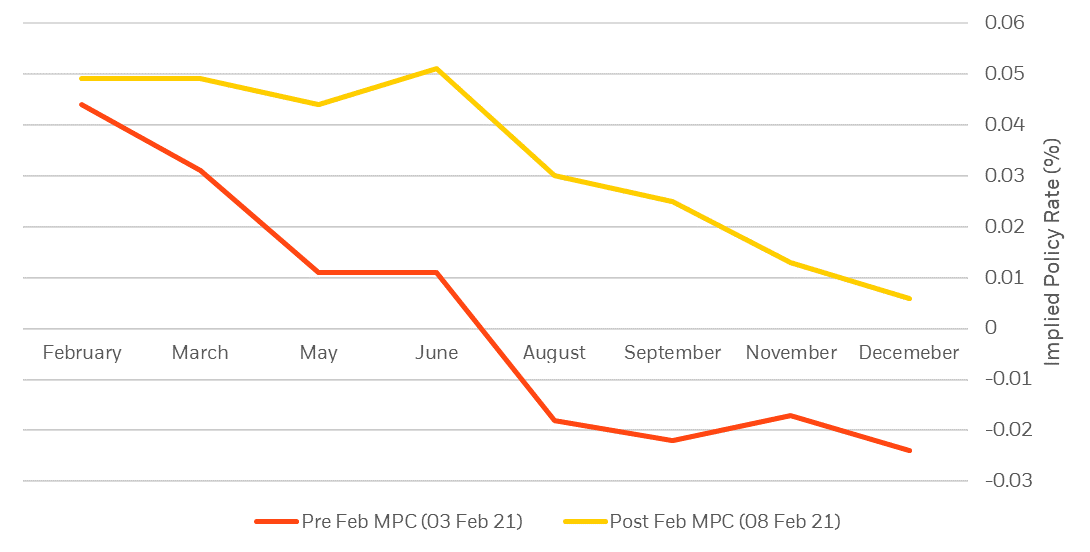 Source: BlackRock. Bloomberg. Data as at 08 February 2021.
In addition to providing some clarity around the presence of negative rates in the tool kit in the longer term, the MPC also kicked off a review into the potential future unwind of the QE programme. In 2018, the MPC agreed that it did not intend to reduce the stock of purchased assets until the bank rate reaches around 1.5%. For many, in the current environment, this effectively meant never, with no gilt currently yielding more than 1.5%. However, the MPC has now asked bank staff to undertake work to reconsider this guidance and the most appropriate way of tightening monetary policy in the future should this be required. While again, the MPC was cautious to caveat that this does not offer a signal about future monetary policy, it clearly changes the equation for the potential for QE ever being unwound. Another approach the BoE may consider would be to stop re-investing gilt proceeds.
Since the start of 2021, gilt yields have been rising in line with other global government bond markets as vaccine roll out commences and the global reflation trade continues to gain traction. After this news from the BoE, there was an acceleration in yield increases, leaving 30yr gilt yields at their highest level since the start of the pandemic.
Global yields have been rising but Gilts have underperformed further since the BoE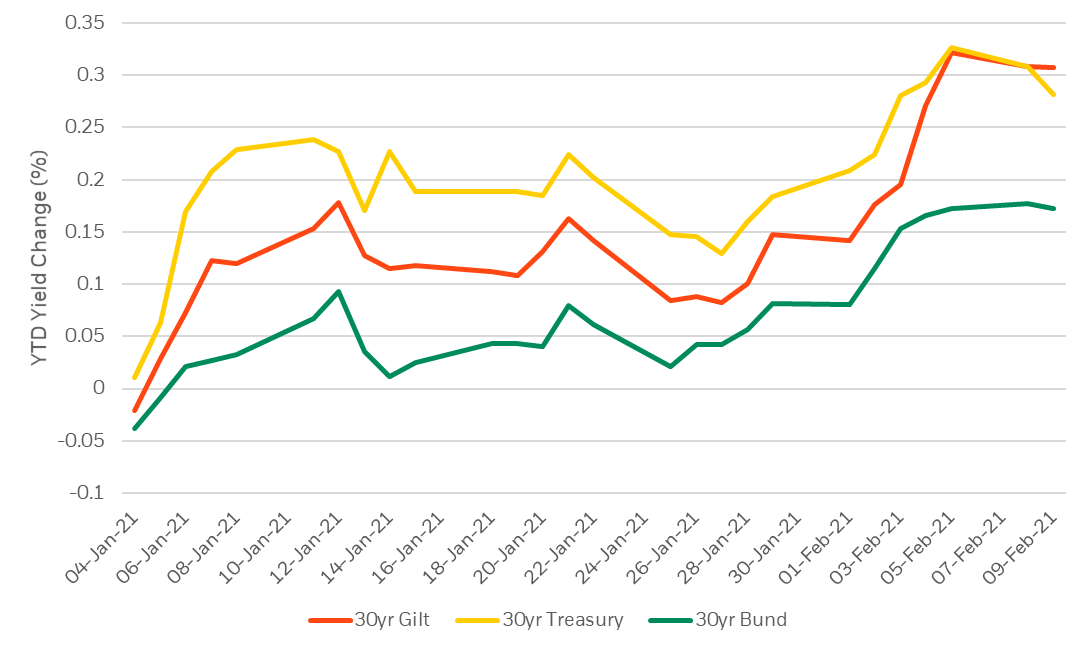 Source: BlackRock. Bloomberg. Yield levels shown since start of 2021.
While inflation expectations have also been pushing higher, as we cover in more detail in the next section, this has left real yields close to their recent highs since the start of the pandemic, at a time where more risky assets such as equities and corporate bonds are also at highs. Taken together, this creates an environment ripe for pension scheme de-risking and arguably the best opportunity since the start of the pandemic.
Increases in real yields combined with strong growth asset performance will boost funding levels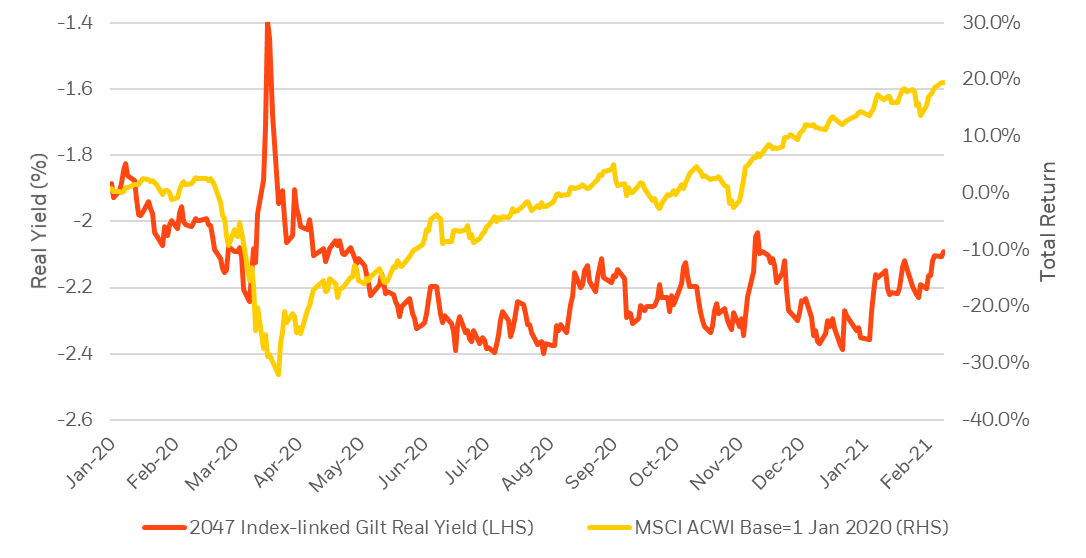 The figures shown relate to past performance.  Past performance is not a reliable indicator of current or future results.  Source: BlackRock, Bloomberg.
While the comments from the BoE create a risk to gilt yields should QE be tapered more quickly than expected or even the potential for unwinding of QE to start to get more airtime, we believe in the short term, strong demand can emerge as a result of favourable market conditions for funding levels.
The next key event on the horizon is the 3 March budget, where Chancellor Rishi Sunak will be treading a fine line between continuing the stimulus that has been vital to limiting economic damage while potentially also seeking ways to sure up the UK's finances. With so much uncertainty around the path out of lockdown and new variants, making predictions on the outcome of this is currently extremely difficult. Whatever the decision, issuance is likely to continue to be significantly higher than in previous years, but with the market impact balanced out by already planned QE buying and the scope for an uptick in LDI demand as 30 year gilt yields breach 1%. Taken together, this should limit the extent of further yield rises from levels recently reached.
Rising inflation tide lifts all boats
Whilst the November 2020 RPI Reform announcement brought much needed clarity to the UK inflation market, there are still significant debates around the outlook for inflation. We can split the inflation curve into three sections to more closely examine the drivers behind market moves.
Very short dated inflation
A look purely at realised inflation levels would suggest that inflationary pressures within the system are limited. We have seen low headline inflation levels across major indices for the past year, as the impacts of the COVID-19 crisis has weighed down on prices.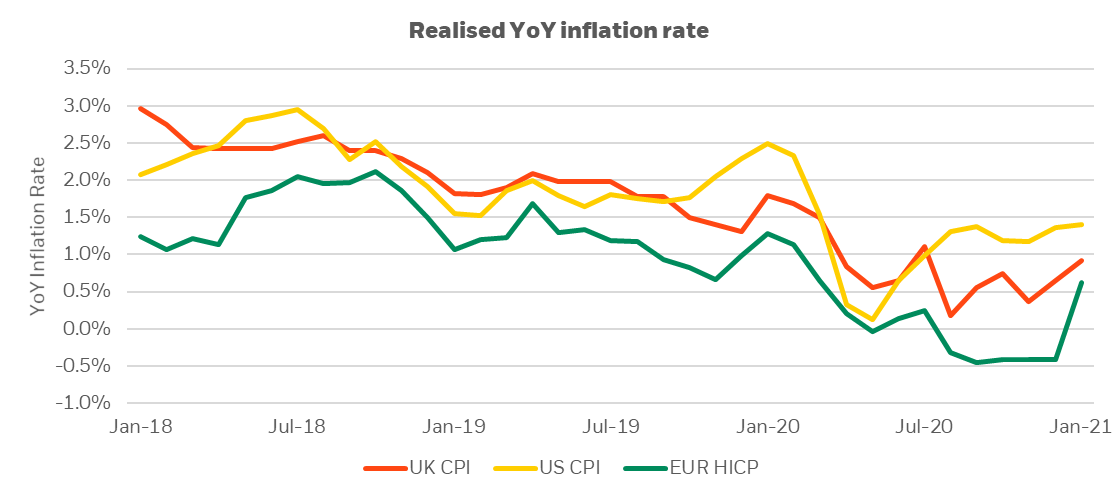 Source: BlackRock, Bloomberg, 10-Feb-21.
Reduced consumer spending, arising from economic uncertainty, lockdown restrictions, and unemployment has had a more broad-based impact on lowering prices, whilst certain sectors have seen more pronounced impacts. Falling oil and gas prices have reduced transport costs as well as utility bills in the housing component, whilst targeted VAT cuts have contributed, along with reduced demand and lockdown restrictions, to the weakness in restaurant and hotel prices. However, as VAT rates are potentially restored, commodity prices rebound and a vaccine-dependent recovery is projected, inflation pressure may rebuild.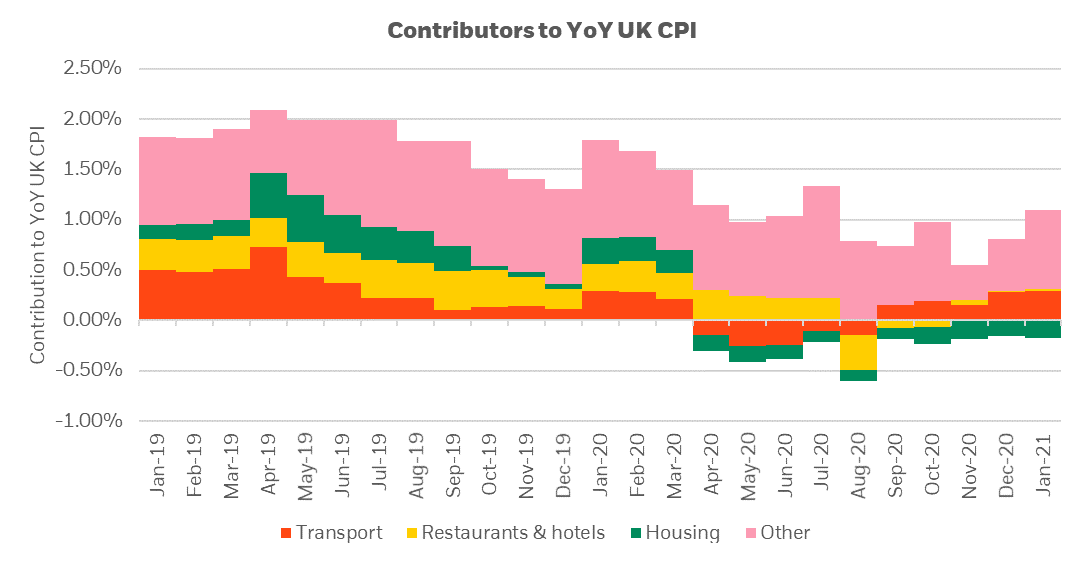 Source: BlackRock, Bloomberg 09-Feb-21.
However, given the dependency on assumptions around a vaccine-led economic recovery, there are still significant error bounds around inflation forecasts, as evidenced by the February 2021 Monetary Policy Report projections from the Bank of England (BoE).
Source: Bank of England Monetary Policy Report, February 2021.
This uncertainty is also reflected in economists' estimates. It is also worth noting that whilst there is a wide divergence of views, the market implied rate from RPI swaps at year end is right at the top of economists' ranges.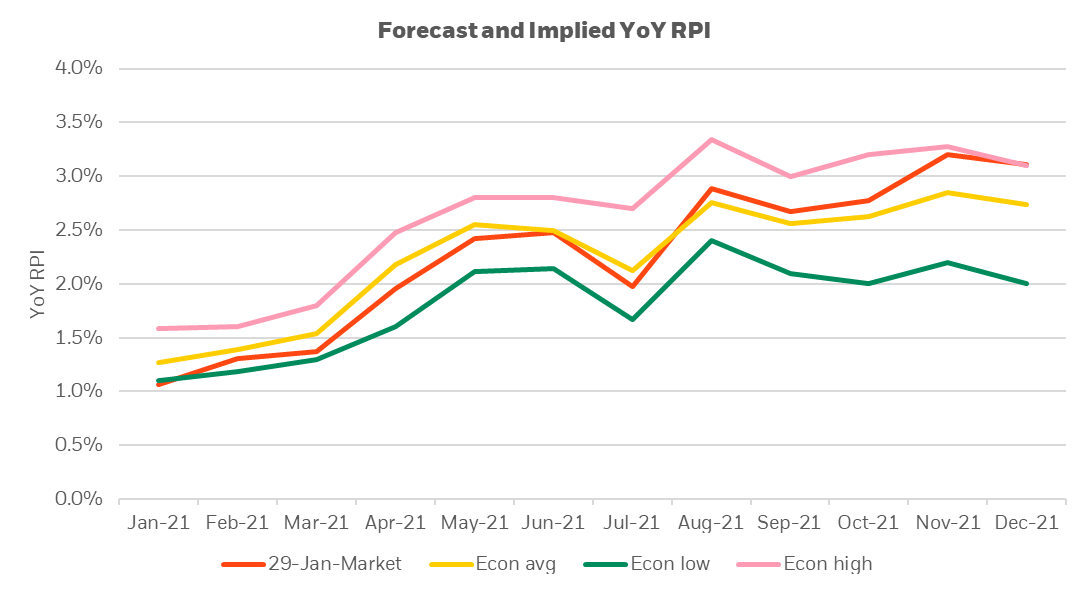 Source: BlackRock, late-Jan economists' estimates from BAML, Barclays, BNP, Citi, Deutsche Bank, Goldman Sachs, HSBC, Lloyds, Morgan Stanley, NatWest Markets, Nomura, UBS. Implied RPI swap market levels from 29-Jan-21.
Medium tenors
Looking further out along the curve, there is building momentum behind the prospect of global reflation. This has been discussed in detail in a recent paper by the BlackRock Investment Institute. Three themes are flagged as likely contributors to this trend:
Deglobalisation, accelerated by the Covid crisis, raising costs as global specialization decreases, and supply chains become more localised
Central banks increasing flexibility around inflation targeting, building on the shift in the Federal Reserve's approach to a 2% inflation target over an undefined time period. This was discussed in more detail in the September 2020 LDI Talking Points
Central banks loosening grip on inflation targeting as a result of a challenging exit from current stimulus measures, with the blurring boundaries between monetary and fiscal policy complicating the objective of controlling inflation in the face of potential rising debt service costs.
Whilst this trend appears to be in its early stages, we are beginning to see pressure build up in the inflation market. We can look at the impacts on forwards, with 5y5y inflation swap rates rising since the start of the year. What is immediately evident is that this is a global trend, with close alignment in market moves across geographies.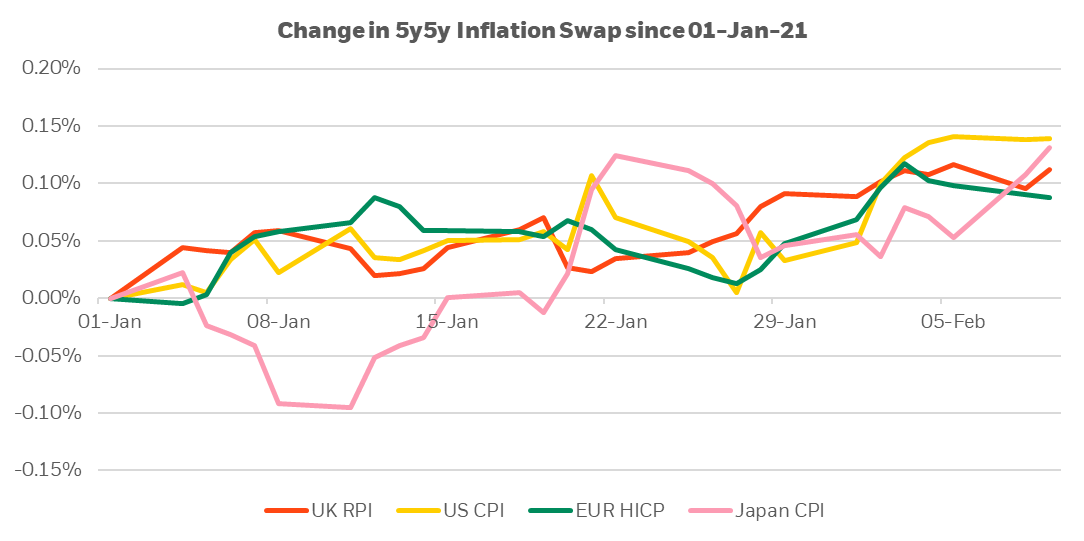 Source: BlackRock, Bloomberg 09-Feb-21.
Longer tenors
We expect a broad-based increase in inflation demand to take place in the coming months. This can be attributed to a range of factors, including:
Rotation into hedging instruments, as rebounding asset prices improve scheme funding positions
Mechanical rebalancing from LPI delta hedging, as the fall in inflation swap rates in the past year increase the value of floors and decrease the value of caps in liability profiles
Changing RPI-CPI wedge assumptions, leading to an increase in the value of CPI liabilities compared to proxy RPI hedges, which may require additional inflation buying to maintain hedge ratios
Against this, we have seen a meaningful step up in supply into Q1 of 2021, headlined by the syndication of the new 2051 Inflation Linked Gilt.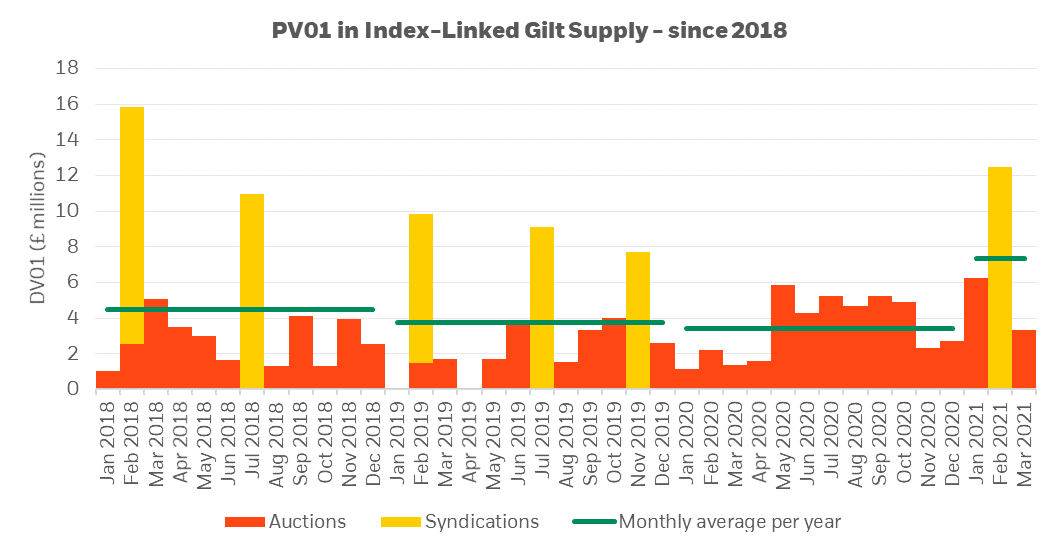 Source: BlackRock, DMO, Bloomberg, 9 Feb 2021. Mar-21 supply is estimated.
However, there is uncertainty as to whether the increase in supply will be sustained into FY21/22. Whilst current uncertainties around the costs of COVID-19 complicate projection of the Debt Management Office (DMO) remit, which will accompany the budget on 3rd March, there will be significant focus on the proportion of the remit that is allocated to inflation linked bonds. However, with Inflation linked Gilts now comprising nearly 30% of total outstanding UK Govt debt by value (after factoring in accretion), there is likely to be some moderation of issuance.
Looking at the year-on-year forwards as implied by the RPI swap curve, we can see a clear premium to the current BoE inflation target of CPI at 2% (if we consider that post-reform in 2030, when RPI aligns with CPIH, it will closely approximate CPI).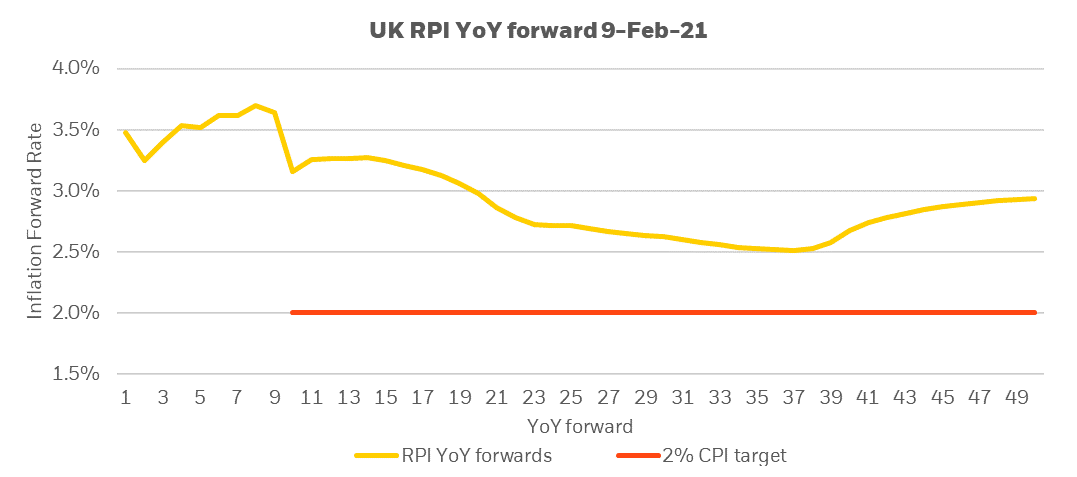 Source: BlackRock, 9-Feb-21.
This premium can be attributed to a combination of supply and demand imbalances as well as a risk premium associated with uncertainties surrounding inflation targeting. As such, whilst inflation could be considered expensive compared to the current BoE target, it is far from certain that the sources of richness will fade, and there is a risk that if inflation supply is more limited in the FY21-22 DMO remit, or if we see the potential for the BoE to soften its mandate on inflation targeting, inflation forwards may increase further. The strength of the 2051 Inflation Linked Bond syndication on 9 February, with high demand from a range of investors and low bond allocations, illustrated that despite this premium to the current BoE target in the forwards, demand remains strong and investors are far from deterred.
The opinions expressed are as of February 2021 and are subject to change at any time due to changes in market or economic conditions. The above descriptions are meant to be illustrative. There is no guarantee that any forecasts made will come to pass.