As we head into 2021 after the extraordinary events of 2020, we highlight five key areas we expect to impact on LDI portfolios and UK pension schemes ("schemes") more broadly:
Scheme liabilities may shrink due to the impacts of realised mortality and transfers out however the long-term picture for longevity remains very uncertain
Gilts in a post COVID-19 world are likely to continue to be heavily influenced by the effects of Quantitative Easing (QE) and pandemic related borrowing
RPI – after the reform (and BREXIT) storm, longer-term supply and demand dynamics are likely to dominate again while opportunities to hedge CPI will remain limited
A coming of age for Environment, Social and Governance (ESG) investing in LDI will see the first green gilts issued and increasing focus on green bonds more broadly
Matching allocations will continue to evolve over 2021, with low spreads making efficiency and risk management key and increasing the appeal of private credit
Scheme liabilities may shrink
The aggregate size of scheme liabilities is likely to shrink in the short term based on realised mortality and transfer activity impacts, however longer-term impacts remain uncertain.
We address this point first, despite it not being our core area of expertise, as it has potential direct implications on demand for gilts, inflation, and other matching assets in the year ahead. These short-term consequences of the COVID-19 pandemic could provide an opportunity for further de-risking and ultimately provide more certainty over the future path of schemes' funding levels. For some schemes this may accelerate the consideration of any merits in buy-in or even buy-out. In this case, careful consideration should be given to what longevity assumptions are factored into pricing provided by insurers, along with any longer-term leverage or collateral adequacy challenges that could be created by conducting buy-ins at historically low yield levels.
With cashflows out of schemes driven by transfer out activity unlikely to relent, continued focus on how best to service cashflow needs is likely to be necessary.
Mortality impacts of the COVID-19 pandemic
2020 saw a significant jump in UK mortality rates as COVID-19 spread through the population. By the end of the year, the mortality rate (versus the historic average) was up to almost 8% and there were over 70,000 more deaths versus 2019¹. Those in the older age groups more typically members of defined benefit schemes were hit especially hard with fatality rates following infection at significant multiples versus the younger population.

While this is a human tragedy, from a pension scheme perspective realised mortality may lead to immediate funding gains for some schemes when they refresh their member data.
Cumulative standardised mortality rate compared to the 2010-2019 average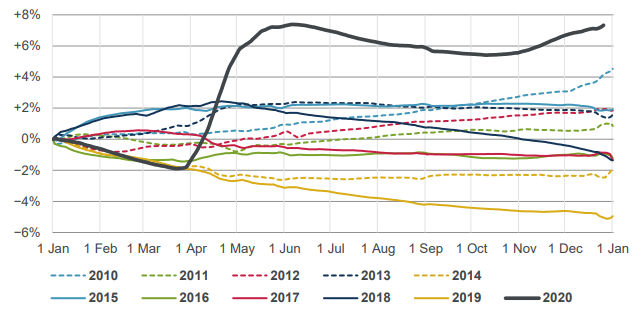 ¹Source: CMI. Data as at week 52 of 2020
How will the COVID-19 repercussions feed into future mortality expectations?
This is an important question given that shifts in future mortality expectations can have marked impacts on the valuation of scheme liabilities and their sensitivities to interest rates and inflation.
For now, the Continuous Mortality Investigation (CMI) - which is owned by the Institute and Faculty of Actuaries and produces models that are widely used in the pensions and insurance industries to project future mortality - has announced that it will place no weight on 2020 data in its models. CMI instead concluded that the year is likely to be an outlier and not indicative of the future path that mortality rates will follow. This means that, for now, despite the higher death rate during 2020, the potential for changes to the projections of longer-term pension fund and insurer liabilities are expected to be negligible.
Sadly COVID-19-related deaths seem likely to continue for some time into 2021, with current high infection and hospitalisation levels in the UK driven by the new variant and a vaccination programme that is unlikely to be rolled out as fast as ideally required. There also remain questions about the long-term impact on the health of those who have survived the virus and implications for non-COVID-19 related health particularly due to the deferment of treatment (e.g. cancer patients) and the potential economic effects of the pandemic.
Conversely, the research resulting from new COVID-19 treatments and vaccination technology could prove beneficial to the mortality rate in the longer term.
It will take time to ascertain any longer-term impact on mortality and the pension market. Schemes should therefore be aware of such uncertainties and their implications on funding levels and future plans such as risk transfer activity via insurers.
What is the expected impact on transfer out activity?
Defined benefit transfer values rose to record highs over 2020 as interest rates fell to record low levels. Nevertheless, transfer out activity slowed partly as a result of regulatory guidance that some pension schemes should suspend transfers and transfer quotes under lockdown. This was driven as the Pensions Regulator grew concerned that the market volatility combined with weakened funding levels meant that transfer quotes on current terms may be too generous.
DB transfer values rose due to underlying market moves while transfer activity slowed in 2020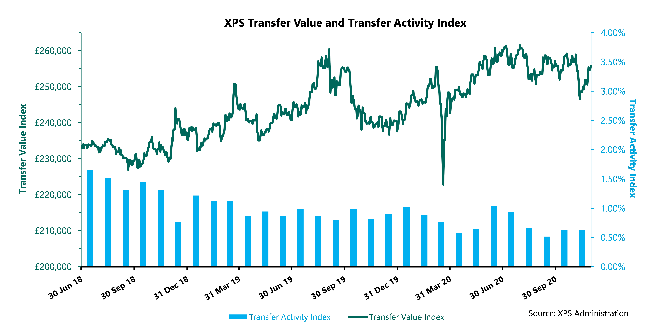 Source: XPS, December 2020. The XPS Transfer Value Index tracks the transfer value that would be provided by an example DB scheme to a member aged 64 who is currently entitled to a pension of £10,000 each year starting at age 65 (increasing each year in line with inflation). Different schemes calculate transfer values in different ways. A given individual may therefore receive a transfer value from their scheme that is significantly different from that quoted by the XPS Pensions Group Transfer Value Index. This index provides a sense of the change in this estimate transfer value due to underlying market moves. The XPS transfer activity index represents the % of eligible members (on an annualised basis) that left schemes administered by XPS each month.
We expect a pickup in transfer out activity in the year ahead as a result of the end of government support measures, such as the furlough scheme, and a likely increase in redundancies from an expected significant rise in corporate bankruptcies. Both of these factors are expected to place pressure on household finances, leading more deferred members aged 55 or over to consider cashing in their pot.

Furthermore, employees concerned their employer may become insolvent in the coming months may be compelled to transfer out now in order to reduce the risk of entering the Pension Protection Fund (and the likely cut this would have on eventual pension benefits).

The theme of cashflow negativity is likely to continue to grow in 2021 as a result and having in place efficient governance frameworks and mandates to deal with resulting cashflow needs may continue to grow in importance.
Gilts in a post COVID-19 world
2021 is likely to continue to see low but stable Gilt yields, with the possibility of further stimulus from the Bank of England (BoE). The stimulus tool of choice is likely to continue to be Quantitative Easing (QE) in the near term, particularly while the use of negative rates remains under operational review. The BoE is only likely to be prompted to act if we see a sustained increase in yields or signs of market disorder, driving an effective tightening of monetary policy. This could be on the back of the requirement for further fiscal spending due to extended lockdowns on a slower than expected vaccine rollout or a worse than expected recovery in economic growth. Either way, this action is likely to keep yields low for the immediate future.
Since the extreme moves of March 2020, gilts have moved in a relatively tight range as issuance and BoE QE purchases have found a relatively stable equilibrium
The figures shown relate to past performance.  Past performance is not a reliable indicator of current or future results. 
Source: Bloomberg. Data as of 04 January 2021. Yield shown is for a 2052 conventional gilt.
Apart from the BoE there are still longer-term demand trends that are likely to support Gilt buying, such as ongoing pension scheme de-risking led by scheme funding level improvements as a result of  the effects of strong growth asset performance and the points highlighted in the earlier "Scheme liabilities may shrink" section of this outlook.
The ability for schemes using leverage in their LDI mandate to buy Gilts relies on repurchase agreements (repo). Earlier in 2020 with the initial COVID-19 induced market crisis we saw a strong demand for cash with repo pricing reaching record levels into the March quarter-end. Since then we have observed a well-functioning repo market with repo financing spreads reaching all time lows as we enter 2021, and funding markets remaining awash with cash driven by central bank support.  Low repo financing costs should be broadly supportive for Gilts as they remain the instrument of choice for the majority of pension scheme hedging.
Looking further ahead an important question is whether the BoE will continue to support the Gilt market in years to come given the reluctance of current Governor Andrew Bailey to start increasing the bank base rate prior to selling QE holdings back to the market. With such a high proportion of issuance purchased by the BoE, any indication of a plan to unwind QE could have material impacts on gilt yields. We see this as being unlikely in the near term and if anything, a further extension of QE or commitment to continue re-investing proceeds appears more likely.
Gilt Supply and QE purchases by fiscal year

Source: DMO, Bank of England, Bloomberg
The COVID-19 pandemic is playing out closer to the Office for Budget Responsibility (OBR) downside scenario published in its Economic and Fiscal Outlook (EFO) in November 2020. The downside scenario assumes restrictions between pre-lockdown Tier 3 and the November lockdown, with a sufficiently effective vaccine not becoming available and subsequent waves of infection occurring. The central scenario assumes restrictions equivalent of England's pre-lockdown Tier 3 until the spring, with an effective vaccine becoming widely available in the latter half of the year. A scenario somewhere in the middle currently looks likely, where we experience a period of strict national lockdown prior to the hopefully successful roll out of an effective vaccine in the UK during the first half of the year.
Rather than a V-shaped recovery, there is an increasing chance that COVID-19 will have longer-lasting effects on the economy, leading to longer-term "scarring" of GDP. Under the downside scenario long-term GDP scarring is estimated to be 6%, and under the central scenario 3%.
If this materialises and the BoE is not willing to continue supporting yields in years to come, we could see higher yields over a medium-term horizon as supply remains elevated. The gross financing requirement is likely to remain somewhat elevated for at least the next few years, with the Gilt Remit unlikely to be below £200bn in any of the next five years - pre-COVID-19 the remit for 2020/2021 was due to be just £156.1bn. Under the downside scenario borrowing is projected to be £46bn higher for 2020-21, and between £50bn and £100bn higher for each of the following five years.

Debt Management Office (DMO) Gross Financing Requirement for 2020-21 and OBR estimates for beyond

Source: DMO Financing Remit 2020-21: 25 November 2020 Revision, OBR
Note for 2020-2021 the NS&I net financing of £35bn brings the Net Financing requirement down to £483.5bn, with Gilt sales at £485.5bn
With the longer-dated gilt yields potentially anchored by QE, the shape of the nominal curve becomes more driven by the front-end of the curve and how monetary policy is set. The BoE is reviewing the issue of taking base rates negative, and there is clearly an openness to this in the future. Negative rates are now part of the toolkit but it is unclear that it is a tool the Monetary Policy Committee (MPC) wishes to use, with concerns around the impact on banks and the financial system and an apparent split between internal and external MPC members around the likely effectiveness.
If yields at the front-end of the Gilt curve do start to trend more negative again this will provide an opportunity for gilt holders to extend further out of the curve to higher or positive yielding Gilts. With so much of the COVID-19 induced gilt issuance held by the BoE and Her Majesty's Treasury being required to pay base rate back to the BoE on these balances, the scope for an increase in the base rate any time soon seems extremely slim.
RPI – after the reform (and BREXIT) storm 
2020 was a tumultuous year for UK inflation, with the trinity of COVID-19, RPI reform and Brexit all impacting heavily at various times in the year. While COVID-19 unfortunately remains with us, with clarity on RPI reform and a narrow Brexit deal agreed, inflation can begin to reflect economic fundamentals again in 2021, particularly at shorter tenors.
However, we believe supply and demand will continue to be a key factor at longer tenors. With many schemes having held off on hedging inflation in the face of RPI reform uncertainty, this could create pressures on longer term inflation risk premia.
The challenges of hedging CPI prior to the 2030 reform date are likely to remain. While certainty may bring some supply of CPI swaps, we expect the premium that may need to be paid will remain high driven largely by the Solvency II Matching Adjustment demand for CPI from insurers.
Are current RPI levels attractive? 
The latest levels of realised inflation would suggest that we are currently in a very low inflation environment, with annual rates of both RPI and CPI printing below 1% in November 2020. This reflects both the direct and indirect effects of COVID-19, including the short-term impacts of the Government's cut to VAT, as well as reductions in energy prices.  As these impacts begin to diminish, the Bank of England project inflation will rebound towards their target of 2% in two years' time. 
Realised Inflation and the Bank of England Projection

Source: ONS, BoE, BlackRock
Whilst inflation may be running temporarily low, for the 10-year period between 2010 - 2019, annualised CPI has averaged 2.24%, and has overshot the BoE target on 60% of occasions. This would justify a risk premium being priced in by market levels, so we can't just simply compare levels to this BoE target to establish value.  There is no guarantee that any forecasts made will come to pass.
In reference to market levels, the chart below shows that, particularly at longer maturities where it is close to the lowest quartile of swap levels, prices are cheap compared to the distribution of RPI swap levels from Dec-17 to Dec-20. However, given that we would have expected the impacts of the RPI reform announcement to reduce long end levels, it may not necessarily be considered cheap.
RPI swap level heatmap: Dec-17 to Dec-20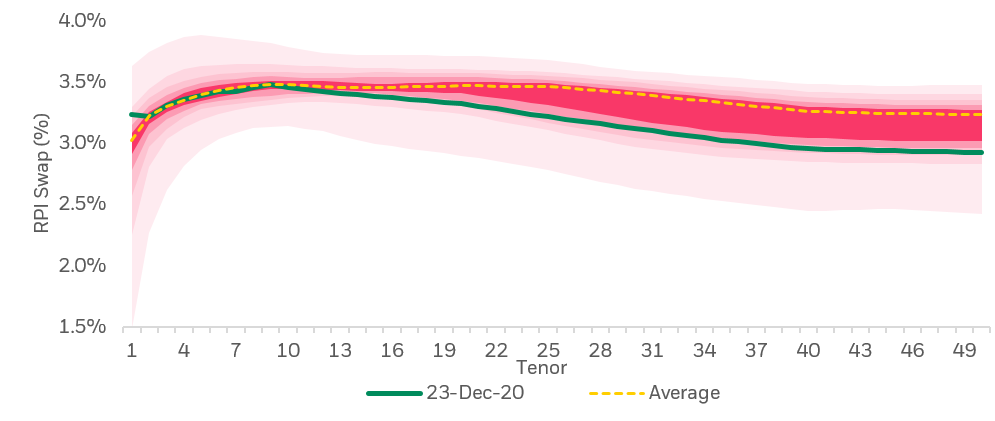 Source: Bloomberg, BlackRock
Comparing forwards to the start of January 2019 before RPI reform discussions had begun in earnest, we would expect, all else being equal, a drop in the forwards past 2030 broadly equivalent to the RPI-CPIH spread, which we have previously estimated at 80-90bps. Whilst the assumption of 'all else being equal' is clearly extremely contentious in such a volatile period, the more limited drop shown in the chart below gives some support to the argument that forwards have become slightly more expensive vs 'fair value'.
Change in RPI 1y forwards from 02 January 2019 to 04 January 2021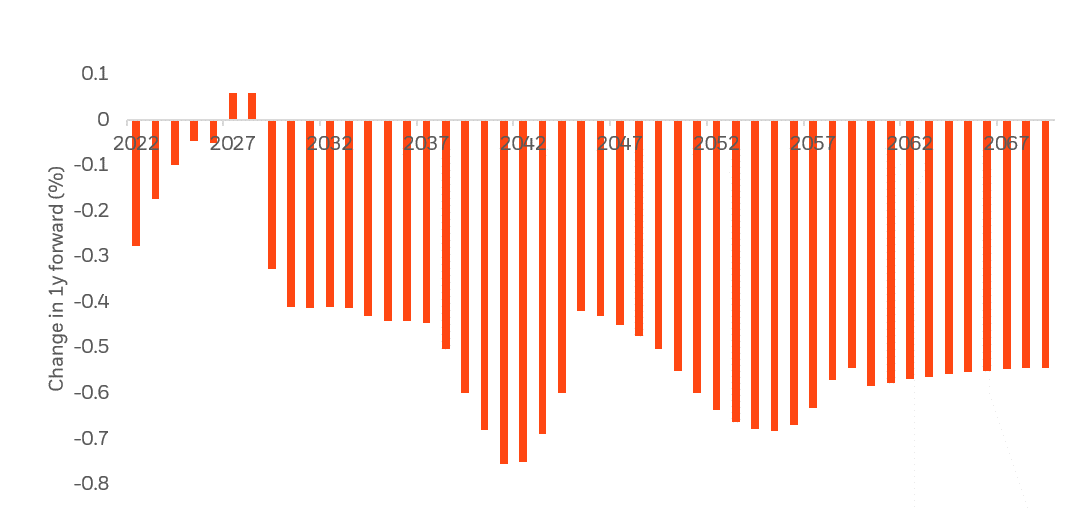 Source: BlackRock
What may drive inflation expectations from here?
Considering inflation globally, consensus is growing that the monetary and fiscal policy revolutions seen due to COVID-19 could lead to revival in inflation in the next 2-3 years. In a recent internal poll of BlackRock investors, the majority opted for this option. Forty-nine percent of the responses to a global internal poll of BlackRock investors agreed that higher inflation is just around the corner. Another thirty-eight percent of voters did not see sustained higher inflation until the next decade and thirteen percent do not see it at all during the course of their careers. Combined with the QE described in the previous section and the low likelihood of rate increases any time soon, this may lead to lower real yields as nominal yields and inflation de-couple.
In the UK the situation is more nuanced in the near term. The LDI team expects realised inflation to continue to print low relative to implied market levels, with scarring from the crisis and the narrow Brexit deal likely to weigh on the economy in the coming years.
At the longer end of the curve, the outlook is more driven by supply and demand. In the near term, with the announcement of several longer dated index-linked gilt issues we expect inflation PV01 supply to average ~£10-15m per month in January and February 2021. This is a significant uptick to previous quarters where PV01 from Linker supply averaged around £4m per month, however many schemes may now act on activity they had been holding off on.
Longer term questions remain on the DMO's plans for index-linked gilt issuance. With the desire to limit inflation-linked issuance as a proportion of total government debt – the UK has nearly twice as high a proportion of inflation linked debt as the second highest issuer - the DMO may scale back supply in the next fiscal year while pension demand is likely to tick along.
How can inflation risk across various indices be managed?
Given the RPI reform date of February 2030, those with CPI liabilities and RPI hedges are faced with the basis between CPI and 'old' RPI for the next nine years before switching to CPIH-CPI basis from 2030 onwards.
There has been limited CPI supply historically, predominantly arising from Electricity Market Reform projects. However, the magnitude of this supply has been very limited in comparison to CPI liabilities. Whilst there is potential for further future issuance after additional clarity on inflation linkages from utility regulators, and the likelihood of further infrastructure spending which may be linked to inflation, this relative shortage of supply is likely to remain and CPI swaps will likely continue to look expensive. The DMO have also confirmed that they are not looking at issuance linked to other indices.
The difference between CPIH and CPI is heavily driven by owner-occupied housing (OOH). CPIH measures OOH using the approach of rental equivalence – using the rent paid for an equivalent house as an estimate of the cost of housing services. This rent, in turn, is closely related to mortgage costs (short rates and credit spread). Therefore, if we expect rents to remain relatively stable, the CPIH-CPI basis may also remain constrained.
OOH as driver of CPIH - CPI spread since 2000

Source: BlackRock, ONS, Bloomberg
Drivers of owner-occupied housing costs
Source: BlackRock, ONS, Bloomberg
A coming of age for Environment, Social and Governance (ESG) investing in LDI 
The importance of responsible investing and ESG factors has been growing for UK Pension Trustees for several years. A recent survey by Mercer showed that 89% of schemes considered ESG risks in 2020, predominantly as a result of regulatory changes but increasingly due to recognition that long term financial outcomes may be linked to these factors, as well as the shifting views and policies of sponsors and individual trustees.
Reflecting ESG in LDI has been less obvious than in product types due to the typical narrow toolkit of gilts and swaps used, however we have reason to believe this could change in 2021, with four key areas likely to gather momentum:
Environmentally aware cash
In the current low rate environment very few schemes have strategic allocations to cash. However, cash often forms a key part of LDI mandates to provide margin for derivative positions, in particular cleared derivatives.
BlackRock launched the BlackRock ICS Sterling Liquid Environmentally Aware Fund (LEAF) in mid-2019 and the fund has grown to £2.35bn as of the end of November 2020. This fund seeks to screen out issuers with exposure to a range of negative ESG characteristics, including thermal coal, tar/oil sands and controversial weapons.
We expect continued interest in these types of funds as more advisers complete research in this area and rate funds, opening the door for advice to clients to make the switch, for those who haven't already.
ESG Counterparty screening
Given the historical difficulties in incorporating sustainability and responsible investment in the typical gilts and swaps used in traditional LDI mandates, considering the characteristics of counterparties to derivatives is an appealing approach. This is not without challenges due to both the need to maintain a liquid panel of counterparties in what has been a shrinking bi-lateral swap market, the move to clearing derivatives and the lack of consistent data published by banks on their underlying businesses, as highlighted on page 22 of BlackRock's recent paper on ESG in FI.
As new standards for reporting emerge, we believe this approach could become increasingly meaningful, enabling real differentiation in counterparty selection with the aim of prompting changes in behaviour.
Sustainable synthetic equity
Synthetic equity typically accessed through a Total Return Swap (TRS) on an equity index has been a commonly used tool to bolster LDI hedges while retaining enough gilt collateral. With an increased focus on ESG tilts or screens within equity allocations, the risk of losing these characteristics and having to target the most generic and liquid index has been an increasing concern around the use of synthetic equity.
A trend we expect to continue into 2021 is a wider range of TRS on ESG and sustainability focussed indices being quoted by brokers, with many already offering more than 10 alternatives as standard. We also anticipate pricing for the financing leg of the TRS will increasingly converge with non ESG indices typically used for TRS.
Green Gilts and Sterling green bonds 
We recently wrote extensively about the UK Government's plans to issue its first Green Gilt in 2021. Such a green gilt would ringfence or dedicate the proceeds raised to green projects, with reporting on the impact of such projects over time. Anecdotal evidence from client conversations and survey data lead us to believe demand will be strong from schemes. This is despite indications from pockets of the industry who question the merit of sovereign green bonds given the backing for the bonds is the same as all other gilts.
An initially limited supply, regulatory factors and a rapidly growing green bonds and ESG funds sector may lead to continued demand for any initial green gilt issuance. This may result in there being value in allocating to green gilts, even if they are initially issued at a premium to other gilts.
In a recent engagement session BlackRock organised with Her Majesty's Treasury and the Debt Management Office, we strongly advocated for the first issue to have at least a 20-year maturity to allow typical LDI investors to easily include the bond into their portfolios, given many schemes have holdings of other bonds or swaps at shorter maturities. We expect to continue to engage over 2021 and will share further thoughts with clients as details emerge.
The issuance of the first green gilt in 2021 is likely to unleash a range of other green bond issuance in Sterling - a trend that has been seen in other markets previously. This will create further opportunities to go green in a LDI portfolio while potentially also generating additional returns and cashflows – an important trend we cover in further detail in the next section.
Amount of green bonds issued per year by country of issuer (excluding green government bonds) shows green government bond issuance tends to increase overall green issuance volumes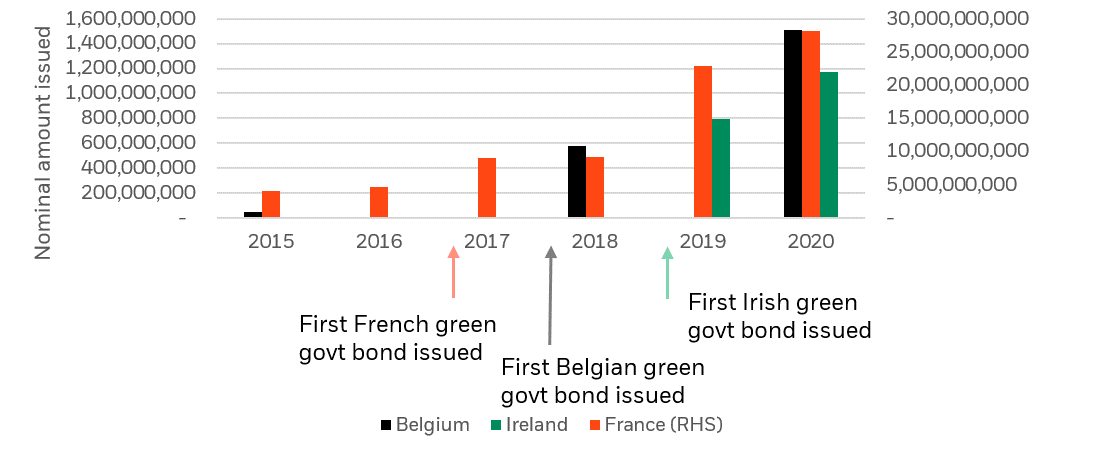 Source: BlackRock, Bloomberg. Data as at 22 December 2020.
Matching allocations will continue to evolve over 2021
Over the last five years, and more recently in 2020 we've continued to see the de-risking rotation from 'growth assets' such as hedge funds and equities, to 'matching' such as LDI, Investment Grade Credit and other contractual assets. This accelerating trend is being driven by many factors including improving funding levels, increasing cashflow negativity and the desire for greater certainty over the range of outcomes.
Schemes, particularly those that hedged rates and inflation early, are better funded now and no longer need high returns associated with 'growth assets'

Source: PPF 7800, November 2020
Schemes are becoming increasingly cash flow negative and need assets to generate cash flow to meet their payments to members

Source: Mercer European Asset Allocation Survey, November 2020
Schemes still need to generate some return but want to do this with greater certainty - an allocation centred around Credit and contractual assets may allow schemes to narrow the potential range of outcomes

Funding path - Growth allocation
Funding path - Contractual Asset allocation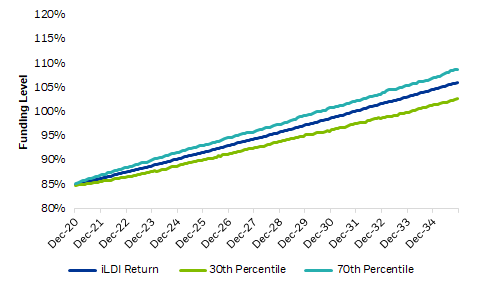 Source: BlackRock, December 2020
As a result, we expect the trend towards matching to continue in 2021, and even accelerate as many of the events in 2020 become in the 'rear-view'. Two areas where we believe Schemes will be looking to increase their allocation is in Investment Grade and Private Credit. However, careful consideration needs to be given when investing in these asset classes.
Investment Grade Credit
Investment grade credit will continue to form a core component of Scheme's asset allocations as they de-risk, however, in the low rate environment with spreads approaching post-crisis lows, greater focus is needed to seek to generate value and mitigate the risks of potential defaults and downgrades.
Looking for Value 
Assessing reinvestment risk or opportunity allows investors to consider the best value credit based on their return needs and tolerance for risk. In certain markets it may make sense to buy short-dated credit and re-invest with the expectation of achieving higher future credit spreads (with potentially less rating migration), in other markets it may make greater sense to buy long-dated credit and hold it to maturity.  The charts below show this by comparing the break-even spread between 7y and 14y credit. They indicate that greater value can be found by investing in shorter-duration UK Credit and longer-duration USD credit.

Source: BlackRock, 28/12/2020. Break-even spread: is the spread required at reinvestment at the maturity of a 7y credit to result in the equivalent return offered by the 14y credit.
Focusing on Fundamentals 
An approach to investing in credit which focuses on assessing corporate fundamentals is likely to key in 2021 and beyond with increased potential for headwinds from downgrades and defaults as the global economy begins its recovery and government support that has kept some businesses going is removed. A Buy and Enhance approach, where opportunities are sought to switch into new issues or similar but preferable issuers, rather than buy and hold may allow managers to periodically assess the portfolio and seek to improve the return or reduce risk in a cost-effective way.
In addition, focusing on ESG factors as part of the fundamental research process is imperative, as potential risks such as carbon taxation, or shifts in consumer behaviour could damage long-term returns.
Views from the credit desk
Remain cautiously optimistic on Investment Grade credit throughout 2021
Believe technical factors (such as the excess demand for credit) outweigh some of the negatives from a fundamental standpoint
Fundamentals are likely to improve throughout the year as the economy restarts and the impacts of COVID-19 are reduced, however
Volatility could return as Central Banks may look to taper their support; this could provide a good opportunity to those looking to increase their credit allocations later in the year.
Integration with LDI 
Combining the management of LDI and Credit in an integrated portfolio allows greater investment and operational efficiencies may have a positive impact on returns. For example, having a single collateral pool allows you to invest in overseas credit without any additional need for collateral, reducing the drag on credit returns from holding additional gilts or cash as collateral.
Taking a holistic portfolio management approach may also be increasingly important in 2021 to assist with managing uncertain cashflow requirements thrown up by factors like transfers out in an efficient manner.
Private Credit
Private market assets have become a focus for many schemes in recent years, but institutional investors remain under-invested in private markets, especially those schemes which still need to generate more return than investment grade credit can offer and have room to take on some illiquidity based on their time horizon.
Recent economic uncertainty may provide new opportunity
2020 was a difficult year for many in the corporate sector, and many corporates may find themselves having to turn to private credit to restructure for a post-COVID-19 world. The scale of restructuring needs could exceed the previous peak after the Global Financial Crisis ("GFC").
The amount of sub-investment grade outstanding debt has more than doubled since the GFC with c.$1trn in private credit.  We see this as an opportunity to enter an attractive asset class and see potential for higher returns from restructuring opportunities and managers' abilities to negotiate strong debt covenants.

Sources: BlackRock Investment Institute, October 2020. Notes: Private credit data are from Preqin. Indexes used are Bloomberg Barclays Global High Yield Index, S&P/LSTA Leveraged Loan Index + S&P European All Loans Index, and JP Morgan CEMBI Index (emerging markets). Index data are as of 30 June, 2020, and the private credit data as of 31 Dec., 2019. Indices are unmanaged and do not account for fees. It is not possible to invest directly in an index.
Returns may be bolstered, and governance reduced through Integration with LDI
A classic challenge of investing in less liquid assets is generating return prior to cash being drawn down, while managing the governance burden of this process. Implementing private credit alongside an LDI mandate as part of an integrated portfolio may present opportunities to enhance returns and minimise disruption during the capital deployment phase. For example, we anticipate strategies that sell CDS protection at inception or use proxy allocations to more liquid assets like iShares becoming more common with allocations dynamically reduced over time as capital calls are met.
In conclusion: Things can only get better?
While the start of 2021 looks set to continue to be as challenging as 2020, schemes may find themselves in a stronger position to de-risk into cashflow generating assets as 2021 progresses, with the potential for shrinking liabilities and strong growth asset performance combining to improve funding levels.
ESG and sustainability considerations look set to form a key part of this de-risking process, including increasingly within LDI portfolios.
Carefully managing the risks associated with interest rates and inflation will remain vital to ensure any funding gains are not squandered, with the risk of a decoupling of nominal rates and inflation as yields may stay low to foster economic recovery and support huge debt loads while reflation trends have the potential to take root.
The opinions expressed are as of January 2021 and are subject to change at any time due to changes in market or economic conditions. The above descriptions are meant to be illustrative. There is no guarantee that any forecasts made will come to pass.