Longer-dated global yields have fallen over the past month despite equity and credit markets shrugging off continued rising Coronavirus cases in parts of the US and the simmering US China tensions. The buoyancy in markets for riskier assets likely reflects a continued expectation for support from governments and central banks, perhaps combined with increasing hopes for a vaccine soon.
Bucking the trend – long-dated Gilts underperform other government bonds

Source: Bloomberg. Data as at 17 July 2020.
However long-dated gilt yields have bucked this trend of late, with the yield curve steepening sharply. In this update we explore what might be causing this and whether this trend could continue in the coming months, along with the impacts on gilt asset swap spreads.
We also touch on recent moves in UK inflation breakeven levels and our latest thoughts on RPI reform.
Gilt Yields - How to spend it…. And fund it
Chancellor Rishi Sunak's much anticipated summer statement announced a further package of up to £30bn of spending to support companies and individuals as the existing furlough scheme begins to wind down and encourage us to help the struggling hospitality sector. Following the exciting promise of subsidised Nando's, the more sombre reality of how much the continued lower than normal levels of economic activity are likely to impact borrowing needs came from the Office for Budgetary Responsibility (OBR).
The OBRs July update central scenario has Public Sector Net Borrowing hitting £322bn in the 2020/2021 fiscal year and didn't include the additional £30bn announced by the Chancellor given timing issues. The OBR central scenario in May was £300bn, so combining this update and promised new spending borrowing is expected to be £50bn higher than it was as recently as May. When combined with redemptions of gilts due this year it is likely to lead to total gross borrowing approaching £500bn. All this comes with the backdrop of the most recent Bank of England (BoE) meeting having announced a further £100bn of Quantitative Easing (QE) that is expected to be completed before year end, lower than many market participants had expected and being deployed at a slower pace.
With the clarity of the Chancellor's extra spending plans and the OBR's forecasts, the Debt Management Office (DMO) provided the market with further clarity on its planned remit over the September to November period. While the extra £110bn of borrowing announced over September to November was broadly in line with expectations, the planned distribution of auctions was slightly longer dated than in previous months and with the announcement of two syndications over the period, pressure has come onto longer-dated gilt yields. This is while shorter-dated gilt yields, sub 10 years, continue to plumb record lows and increasingly price negative rates from the BoE in the near future, with MPC member Tenreyro supporting this by recently commenting "My personal view, which comes from the reading of the European experiences, is that negative rates have had a positive effect in the sense of having a fairly powerful transmission to real activity".
Source: DMO. Data as at 17 July 2020.
The DMO will be acutely aware that with the lower than perhaps anticipated pace of BoE gilt purchases in the coming months, the risk it becomes harder to auction longer-dated bonds without a material yield concession may grow. As an interesting side note, £30-40bn has been allocated to NS&I to raise through retail saving products vs. a previous estimate of £3bn-£9bn, acting as a diversifier for having to issue in the gilt market.
The net effect of this to date has been to steepen the gilt curve to levels last seen in March before the BoE QE programme started. This level of steepness also comes despite 30yr gilt yields being at far lower levels which typically results in absolute levels of yield curve steepness being lower.
With 10yr Gilt yields hitting all-time lows while longer yields increase on higher issuance the curve has steepened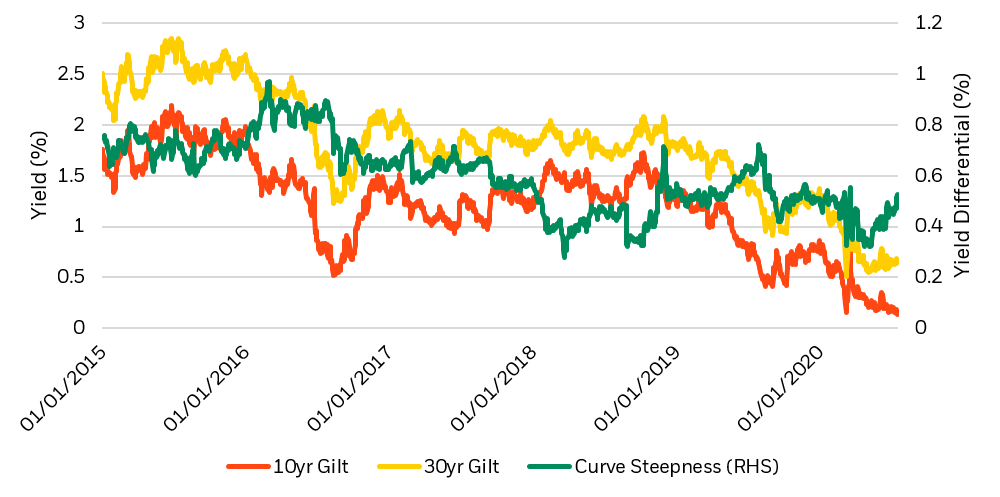 The figures shown relate to past performance.  Past performance is not a reliable indicator of current or future results.
Source: Bloomberg, BlackRock. Data as at 17 July 2020.
Relative to current yield levels the level of steepness looks stretched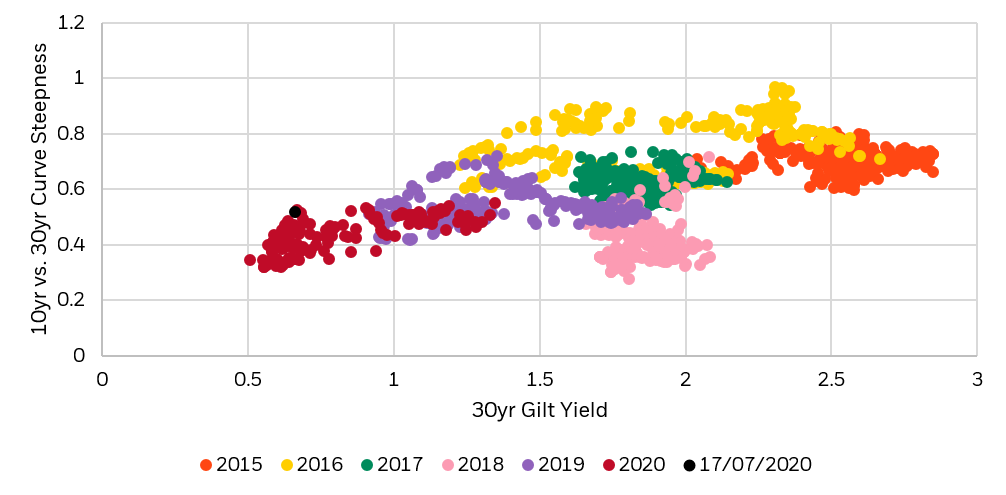 Source: Bloomberg, BlackRock. Data as at 17 July 2020.
While longer-dated yields themselves remain historically low, many schemes may reasonably have concerns we are heading into a negative rates environment in the UK and are set to be in a lower interest rate environment for the longer term. In the shorter term, over the next couple of months, for schemes that are looking to increase nominal hedge ratios strategically or top up hedges as funding levels have improved from lows back in March and April this may represent an opportunity.  Locking in longer-dated yields may prove opportune if short-dated rates were to remain low and the yield curve subsequently flatten back.
As longer-dated gilt yields have increased gilts have underperformed swaps and asset swap spreads have moved higher. With repo financing costs remaining contained at around the SONIA + 20bps for 3m repo and with only a modest 5bps premium to that to roll repo over a potentially challenging year end, the additional pickup offered by gilts over swaps looks increasingly attractive. Better entry levels over the next few months certainly couldn't be ruled out as the market digests longer-dated supply but for now the BoE has reduced its control of longer-dated gilt asset swap.
Longer-dated asset swaps back at three-month highs but a long way from the levels reached in March's Coronavirus induced liquidity crunch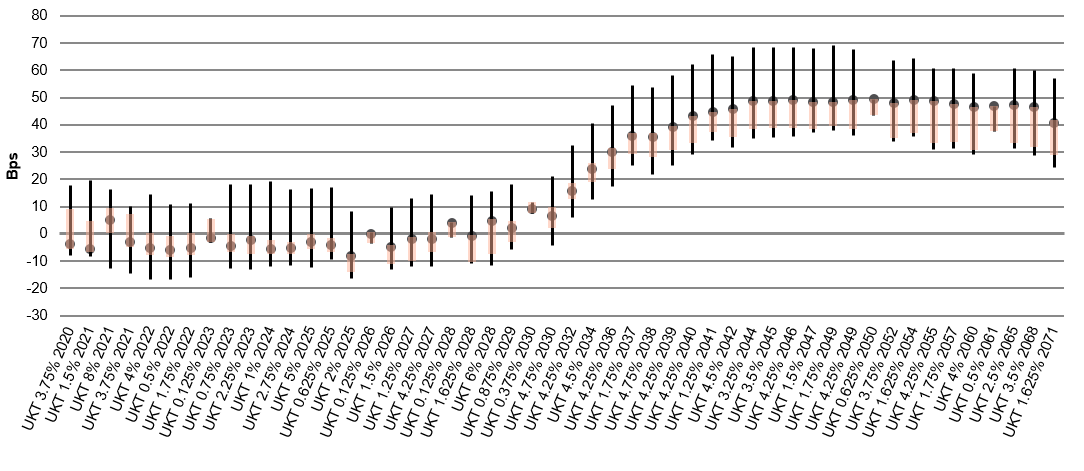 Source: BlackRock. Data as at 16 July 2020.
Medium and Longer-Term Outlook
Over the remainder of this year and as we head into 2021 the BoE will continue to be key in whether longer-dated yields can push higher, or the yield curve can continue to steepen. Market expectations for further QE announcements are mixed but with MPC member Tenreyro stating that considerable downside risks to demand still exist and that she remains ready to vote for further action as necessary to support the economy, the chance of a further extension of QE in November as the current £100bn is completed is increasingly likely. A huge amount hinges on the chances of V shaped recovery and the prospect of a winter resurgence in cases. BlackRock Investment Institute's midyear outlook highlights that while a strong global recovery is likely and the impact on trend GDP will not be as long lasting as the 2008 Global Financial Crisis, the snap back to trend growth may still take some time.
In the longer term, with the likelihood of higher deficits for years to come as the Chancellor seeks to balance tax rises and spending cuts with getting the economy back on its feet it is tempting to assume we will see steeper yield curves persist.  From a hedging perspective however, with the now ever-present threat of the BoE either undertaking more QE or entering the realms of negative rates, any such view needs to be carefully scaled and timed to avoid the risk of funding level draw downs. Trustees of many schemes may conclude this is not a risk worth taking.
Monetary and fiscal policy are seemingly working in co-ordination more than ever before. The extent to which in the longer term the BoE could allow long-dated yields to rise before this constrains the affordability of government borrowing and jeopardises the stability and growth of the broader economy is a live debate. This is clearly key in helping pension schemes understand how much upside they potentially have by not fully hedging their liabilities at this time vs. the downside of gilt yields approaching zero across the curve as we see in Europe where the Bund curve is actually negative at all maturities, and something we plan to explore further in the coming months.
Inflation – the long and winding road to RPI reform
Inflation-linked eyes continue to be focussed on the RPI consultation with the continued lack of meaningful long-dated index-linked gilt supply by way of syndication and pockets of LDI rebalancing demand combining over May and June to push inflation higher. Recent market liquidity appears poor for inflation swaps and index-linked gilts, with even modest market activity causing relatively sharp day on day moves.
30yr swap inflation – lack of supply and LDI demand push inflation expectations to the top of a choppy plateau following the large falls in March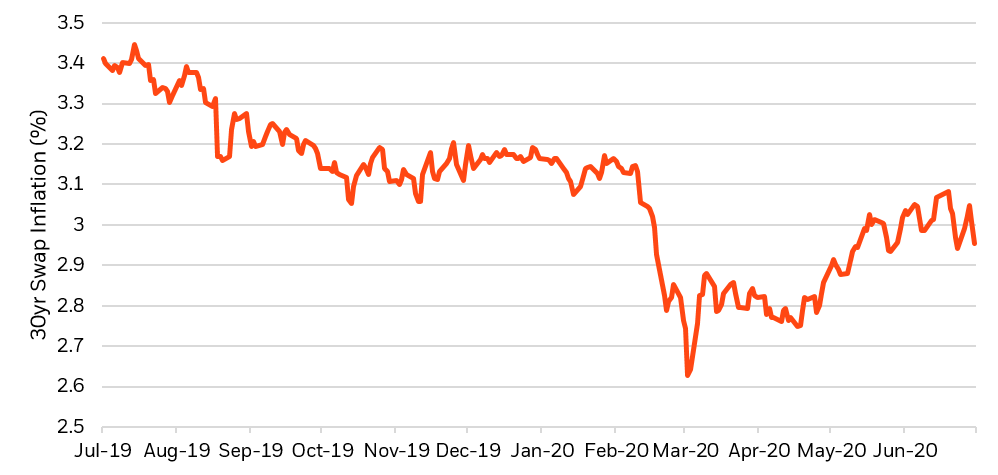 Source: Bloomberg, BlackRock.
This may be attributable to it being summer holiday (or staycation) season. However, with the consultation not due to close until the 22 August and recent roundtables with the Economic Secretary to the Treasury on the reform yielding no more than that an update will be provided in the autumn this holding pattern may continue for some time. For schemes with RPI liabilities that continue to need to hedge, care should be taken to allow sufficient discretion to manage market liquidity and the sharp day-to-day moves being observed.
BlackRock recently submitted its RPI reform consultation response.  Given the points made above about the negative impacts on liquidity, we have encouraged a speedy resolution to the reform of RPI. While we have sympathy with the need to reform RPI as a flawed statistical measure we have raised our concerns around the lack of fairness based on the differing impacts across different pension schemes and the negative impact on many of their members. To date the Treasury remains focussed on this being a matter of timing - allowing it to happen in 2025 or just letting the statistics authority choose to make the change in 2030. Industry consensus behind RPI becoming CPIH plus a margin appears strong and consistent and would resolve many of these issues of fairness. However, this would require direct Government intervention and with a significant hole in the public finances to fill, is there a risk that despite the material challenges created for pension schemes and members this change is just too tempting for the Chancellor to wave through?