We detail our approach to sustainable investing and ESG integration, with performance data and best practice examples from across our global portfolios.
Capital at risk. All financial investments involve an element of risk. Therefore, the value of the investment and the income from it will vary and the initial investment amount cannot be guaranteed.
The long-term and physical nature of real asset investments make environmental, social and governance (ESG) considerations especially important. We have been proactively leading the way on sustainable investing for over a decade and are continuing to drive best practice within our investment activities, as well as across the sector more broadly.
Read the report to learn:
How we utilize ESG factors across our platform. We integrate ESG considerations into our investment processes to protect against risks, but also to generate opportunities and add value. We are increasingly developing and providing targeted impact products and solutions for our clients.
• How we have outperformed on sustainability. We continue to evolve and improve the measurement and reporting of ESG impacts across our global investments. We benchmark our sustainability performance and take part in various industry initiatives and assessments.
What's ahead in sustainable real-asset investing. Our investment and asset management strategies are underpinned by thoughtful attention to sustainability issues and trends, including the impact of climate change, resource constraints and demographic trends.
We believe that a robust, integrated approach to sustainable investing is essential in preserving and enhancing the value of our assets throughout their investment lifecycles.
BlackRock real assets at a glance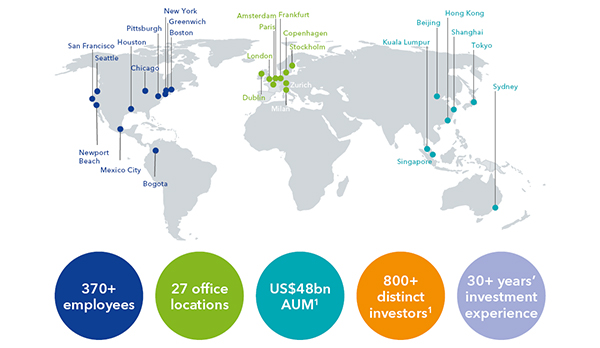 Source: 1BlackRock, as of 31 December 2018.
Sustainable investing
At BlackRock, sustainable investing spans a range of strategies that combine traditional investment approaches with environmental, social and governance (ESG) insights to seek long-term risk-adjusted return. We believe sustainability-related issues have real financial impacts.