Capital at risk. All financial investments involve an element of risk. Therefore, the value of the investment and the income from it will vary and the initial investment amount cannot be guaranteed.
---
Why BlackRock for hedge fund solutions?
BlackRock Alternative Advisors (BAA), BlackRock's dedicated hedge fund solutions provider, has been evaluating and investing in hedge funds for nearly 25 years. 
BAA's expertise extends across the universe of hedge fund managers and strategies, as well as hedge fund-sponsored co-investments. 
Learn more about hedge fund solutions at BlackRock
Paragraph-3
Paragraph-4,Paragraph-5,Accordion-1
Paragraph-6
Paragraph-7,Bio-1,Paragraph-8
Market Opportunity
Institutional investors often allocate to hedge funds to diversify portfolio risk, while seeking to generate uncorrelated sources of return.
When executed effectively, an optimal hedge fund portfolio can provide idiosyncratic sources of return and risk, while minimizing exposure to broad market risks.

Source: BlackRock. For illustrative purpose only.
Investment solutions
What is a hedge fund solution?
Investors allocate to hedge funds for many reasons but understanding and managing risk in the ever-evolving universe of more than 8,000 hedge funds requires significant expertise, time and effort. Furthermore, one size does not fit all; investors allocate to hedge funds for different purposes and have varied levels of resources and expertise. A hedge fund solutions provider helps an investor address the inherent complexities and may act as an extension of staff to help an investor develop the optimal portfolio of hedge funds, while offering the desired level of control and transparency.
A diverse offering
BAA offers a range of products and services, which provides clients with access to unique investment opportunities, thematic investments, and meaningfully negotiated terms (e.g., discounted fees, structural improvements, transparency, etc.). BAA serves as an extension of a client's investment team by providing unique insights, while implementing exposures that complement directly held hedge fund investments.

Source: BlackRock. For illustrative purpose only.
Bespoke solutions with tailored investment parameters, customized governance models and a partnership centered on transparent communication.

Multi-manager strategies that provide diversified exposure to hedge fund strategies.

Direct security investments sourced from hedge fund relationships and the broader BlackRock organization.
Investment philosophy
Our disciplined investment approach is founded on four core principles. We seek to:
Fundamentally understand an investment manager's strategy
Align incentives between the investment manager and the investor
Exercise independent judgment rather than "following the herd"
Focus on market inefficiencies as a core source of risk and return
Investment process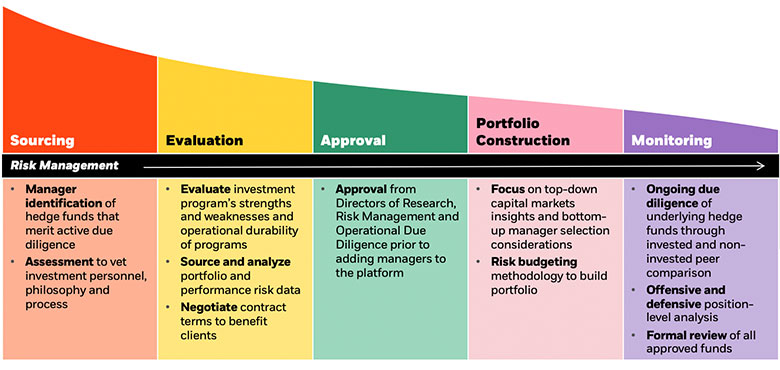 Source: BlackRock. For illustrative purpose only.
Meet our team
BAA has substantial experience investing across market cycles and a significant global presence, with offices in Seattle, New York, London, Tokyo and Hong Kong.

Source: BlackRock as of Sept. 5, 2019. For illustrative purpose only.