Why Outsourced Chief Investment Officer (OCIO) for Pension Plans?
Respond to a shifting retirement benefit focus, and the desire to reduce and eventually decrease pension risk and cost.
Potentially improve fiduciary oversight by trusting an investment expert to manage your money in the face of rising market uncertainty, increasing regulatory cost and funding gaps.

Better understand the drivers of return and what asset class combinations may fit your risk/return profile and liquidity needs through your pension journey.

Build an enduring and holistic partnership with your advisor based on direct accountability, deeper and more frequent portfolio monitoring and reporting, and improved transparency.
---
Key Trends in the Pension OCIO Industry
Pension AUM (USD, Billions)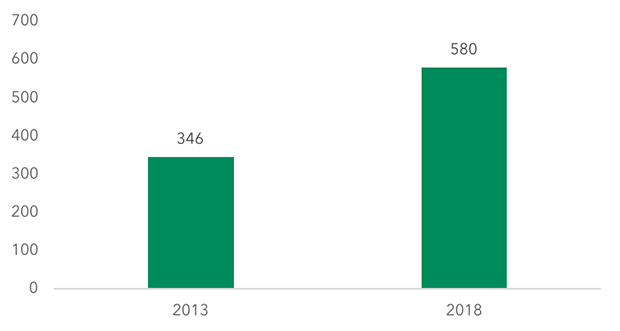 Source: Total OCIO AUM data from P&I as of 3/31/2018; Corporate Pension AUM figure based on Casey Quirk % breakdown applied to P&I total AUM figures.
Top Reasons for Pursuing an OCIO Relationship, 2017

Source: Cerullis. Survey included participants from across the OCIO industry in which Corporate Pension is the largest segment.
Key Considerations When Choosing a Pension OCIO Provider
Pick a provider that is willing to take full fiduciary responsibility and that you can trust to make the best decisions on your behalf.
Pension personnel that understand the nuances of your specific situation from the perspective of your beneficiaries and the company.
A provider with the breadth to be able to adapt as your funding needs and markets change over time.
Excellent client service that includes timely and accurate client reporting and educational material relevant to pension plans.
A transparent and competitive price that you can understand and trust.