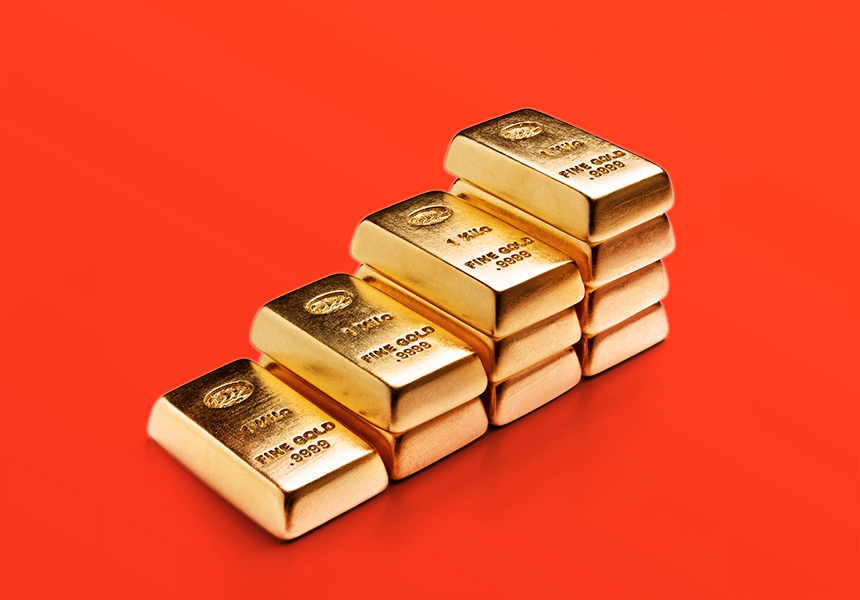 For qualified investors only
A Golden Opportunity for Diversification
The last few weeks of the first quarter of 2020 have been exceptional: the driving forces and implications of the current environment due to COVID-19 are unprecedented, and many investors wonder how to diversify their portfolio in an environment, limited by a continued trend of low or negative yields in global bond markets. So, how to proceed?
Our research shows that the consideration of alternative allocations in portfolio is vital in order to increase resiliency and build diversification in this challenging environment.
One potential alternative allocation to consider is Gold.
Ways to invest in Gold with BlackRock
BlackRock's wide range of products offers investors with three types of vehicles to achieve gold exposure:
1. Active gold equity fund: BGF World Gold Fund
2. Physical gold products: iShares Physical Gold ETC or iShares Gold ETF (CH)
3. Gold equity exchange-traded-fund: iShares Gold Producers UCITS ETF
Investors can add gold price exposure to their portfolios through incorporating one or more of these funds. BlackRock has a long-history of offering gold-related products, with its oldest active gold equity fund launched in 1988, with the fund officially becoming part of BlackRock after the merger with Merrill Lynch Investment Managers in 2006. Investors typically turn to BlackRock based on: our mission and principles (including our commitment to clients), our people and in-house expertise and our world-leading risk and fund-management capabilities.
Risk Warnings
Capital at risk. The value of investments and the income from them can fall as well as rise and are not guaranteed. Investors may not get back the amount originally invested.
Past performance is not a reliable indicator of current or future results and should not be the sole factor of consideration when selecting a product or strategy.
Changes in the rates of exchange between currencies may cause the value of investments to diminish or increase. Fluctuation may be particularly marked in the case of a higher volatility fund and the value of an investment may fall suddenly and substantially. Levels and basis of taxation may change from time to time.
BlackRock has not considered the suitability of this investment against your individual needs and risk tolerance. The data displayed provides summary information. Investment should be made on the basis of the relevant Prospectus which is available from the manager.
In respect of the products mentioned this document is intended for information purposes only and does not constitute investment advice or an offer to sell or a solicitation of an offer to buy the securities described within. This document may not be distributed without authorisation from BlackRock..
Product Risks
iShares Gold CHF Hedged ETF (CH)
Counterparty Risk, Currency Hedging Risk, Gold Risk, Investment in Gold Risk, Liquidity Risk
iShares Gold ETF (CH)
Counterparty Risk, Gold Risk, Investment in Gold Risk, Liquidity Risk
iShares Gold EUR Hedged ETF (CH)
Counterparty Risk, Currency Hedging Risk, Gold Risk, Investment in Gold Risk, Liquidity Risk
BGF World Gold Fund
Concentration Risk, Counterparty Risk, Equity risk, Investments in Mining Securities, Liquidity Risk
iShares Gold Producers UCITS ETF USD (Acc)
Concentration Risk, Counterparty Risk, Equity Risk, Investments in Mining Securities Risk, Liquidity Risk