ALADDIN WEALTH CAN HELP PROVIDE A FOUNDATION TO MANAGE BUSINESS RISKS
We help our wealth partners evaluate risk more efficiently. Aladdin Wealth provides transparency and clarity for you to better understand and manage the risks in your business and client portfolios, enabling more informed investment decisions.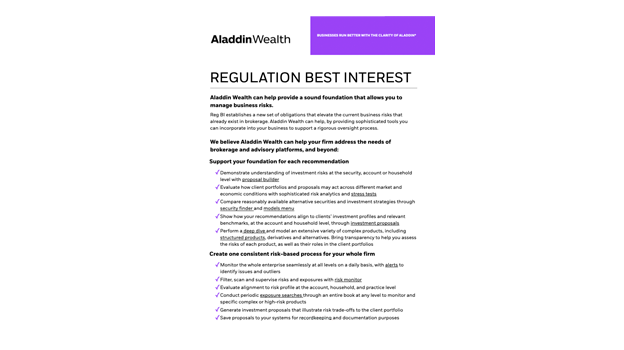 SUPPORT YOUR FOUNDATION FOR EACH RECOMMENDATION
Demonstrate understanding of investment risks at the security, account or household level with

 

proposal builder
Evaluate how client portfolios and proposals may act across different market and economic conditions with sophisticated risk analytics and

 

stress tests
Show how your recommendations align to clients' investment profiles and relevant benchmarks, at the account and household level, through

 

investment proposals
CREATE ONE CONSISTENT RISK-BASED PROCESS FOR YOUR WHOLE FIRM
Evaluate alignment to risk profiles at the account, household, and practice level
Monitor the whole enterprise seamlessly at all levels on a daily basis, with

 

alerts

 

to identify issues and outliers
Filter, scan and supervise risks and exposures with

 

risk monitor
SIMPLIFY MONITORING
Implement a

 

common language of risk

 

across product types, brokerage, advisory, retirement and non-retirement accounts as well as assets held away.
Seamlessly integrate risk analytics through

 

APIs

 

into your financial professionals' workflow, client reporting, client portals and other parts of your existing ecosystem.
Migrate from increasingly tangled rules-based supervision to simpler and more flexible risk-based approaches that empower financial professionals.
Contact us to learn more and download our guide
Please try again