Solving for Diversification
Mar 31, 2014
Can bonds be relied upon to diversify stocks in years to come, as they have for most of the new millennium? The spike in correlation between equities and fixed income seen in June of last year—and the possibility of a return to the positive correlation of the 1990s— make the question a pressing one.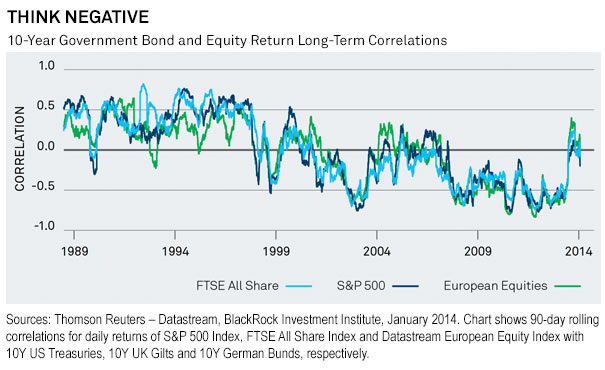 Investors have been forced to rethink many things in the post-crisis years. Given the dislocations seen when the US Federal Reserve signaled a wind-down of monetary stimulus last year, and the temporary retreat from risk assets in early 2014 as the Fed's pullback got under way, it's clear that the rethinking should continue. The fault lines extend across the global investment landscape, intersecting with other market-shaping policy trends and making it hard for investors to rely upon prior assumptions about some of the most basic elements of investing.
How best to hedge risk and achieve returns when so many familiar tools and strategies aren't working as they once did? In concept, the answer is as simple as it is by now familiar: Diversify. Cast a wider net—often in the direction of alternative investments.
Real Estate: BlackRock clients expressed a strong interest in real assets in our global Survey of Institutional Investors.
Infrastructure debt: Bringing diversification to a credit portfolio by virtue of being secured and serviced by hard assets.
Distressed assets: Some of the most promising involve opportunities being created by European bank deleveraging.
Strategic beta vehicles: Including minimum volatility, fundamentally weighted and factor-based index strategies.
The broader fixed income universe: Structured credit, emerging market debt and high yield offer diversification benefits as well as the potential for higher total returns with less exposure to interest rates. An unconstrained, go-anywhere approach is one way to take advantage of the broader fixed income universe.
Multi-asset strategies: All have diversification in their DNA and entail reaching across asset types and geographies for attractive opportunities.
When longstanding approaches to investing start falling short, casting a wider net is a logical response. But that's not to say that taking up new strategies and integrating them with existing ones is easy. It's an effort that requires equal measures of open-mindedness, flexibility and skepticism. Asking hard questions is a key part of the process. Ultimately, it's about putting any newly proposed tool to a straightforward test: Is it likely to move the investor closer to a desired goal?