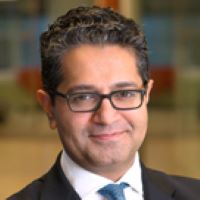 Salim Ramji
Global Head of ETF and Index Investments
Salim Ramji, Senior Managing Director, is Global Head of iShares and Index Investments for BlackRock and a member of the firm's Global Executive Committee.
Prior to his appointment to lead the ETF and Index Investments business in 2019, Mr. Ramji was Head of BlackRock's U.S. Wealth Advisory business where he was responsible for leading BlackRock's relationships with wealth management firms and platforms, for distributing BlackRock's alpha-seeking and iShares investment capabilities and for the adoption of BlackRock's portfolio construction and digital wealth technologies to financial advisors.
Mr. Ramji joined BlackRock in 2014, serving initially as the Global Head of Corporate Strategy. Before joining BlackRock, he was a Senior Partner at McKinsey & Company where he led the Asset & Wealth Management practice areas. He started his career as a corporate finance and mergers and acquisitions lawyer in London and Hong Kong.
Mr. Ramji earned a bachelor's degree in economics and politics from University of Toronto, a law degree from Cambridge University and is a CFA charter holder. He is a trustee of Graham Windham, a New York-based child care agency.