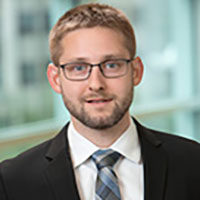 Michael Pensky, CFA
Portfolio Manager, Global Tactical Asset Allocation (GTAA)
Michael Pensky, CFA, Managing Director, is a portfolio manager in the Global Tactical Asset Allocation (GTAA) team within Multi-Asset Strategies & Solutions (MASS). The team is responsible for managing global tactical asset allocation products with custom client preferences and constraints. Mr. Pensky's service with the firm dates back to 2012.
Prior to joining BlackRock, Mr. Pensky held a trading desk strategist position in Morgan Stanley's Securitized Products Group and had worked as a senior analyst in Foreign Exchange Sales & Trading at SunTrust Robinson Humphrey.
Mr. Pensky earned BS degrees in mathematics and in finance from the University of Florida and an MFE degree in financial engineering from the University of California, Berkeley.