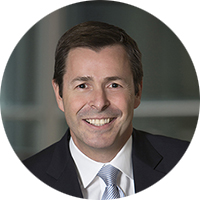 Mark McCombe
Chief Client Officer
Mark McCombe, Senior Managing Director, is the Chief Client Officer of BlackRock overseeing all Global client segments. In addition to these responsibilities he is also accountable for driving growth in BlackRock's client businesses in the U.S. and Canada. Mr. McCombe also serves as Co-Head of Global Client Portfolio Solutions helping clients take a holistic approach to portfolio construction and asset allocation.
Mr. McCombe is a member of BlackRock's Global Executive Committee (GEC), the GEC's Talent Subcommittee, and chairs the Global Client Council as well as the U.S. and Canada Executive Committee. He previously served as the Chair and Global Head of BlackRock Alternative Investors, Global Head of BlackRock's Institutional Client Business, and as Chairman of BlackRock's Asia Pacific region.
Mr. McCombe is also one of the Global Executive Sponsors for the Out and Allies network, the Ability Network and a founder of the LEAD program within BlackRock helping grow and mentor top talent within the firm.
Mr. McCombe has had an international career in finance spanning more than 20 years across 11 different countries. Before joining BlackRock, he served as Chief Executive Officer in Hong Kong for HSBC. He was also a Non-Executive Director of Hang Seng Bank Ltd. and Chairman of HSBC Global Asset Management (HK) Ltd. Prior to that, he was based in London where he was Chief Executive of HSBC Global Asset Management.
During his career, Mr. McCombe has served on a number of finance industry bodies including the Risk Management Committee of the Hong Kong Exchanges and Clearing Limited, the Banking Advisory Committee for the Hong Kong Monetary Authority, the Hong Kong Association of Banks, and as a council member of the Financial Services Development Council (FSDC), an advisory body established by the Hong Kong Special Administrative Region.
Mr. McCombe earned an MA degree from Aberdeen University and attended Wharton Business School, where he completed the Advanced Management Program. He was also recognized in the Queen's New Year Honours List in 2006 with an OBE.