Geopolitics cast a shadow on markets in 2018. Isabelle shares our outlook for geopolitics in 2019.
2018 offers a reminder that geopolitics matter. Our analysis suggests increasing uncertainty around rising trade tensions has been a major drag this year on equities, offsetting solid earnings growth, as tough U.S. trade talk turned into trade actions. We see geopolitics once again set to cast a shadow on markets in 2019.
Our BlackRock Geopolitical Risk Dashboard, where we analyze the likelihood and market impact of our top 10 geopolitical risks, shows geopolitical risk marginally higher since September, whereas market concert about geopolitical risk has come down from earlier highs. Our analysis suggests geopolitical risks overall pose a material risk to markets in the year ahead: We find that the lower the market's attention to geopolitical risk, as evident in our BlackRock Geopolitical Risk Indicators (BGRI), the greater the potential market impact. The chart below shows the declining market attention overall, via our Global BGRI.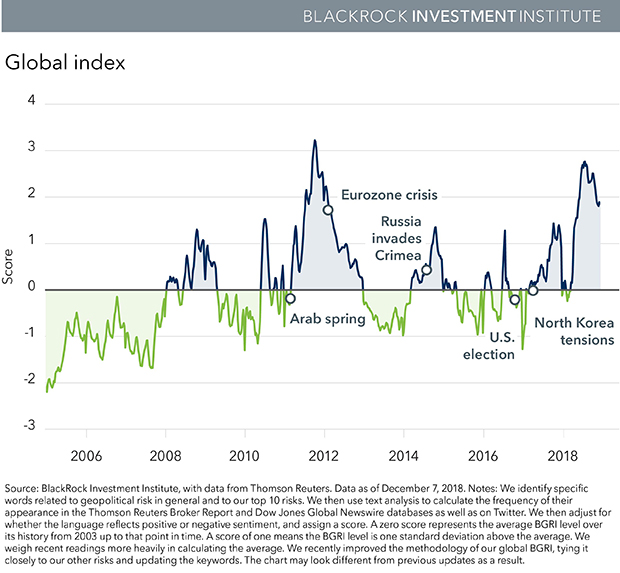 Impact of geopolitical shocks on global markets
The effect of geopolitical shocks on global markets often is short-lived, according to our analysis of asset price reactions to 50 risk events since 1962, but the global impact has been more acute and long-lasting when the economic backdrop was weak. As global growth slows in 2019, we see markets becoming more sensitive to geopolitical risks as a result.
We see trade remaining at the center of U.S. foreign policy in 2019, with trade frictions still looming over markets. Trade frictions now appear more baked into asset prices than a year ago, but we expect twists and turns on the trade front to cause bouts of market anxiety. We find market attention to two of our top-10 risks—Global trade tensions and U.S.-China relations—has nudged down lately, while we have kept the likelihood of these risks at a high level. This highlights trade frictions' potential further market impact.
Potential European fragmentation
Yet we see more to worry about than just trade as we head into 2019. Europe, for instance, worries us. We have increased the likelihood of our European fragmentation risk. We expect no immediate flare-ups in the region, but we worry about a confluence of medium-term threats to European unity against a backdrop of slowing growth. We see Italy's populist government headed for a protracted stand-off with the European Union (EU) over its fiscal policy, despite a more positive tone to the Italy-EU discussions lately. Recent provincial elections in Spain and riots in France show the strength of populist sentiment. We believe the UK and EU will eventually reach a withdrawal deal for Brexit, but the road there is uncertain. Yet market attention to this risk has shot up lately to the top of our rankings, implying lower market impact even if we remain concerned about the risk over the longer term.
We have also upgraded the likelihood of two other risks we track: Gulf tensions and Russia-NATO conflict. In the Gulf, we see a prospect of additional Western sanctions against Saudi Arabia, and market attention to this risk has subsided a bit recently. In Eurasia, Russian ships' firing on Ukrainian boats marks a significant escalation in Russian-NATO hostilities. This risk remains off the market's radar screen.
Risk of cyberattacks
We find it's the risks investors are not focused on that tend to have the greatest market impact. The risk of major cyberattack(s) is another one that falls into that category. See our BGRI for this risk below.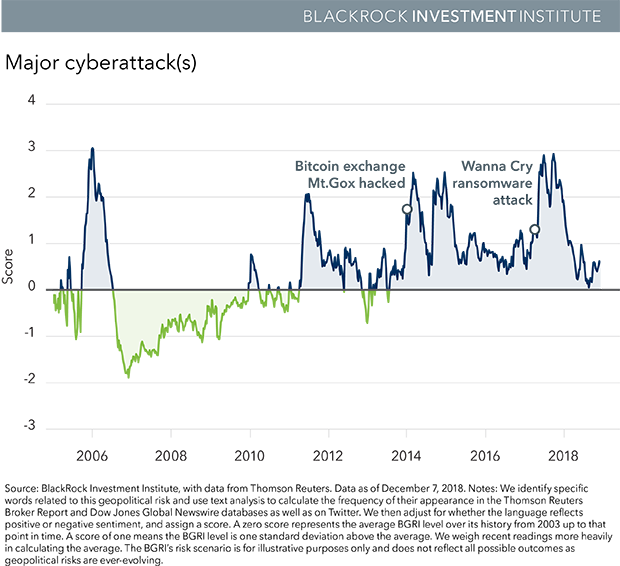 We expect the volume and sophistication of cyberattacks to increase as the world grows more digitized. Financial markets are likely to pay increasing attention as the threat to critical infrastructure and companies rises. At a geopolitical level, we see cyber warfare risks exacerbating existing tensions, while also providing an opportunity for greater cooperation between nations.