With strong companies seeking stable, long-term
capital and investors seeking long-term exposure
to quality businesses, the stage is set for a new,
more efficient approach to private equity investing.
Most institutional investors rely on a mix of publicly traded equities and leveraged buyout-style private equity as their core driver of returns. Because many companies no longer find either of these forms of ownership attractive, a large population of productive businesses has become difficult for investors to access.
To invest in these companies, a new private ownership model is needed.
Traditional buyout funds have performed well for institutional investors, but their exit-oriented structure is at odds with the goal of maintaining long-term exposures.
Long-term funds can potentially overcome investor challenges such as friction costs resulting from portfolio turnover, while also benefitting from effective private governance of portfolio companies.
Long-term vehicles will take their place beside—but not replace—listed equities and traditional buyouts, we believe. We see public markets as the home for most companies of scale and buyouts continuing to reward managers and investors who can consistently improve and resell companies in a highly levered context.
Against the backdrop of a contracting public equity market and a maturing buyout industry, we expect more and more best-in-class companies to be owned by long-term private vehicles, to the benefit of both investors and the companies themselves.
The changing landscape of corporate ownership
Population of U.S. public and private companies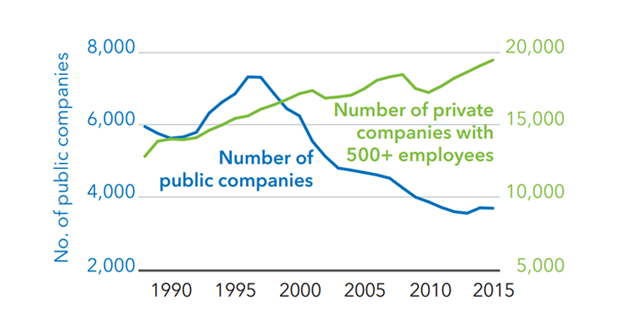 Sources: BlackRock Investment Institute, with data from U.S. Census Bureau-Statistics of U.S. Businesses; Droidge, Karolyi, and Stulz (1988-2012); Wilshire Associates (2013-2014).
Private equity assets under management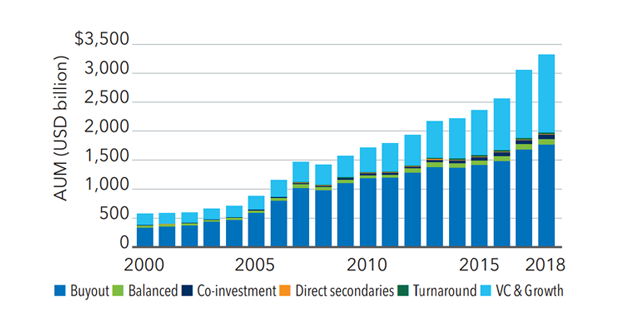 Source: Preqin, 2018. Includes undeployed capital. Balanced strategies invest in all stages of development. YTD total as of March 31, 2018.